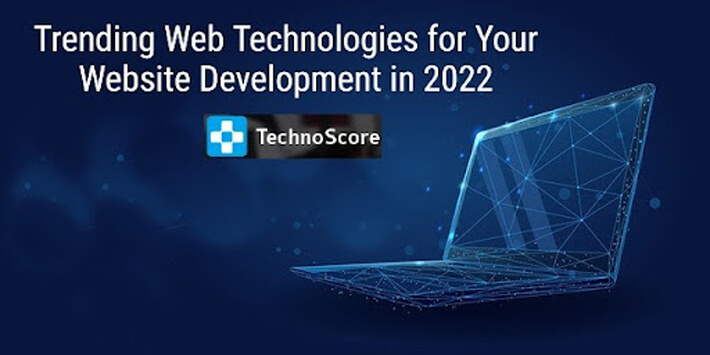 Website development is one of the most significant segments with a massive set of rules, techniques, and technologies. Entrepreneurs and other existing businesses always want their website out of the box. Still, most of them are unaware of what exact trend or technology is running in the market to help them build their dream website. To create a functional and result-driven website, you need to understand the web technologies to help you achieve your goal.
To help you out, we have come up with this post that will explain the latest trends and technologies running in the web development market. The things that can help you create the best website for your business in 2022 and so on.
Table of contents
Introduction
What is website technology?
Website development industry statistics: All you need to know in 2022
Top web development trends in 2022
In 2022, Which technology is in demand for web development?
What is a tech stack?
Which is the fastest web framework?
Which is the best backend framework?
What are the steps to create a website?
What factors should you consider when selecting a technology stack for my website?
Final Words
So without any further ado, let's get started with the concept of web technology; what is it?
What is website technology?
Web technology pertains to the numerous tools and strategies used to communicate through the Internet between various sorts of devices. To surf web pages, you'll need a web browser. Web browsers use the Internet to represent information, data, images, animation, and video. Web browsers provide software interfaces for accessing hyperlinked material on the Web.
Web technology is divided into the following categories:
The World Wide Web (WWW) is made up of numerous technologies, including web browsers, Hypertext Markup Language (HTML), and Hypertext Transfer Protocol (HTTP) (HTTP).
Web Browser: A web browser enables you to browse the Internet (World Wide Web). It acts as a conduit between the server and the client, allowing requests for web pages and services to be sent to the server.
Web Server: A web server is a system that handles users' network requests and delivers files that form web pages to them. The Hypertext Transfer Protocol (HTTP) is used for this transaction (HTTP).
Web Pages: A web page is a digitized document connected to the Web and viewed by anybody with a web browser who's been connected.
Web technology is a collection of services that includes site design and development and software testing, development, and maintenance of apps, ERP, Database Management, internet hosting, and information security and data management.
Take one step forward to create the best website for your business.
Partner with us, and let's build something great together.
The following is a list of the areas that fall under Web Technology:
#1. Internet Designing & Development
Web development is the process of creating a complete site for an organization or business on the Internet (www or world wide web) or an intranet (a private network). Web design is the best way to make that site distinctive and exceptionally user-friendly.
#2. Web hosting
It comes from a distance and the machine's net. There are several types of web hosting services available:
2.1 Free hosting
2.2 Web hosting assistance
2.3 Picture hosting providers
2.4 Website hosting and other related services
#3. Software development
It's the process of creating applications and then deploying and testing them on their clients.
#4. ERP
Managing and controlling the flow of information within a corporation or organization. It is concerned with the redundancy of data and safety.
Now let's take a look at the market size of the Website development industry:
Website Development Industry Statistics: All You Need to Know in 2022
In The Year 2022, The Context Is As Follows:
1.5 billion active web pages
7.8 billion people live on the planet.
4.54 billion unique internet users
4.14 billion online social media users
3.5 billion Google searches every day
$2.6 billion in annual losses owing to a slow-loading website
Ninety-four percent of first views on a website are connected to design.
The time it takes a user to establish an opinion about a website is 0.5 seconds.
Mobile has a 50% share of worldwide e-commerce revenue.
Market Size for Web Design Services in the United States in 2022 In 2022, the market for web design services in the United States will grow by 2.5 percent.
Annualized Market Size Growth of 3.1 percent in Web Design Services in the United States from 2017 to 2022, In 2020, there will be 23 million web developers in the United States.
Small firms have a mobile app in 32 percent of cases, and 42 percent aim to develop one in the future. On the other hand, 26% of small businesses are unlikely to release one. (Top Design Firms)
As they wouldn't want to download an app, 50% of smartphone users prefer to use a company's or brand's mobile website when exploring or shopping on their phones.
Increasing conversion rates by just one-tenth of a second on mobile sites resulted in significant conversion rates – 8.4% for retail sites and 10.1% for travel sites.
A non-responsive design, according to 73.1 percent of web designers, is one of the main reasons why users abandon a website.
The overall number of web developers and designers in the United States will reach around 178,900 by 2020. This figure is expected to exceed 205,000 by 2030. (Statista)
From 2019 to 2029, the employment of web developers and digital strategists is expected to expand by 8%, substantially faster than the average for all occupations. (Source: Bureau of Labor Statistics of the US)
In May 2020, the yearly wage for web developers and digital designers was $77,200. (Source: Bureau of Labor Statistics of the US)
When asked which visual aspects on a company website people appreciate the most, 40 percent replied photos, 39 percent said color, and 21 percent said video. (Top Design Firms)
A website's poor operation will drive 42% of visitors to abandon it. (Top Design Firms)
Consumers choose primary color schemes 26% of the time, complementary color schemes 21%, and analogous color schemes 20%. (Top Design Firms)
Consumers looking for eye-catching colors on a website for the first time account for 22% of all visitors. However, 21% of visitors will abandon a website with "abnormal" hues. (Top Design Firms)
With 86.9 billion monthly views as of June 2021, Google.com is the most popular website on the planet. (Statista)
Mobile devices are estimated to produce 53.9 percent of all retail eCommerce in 2021. (Statista)
With over 2.45 billion total monthly visits as of June 2021, Amazon was perhaps the most popular online shopping site in the United States. (Statista)
Are you looking for cutting-edge web development solutions?
Hire the best web development services trusted by the world's best brands.
Top Web Development Trends in 2022
#1. AI & Chatbots
AI (Artificial Intelligence) aids in promoting and expanding the website's capabilities. It can indeed help you with the following tasks:
Virtual assistants are used to communicate with visitors.
Gathering and analyzing data to develop and advertise the portal;
Use chatbots to solve simple problems.
Self-teaching based on user requests and data is possible with artificial intelligence. The popularity of this technology has skyrocketed. By 2022, 70% of portals will use AI to find information quickly and effortlessly. According to industry estimates, its use will soon expand by 30%.
Customer engagement boosts rankings and improves the user experience. Institutions, internet merchants, government agencies, and other enterprises value the quality of service. Customers' questions will be answered by chatbots, who will also help them navigate the company's website and converse with them. The chat operator may not answer all inquiries, but the bot is available. Web developers intend to manage payments through Chatbots systems in the following year.
#2. AR & VR
Augmented reality and virtual reality have significantly impacted web development trends. According to industry estimates, the mixed reality market will be worth more than $9.982 billion by 2024. Virtual reality is becoming more common in areas including tourism, architecture, and retail. Before purchasing a product, users can take a virtual reality tour.
For beauty firms like L'Oréal and Nyx, virtual reality is becoming a helpful web development trend tool for assisting clients in making informed purchasing decisions.
Professionals from all around the globe are already working from home due to the pandemic. Employees can work remotely using programs like Spatial's virtual conference rooms. Other websites will eventually catch up to this new web technology trend.
The potential of augmented reality in web development appears to be bright, potentially improving user convenience and comfort. As a result, interacting with the service is more efficient. Over time, speed concerns and cross-browser interoperability will be resolved.
#3. Voice control and navigation
We live in a society that is becoming increasingly fast-paced, making it harder to find the knowledge that addresses various problems. This process is significantly sped up when using voice control. Voice control is used by more than 30% of individuals in a month, as per analytics data. This tool looks in high demand, with a rapidly growing number of users.
Search engines actively use web development trends for 2022 like google, Yandex, and others. Additionally, Smart Homes and house assistants are entirely controlled by voice. As a result, it's not surprising that websites and apps will implement this capability. It's popular since it's compatible with many gadgets, so people can't resist trying it out.
Are you planning to build a robust web or mobile app for your business this year?
Hire our best developers and start your project in just 48 hours.
#4. 3D elements & Motion UI
3D graphic features have grown quite popular in recent years, and we're confident that this trend will continue to expand in the years. Because a 3D design creates an exciting experience, users are more likely to spend more time on your website and engage with it.
Motion UI aids in the creation of improved animation user interfaces. It's a lot easier to deal with than JavaScript. This technology is beneficial in the entertainment and gaming industries, but it is also widely used in science, medicine, architecture, interior design, and engineering.
For improved interactions, minimalist designs can be used. These contemporary, appealing, and durable designs are realistic and futuristic, and they also work well with 2D imagery.
#5. IoT
What does the coming future of web development look like without the Internet of Things? The spread of this revolutionary technology is already widespread, and we are exposed to it daily without even recognizing it.
In addition to being widely employed in various products and equipment, connected devices, cloud computing, and sensors are now in demand in web development to make web architecture and user interfaces more engaging and innovative. It can simplify complex communications between operational models and web layouts by connecting with innovative technologies such as serverless technologies, cloud-driven gadgets, wearables, etc.
Web developers will need to analyze data from various IoT devices, and serverless computing will make this process more efficient. This tech interacts with multiple devices and employs predictive design to estimate future customer behavior by sensing, collecting, and securely communicating data from connected devices to the cloud.
#6. PWA
Because of their native app-like user experience, advanced web applications have been available for quite some time. PWAs can be accessed from a browser and run on any device. Furthermore, these web apps are lightweight and provide quick access to web pages.
PWAs are built using JavaScript frameworks such as Polymer, Angular, Vue, and React. Some tools and libraries, such as Ionic, Webpack, and Lighthouse, are also leveraged to provide unique functionality to the apps.
#7. Micro-frontend architecture
One of the most efficient frameworks for developing feature-rich web applications is the micro-frontend. This design divides the front-end codebase into smaller, independent code components based on the functionality or commercial goals. All of these elements come together to provide a seamless user experience.
This architecture is the ideal alternative for complicated business requirements with multiple features and parts. It also uses independent teams for each functionality, which helps to speed up the development process. Bit, Webpack 5, Piral, Qiankun, Luigi, FrintJS, and PuzzleJS are several micro-frontend frameworks. Apart from that, companies such as American Express, DAZN, IKEA, Spotify, and Starbucks have already implemented micro-frontends in their operations.
Are you searching for the best web development company in India?
Let's talk with our experts today and discuss your idea.
#8. AMP
It's just another fad in the web development world. PWA and AMP technologies are very similar. The goal of AMP is to improve page functioning while also retaining consumers.
Compared to full-scope web goods, AMPs are optimized sites with a convenient and simplified design with basic functionalities. Furthermore, these pages are mobile-responsive, with readable content.
AMP means Accelerated Mobile Pages, and it is a new web design trend that demonstrates how the Internet is becoming more user-centric. Even though we now have 5G internet technology and many firms create native apps to better user experience, the AMP plugins allow businesses to save money on UX and reach their target audiences. As a result, we anticipate niche and smaller products competing with market leaders.
#9. SPA
Everything may be found in one place with SPAs. There is no need to change or maintain anything.
It redirects to another page downloaded from a server with a single click. It gives users the wrong idea and takes up a lot of time. As a result, SPAs have recently become popular.
You can prevent time-consuming interactions with the server by using a SPA. It improves website performance while also increasing data security.
In other respects, an SPA is a browser-based application that does not require the user to reload the webpage while it is in use. Google Maps, GitHub, Gmail, and Facebook are examples of such applications.
#10. Serverless Architecture
In the same way, the cloud was the new exciting kid on the block in 2020, serverless architecture, one of its applications developed, will be in the spotlight in 2022 and beyond.
The idea behind serverless architecture is straightforward. Cloud providers provide on-demand server resources, eliminating the need to maintain a physical architecture.
The serverless architecture enables website owners to swiftly scale or descale their website servers in turbulent times like 2020 and 2021. It saves the cost of paying for extra server capacity when website traffic is lower than projected. Serverless architecture also provides a quick approach to satisfy demand and capitalize on opportunities in times of unanticipated growth.
#11. Dark-themed UI
User interfaces with a night or dark theme are safer and gentler on the eyes. This tendency has been seen in mobile applications, but it is now being shown on websites. It relieves eye strain and improves vision, making it easier to see light content and saving battery life by expanding the number of black pixels. Furthermore, it adds a fashionable touch to the entire website and ensures the most excellent possible user experience.
It's one of the most important web development trends for 2021. The biggest names in the industry, such as WhatsApp, Facebook, Twitter, Android, Apple, YouTube, Reddit, and others, have already gotten on board.
Take one step forward to create the best website for your business.
Partner with us, and let's build something great together.
#12. Blockchain Technology
Cryptocurrencies aren't the most compelling advancement in web development. They were first proposed in 2004, and the crypto trading market began to explore investment opportunities a few years ago. Within the last decade, the use of blockchain currency trading has grown substantially, and effective payment systems have begun to accept Bitcoin and many other cryptocurrencies. What may we expect in 2022, especially in terms of online development?
To put it another way, Blockchain is a two-sided transaction event. A decentralized distributed network verifies each transaction. It's a surefire method of determining which information has been validated and accurate. Blockchain has emerged as among the most promising web development technologies.
Blockchain is still a disruptive technology. However, it can be used in various businesses in the future, including government, health care, and finance. Although it may be too early to integrate Blockchain in the development process, companies should watch how the technology evolves shortly.
In 2022, Which technology is in demand for web development?
The top technological trends in web development are:
#1. Artificial Intelligence & Chatbots
The primary reason why an increasing number of developers are turning to AI (Artificial Intelligence) technology is that it allows them to create virtual assistants who speak with and support site users. It also enables the gathering and analysis of data. Once you get it, you may utilize this information to develop your website and market it more effectively across all search engines.
Chatbots communicate with web users, answering their queries and guiding them through the website, services, prices, and more. A strong customer engagement rate also ensures a good site ranking because it enhances the user experience and makes it less of a headache. Chatbots can connect with clients on a human-like level and are well-equipped to assist site navigation.
Around 70% of websites will employ this technology by 2022, allowing consumers to acquire the data they need in only a few messages. Because AI is mainly reliant on ML (Machine Learning), it can include users' requests, data, and comments into future communiques. As a result, the yearly growth rate of AI is expected to reach 33.2 percent between 2020 and 2027.
#2. Using voice navigation and control
Individuals are usually on the move and in a hurry; therefore, rapid finds and searches are necessary. According to Google and Yandex, people desire quick access to information so much that they would prefer to say a few phrases into their mobile phones than type it up. This procedure will be sped up thanks to the existence of voice control. It removes the need for texting and typing.
Apart from "Hey, Google," we can indeed see this trend driving an entirely new set of products. For example, all smart home devices, office companions, Siris, and Alexas rely on voice activation and command listening. Many websites and web apps will follow suit due to this effect.
#3. Implementing Progressive Web Apps (PWAs) and Accelerated Mobile Pages (AMPs):
Mobile content that loads quickly! PWAs (Progressive Web Apps) and AMP (Accelerated Mobile Page) applications have become well-known technologies for developers. PWAs are websites that adapt their contents to the phone's size, resulting in a significantly better UI/UX layout. The added benefit is that the page loading speed is maintained at the same level as on a stationary PC. Because mobile devices are increasingly used to visit websites, this is especially critical for user retention.
An AMP is a more appropriate option for PWAs if your website has a lot of movement and video content. You may still make all of your content available to website users on mobile devices while preventing overload by employing an AMP.
Are you looking for cutting-edge web development solutions?
Hire the best web development services trusted by the world's best brands.
#4. Horizontal scrolling is now available: up, down, and sidewards
Thus, it established the importance of mobile versions, yet the truth is that not every webpage can fit inside the confines of a mobile display. Horizontal scrolling is now available. This enables content to be shown logically, which attracts consumers by making the website simpler to use on mobile sites.
#5. As a basis, depending on serverless architecture
Computations are done using cloud services rather than servers. So, why should you switch to a serverless architecture? Since it streamlines several operations. Serverless architecture, in particular, eliminates data loss and is another aspect that adds to the website's lack of overload.
Consequently, web developers gain a substantial competitive advantage because they can now reduce their project creation and technical support budgets while also making the website more versatile and adaptive.
#6. One-pagers
Another development that pertains to user comfort and process simplification is SPA (single page application). SPAs are typically used to simplify website navigation by focusing on a single type of data on a single page. This is useful for users as it enables users to search for something with less effort.
As a result, online retailers or platforms that offer various services efficiently respond to the SPA approach and leverage it to create information blogging or product listings. Similarly, new digital websites divide the news into several categories. This allows web developers to avoid using complex navigation or a vast menu and instead provide a neat and straightforward interface to their mobile customers.
After running through the market stats and the latest trends in website development, let's talk about some of the best questions that are usually raised in the mind of new entrepreneurs.
In the below section, we have tried our best to answer all the ordinary yet critical questions that can help you resolve your queries related to website development in 2022.
So let's get started with the very first question:
What is a tech stack?
Any software product's full-featured version is referred to as the tech stack. Any web or mobile application comprises a mix of languages, libraries, datasets, servers, development tools and plugins, and other technical layers.
A tech stack consists of an operating system, language, web server, and database at its most basic level.
One of the best-known examples of a technology stack is LAMP, commonly used for websites.
Linux – Server operating system.
Apache – Web server software.
MySQL – Database system.
PHP – Programming language, well-suited for developing interactive web pages.
We have seen an exciting debate over the fastest web development frameworks and the best backend technology in the web development world. As the market is filled with several conventional and latest web development frameworks, it would have become more complex for the web development companies to decide which one is best.
Still, our experts have tried to answer these questions in the below section.
Are you planning to build a robust web or mobile app for your business this year?
Hire our best developers and start your project in just 48 hours.
Which is the fastest web framework?
Popular front end frameworks include:
#1 Angular
Google's JavaScript-based open-source platform used by major brands such as GM, HBO, Forbes, Nike, and Sony.
Angular is: Part of the MEAN stack (Mongo database, Ejb web app server framework, Angular.js, and Node.js server runtime environment)
The TypeScript programming language is compatible with a wide range of code editors and provides cleaner codebases.
Useful and straightforward templates, IDEs, and command-line tools are all included.
A big community of developers maintains it.
It is excellent for creating dynamic websites and web applications.
#2 React
Facebook's open-source JavaScript library is used by companies like Instagram, Netflix, and Dropbox.
The use of a virtual DOM provides a fantastic user experience (document object model).
Code reuse and code hot reloading help cut down on overall development time.
Because of downward data binding, web programs have a lot of core stability.
Redux enables developers to undertake faster testing cycles.
It has a sizable fan base.
It is well-suited to the creation of dynamic user interfaces.
#3 Vue
An open-source JavaScript model-view framework advertised as an "incrementally adaptable environment that ranges between a library and a fully-featured framework." Vue is defined as:
It is ideal for creating single-page applications and user interfaces. Founded by its founders and supported by them.
A comprehensive range of libraries, tools, and collaborations are included.
Has an active and supportive community.
Moving on, let's check some top backend frameworks.
Which is the best backend framework?
There are tons of web development technologies present in the market, making it more challenging for the developers to pick the best. If you are confused about what to choose and whatnot, we are here to help you. We have mentioned some critical web development frameworks that can help you build the best website that caters to your business requirements.
Spring boot: A Java-based framework with an extensive support community and a large ecosystem. It's excellent for cloud-based web apps with a huge user base.
Express: A Java-based framework with an extensive support community and a large ecosystem. It's excellent for cloud-based web apps with a huge user base.
Laravel: It's a PHP-based framework with lovely syntax, the MVC architectural pattern, a vibrant ecosystem and support network, and the ability to handle substantial development teams.
CakePHP: A PHP-based framework for rapid development that follows clear MVC concepts and is simple to use.
Django: A Python framework that is highly configurable, scalable, and comes with almost everything web developers need to build and deliver online apps (no third-party plugins required.) It's great for large-scale projects.
Ruby on rails: A Ruby-based framework comparable to Django but written in Ruby. It boasts a vast plugin library, straightforward syntax, and a large support community. It's great for minor jobs, although it can manage bigger ones if necessary.
Now, let's check,
Are you searching for the best web development company in India?
Let's talk with our experts today and discuss your idea.
What are the steps to create a website?
Creating a business website is one of the most essential and crucial tasks. A website helps the company establish its presence in the market. Still, it will also help them build and maintain their relationships with the existing and new customers and present their products and services well.
What are the procedures involved in making a website?
How can I build my website?
How do I create a professional website?
These are the most common questions asked by almost 3 out of 5 people who plan to build and deploy a website.
So, whether you are looking to create your website or a professional website, the following core steps will help you develop the one:
#1. Selecting and purchasing a domain name
Search for "domain hosts" online to locate one that fits your needs and budget. Start with these recommendations:
Microsoft Office Live Small Business
5Hosts.com
HostingReview.com
NetworkSolutions.com
GoDaddy.com
HostingChecker.com
TopHosts.com
The following measures should be taken when choosing a domain:-
Keep it to a minimum.
Combine two or more words.
Make it simple to pronounce and spell.
Make use of the.com or.net domain extensions.
Consider keywords that are relevant and integrate them into the domain name.
#2. Choose a web host
The Internet isn't this enormous fourth dimension with boundless powers. Instead, it's a collection of supercomputers where you can rent storage space. A web host is a person that owns the online space where your domain name will be displayed.
Web hosts are the owners of such space. They serve as a home for your domain name. This implies that when someone types your domain name into their browser, they will indeed be able to see your website, which is hosted on a web host server or computer, and whose details are stored there.
#3. Select a Website Development Platform
The platform used to build a website can affect various aspects of the project, like hosting, pricing, usability, and timing. It's critical to choose a platform early on in the process because it will serve as the foundation for everything you'll be creating.
A Content Management Solution (CMS) will be required for your client's website, and there are various solutions available. Each has its own set of advantages. You can pick which CMS will perform the job once you grasp your client's requirements.
Take one step forward to create the best website for your business.
Partner with us, and let's build something great together.
#4. Choosing a Web Design Expert
Hire an experienced web developer to put up a primary yet professional site that matches your demands if you don't have the time, inclination, or process to design and launch your business website.
#5. Make your website responsive to mobile devices
Mobile phones and tablets account for more than half of all internet users as of April 2021. Because of this, Google created mobile-first indexing, a strategy in which the search engine prioritizes mobile web pages above desktop websites when ranking websites. As a result, it's critical to devote effort to mobile design, SEO, and creating a seamless and straightforward user experience for those smaller devices.
You may add outstanding mobile elements like animations and an intuitive mobile menu by focusing on accessibility and navigation.
#6. SEO & Testing
The ability to be found on the Internet, particularly by major search engines such as Google, Yahoo, and MSN for relevant terms, is critical to online company success. Make sure to include search engine optimization in your website design.
So the "rules" are continually changing, the Web landscape never quits altering, and new technology constantly adds its wrinkles; SEO is likely the most difficult single problem in developing, building, and maintaining an effective professional Website today – or any other kind. Being competitive requires ongoing attention, such as tracking bugs, confirming fixes, and testing links (Again).
Make notes of any bugs you find, as well as the fixes, in a journal or record book. Return to the log and validate that everything has been repaired once you've gone through it and reviewed the website. You'll know what worked and what didn't if it occurs repeatedly.
#7. Bring your website to reality
Your new company Website is ready to debut after thinking, designing, coding, checking, and re-testing.
So this is it; your dream website is all set to go!!
The most important question is how you can determine the best technology for your website?
Our experts from TechnoScore have come up with a few factors that help you select preferable technology for your futuristic website.
Are you looking for cutting-edge web development solutions?
Hire the best web development services trusted by the world's best brands.
What factors should you consider when selecting a technology stack for my website?
While selecting the best tech stack for your website, make sure you will consider the following key points:
#1. Determine what you need
Make use of technology that is appropriate for your development needs. Don't try new tactics if you don't know what they are or have concerns about how they will be implemented. Some tasks are better accomplished with one language than another; for example, Python is a superior choice for calculation and statistics.
#2. Remember to think about scalability
Scalability refers to your website's ability to handle unanticipated spikes in traffic and user numbers. Furthermore, you may wish to bring something new in the future or throughout the development process; therefore, a scalable website is critical.
Scalability is available both horizontally and vertically. Your needs will determine the option you choose. It's preferable to use programming languages like JavaScript, which come with libraries and frameworks that help to improve and expand the language's functionality.
So, while choosing a technological stack, think about scalability ahead of time. Scaling is a breeze when you have the right technology stack in place. Many technologies are built from the ground up with scalability in mind. You might also get advice from a technical specialist or a web development firm to choose the appropriate technology for your scalability requirements.
#3. The Price of Developing and upgrading a Web App
You'll need a certain amount of money to turn your web app concept into a reality.
It's worth noting that the tech stack you choose has a significant impact on the entire cost of developing a web project. There are two things to consider here:
Salaries – Developers are skilled professionals whose pay is determined by their technologies. As a result, the web application stack will determine your investment. It's better to remember that the more sophisticated the technology, the higher the developer's income.
Cost – You must design a web application and maintain it regularly to ensure that it functions properly. The cost of maintaining a web app is typically 10% of the total cost of developing a web app.
#4. Keep the Time to Market in Consideration
Another essential thing to remember when choosing a technological stack is time to market. The technology stack you choose impacts how long it takes to build and deploy a product. Here are a few components to think about when selecting a stack for a short time to market.
Recent developments & Technology evolves, and making a long-term commitment to one phase out may be imprudent. When selecting a stack for your project, think forward and see if the technology you're contemplating is a well-established trend.
#5. MVP's Requirements
MVPs are frequently used to demonstrate a product's profitability and utility in a real-world market setting. From the start, it's crucial to figure out what's essential to an application. The analytics tools provide you with helpful information. You can choose a tech stack that facilitates rapid development if you need to produce an MVP quickly.
Are you planning to build a robust web or mobile app for your business this year?
Hire our best developers and start your project in just 48 hours.
Final Words:
Here we come to an end, we understand it is a long post to read, but we hope it will help you resolve your web development-related queries. A business website with the latest trends and technologies will always stand you out from your competitors.
New web technologies are the game changers of the web development process in 2022. But to keep your website at the top, all you need to do is stay up to date with the latest web technologies. We understand that it can be hard sometimes to understand them all simultaneously, but with the help of the right web development company, you can achieve it.
If you enjoyed this post, you could also check our other reading; our experts have covered a range of information on web development trends, frameworks, platforms, and technologies. You can check out our blog section and explore your favourite topics.
Also, if you are looking for professional help for your website development, we'd be glad to help you. Our skilled web developers will help you with the best web development solutions; all you need to do is discuss your requirements with us.
Till then,
Happy reading…