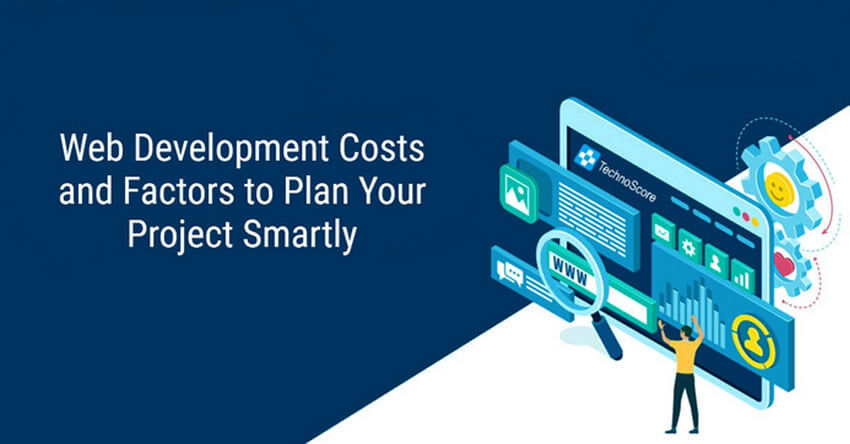 An effective online presence has become a prerequisite to running a business in this fast-paced digital era. Every start-up or small business wants its website to be developed by experts. However, the cost of a web development project remains the most daunting aspect for most businesses.
Although the cost aspect does not have any specific answer, we can consider some estimations to obtain an improved perspective. This post discusses aspects related to web development covering the cost factors, development team, tools & technologies to help you better understand the complexities and other elements related to a web development project's costs.
Factors Affecting the Cost of Web Development
A business always strives to make the most efficient use of its available resources, and this is why determining the expense of a website is essential. Below are the factors that majorly impact web development costs.
Web Hosting & Domain Name
Although you can build a website for approximately $12 to $20 using a website builder tool (for example, Wix), it will be a very minimalistic product. The cost will rise as you append different elements to enhance the website's utility or hire any resources to work on it.
Number of features & functionalities to be added to a website
Type of tech stack used (front-end, back-end, & database)
Complexity of the project & its scope
Required level of customization
Third-party integrations
Based on these factors, you may need to spend between $2000 to $6000 for a basic (MVP-version) website developed by a professional web development team. With complex project requirements, the implementation costs will be higher.
Besides this, you will also have to allocate a budget for registering a domain name and web hosting service. For a basic website, the domain name will most probably cost you around $15 per year, whereas the web hosting cost can be around $9-$10 monthly.
Type of Website
The cost of a web development project varies based on the desired website type. Below are the three major types of websites with their approximate MVP version costs:
eCommerce: $5000 to $8000
Web portal: $3000 to $5000
Corporate: $6000 to $8000
Additional features and customizations will consequently increase the budget.

Want to Hire web
Developers upto 70% Less Cost?
Choose Experts @TechnoScore with
20+ Years of Experience
Top Trending Technologies to Consider for Your Web Development Project
The tech stack of your web development project also adds to the development cost. You must select the best-advanced technologies, frameworks, and tools to ensure optimum website speed and performance. Let's discuss the two basic aspects:
Front-end Development
This refers to the user-side programming or the visual components on your website. The colors, images, graphic designs, fonts, buttons, and everything a user can see on your website are devised and implemented during the front-end development phase. This explains the essence of choosing the proper front-end framework for your project. The average cost for front-end development of an essential website can range between $1500 to $2000.
HTML, CSS, and JavaScript are the most commonly used technologies for front-end development. The level of responsiveness and complexity adds to the cost of front-end development.
Front-End Frameworks to Consider:
Vue.js
Angular.js
React.js
Semantic UI
Back-end Development
This is the server side of a website that is responsible for speed and performance. It is responsible for data storage and processing-related work of a website. It also ensures that everything on the front end is working. The average cost for back-end development may range between $2000 to $2600.
Third-party integrations, database requirements, and complexities are some aspects that can add to the development costs of a project.
Back-End Frameworks to Consider:
Express.js
ASP.NET Core
Django
Laravel
Ruby on Rails
---
Read Also: Top Web Development Companies in India to look out for website development
---
Local Hiring Vs. Offshore Hiring
Local hiring refers to approaching a web development company in your native state or country. This can be costlier if you belong to the US, Australia, or Western Europe. These countries have the highest (per hour) development rates.
On the other hand, outsourcing projects to countries like Ukraine, India, China, and Poland will be cost-effective. Below is the list of countries with their web development rates:
| Countries | Naive Developers | Experienced Developers |
| --- | --- | --- |
| Ukraine | $25 to 50 | $80 to $100 |
| India | $10 to $30 | $40 to $50 |
| China | $60 to $70 | $80 to $120 |
| Latin America | $50 to $60 | $100 to $120 |
| USA | $60 to $80 | $120 to $160 |
| Australia | $60 to $80 | $120 to $170 |
| Western Europe | $60 to $70 | $100 to $140 |
Offshore hiring is a better option as compared to local hiring and so. The cost savings increase if you hire a web developer from India or Ukraine. You will experience expert development using top-notch technologies at affordable rates. Offshore hiring can help you save almost 70% of the development costs compared to outsourcing to the US or Australia.
Outsourcing is the most popular approach for web development because of its multiple benefits. The service provider takes good care of project needs with the required deftness and professionalism, allowing you to be stress-free and focus on other crucial aspects of your business.
Take one step forward to create the best website for your business.
Partner with us, and let's build something great together.
Custom Web Development Costs
Custom web development is ideal for large-scale organizations, marketplaces, and eCommerce businesses. With vast and complex business requirements and worldwide operations, they need to customize their features and functionalities to cater to their global target audiences. Customization is a popular trend in eCommerce development, and online store owners are willing to pay a hefty amount for this.
Considering the aspects mentioned above, a custom web development project cost can range between $15000 to $20000, depending on the complexities, technologies, and team size.
Top Technologies to Consider for Custom Web Development
MEAN Stack
MERN Stack
Laravel
PHP
Python
CodeIgniter
User Interface & User Experience (UI/UX)
Having a mobile-responsive web design proves to be quite advantageous in today's smartphone-dominated world. The first impression of a website is mostly related to its design, and depending on it, buyers quickly make a decision whether to buy anything from that site or not. Hence, UIs are always critical to both websites' success and costs.
The UX generally denotes the user experience, including navigation, loading speed, and usability. This aspect needs to be planned considering the category of the target audience. The average cost to design UI/UX for an MVP version can range between $500 to $750.
---
Read Also Hiring Web Developer In-House Vs Web Developer Offshore
---
Hidden Costs Associated with a Web Development Project
There are several hidden costs attached to a web development project. Generally, these costs are related to the type of tools and technologies you choose for the development process. For instance, WordPress is free, but there are specific themes, plugins, and extensions that you need to buy to cater to specific functionalities.
Similarly, getting an SSL certification can add to the costs that depend on the type of web hosting you have opted for. The average cost for an SSL certificate begins from $60 per year and can go up to a whopping $1000 per year, depending on the desired security requirements. Besides this, some third-party integrations may also add to the development cost.
Marketing Costs
You can't afford to launch your website and sit idle to wait for visitors to encounter it. Having a well-planned marketing strategy will help you to leverage benefits from your business website at an early stage.
Content marketing
It's a proven tactic used for website marketing. This includes using infographics, blogs, white pages, podcasts, and many more to promote a product or service. However, content creation rates differ from country to country (like web development rates), but the average cost for a single piece of content (1000-word blog) may range between $75 to $100. However, there is a significant disparity in content creation, so you must focus on the results rather than the number of posts delivered.
Social media marketing
Set your goals and objectives as precisely as possible and then approach social media marketing by creating campaigns on different platforms. Outsourcing a trusted agency will be a much better option for this form of marketing, and the average service cost may range between $500 to $600 per month.
SEO
This service helps your website rank high on SERPs and boosts your brand value significantly. The SEO team works on keyword strategy, content strategy, site audits, and off-page optimization to help you get higher traffic on your business website. The average cost for an SEO service will range between $300 to $500 per month.
Take one step forward to create the best website for your business.
Partner with us, and let's build something great together.
Frequently Asked Questions
What is the cost of developing a website for a small business?
With the least requirements and basic functionalities, you can get a website developed within $2000 to $4000. The rest will depend on the complexities of your project and additional requirements.
What should be an ideal budget to get a professional website developed by experts?
You need to set apart $6000 to $10000 to get a well-designed website from an expert web development company. However, this estimate does not consider the marketing costs.
What is the average cost to maintain a business website?
The average annual maintenance cost for a basic website can range between $500 to $600. The size of a website and its complex features are critical elements in deciding its maintenance cost. However, the cost mentioned above applies to a basic website with minimal functionalities.
What is the cost to hire a web developer?
If you hire a web developer from India, you get an affordable hourly development rate of $15 to $25. Web developers from India offer expert development using top-notch technologies and frameworks.
What is the average time taken to deliver a website?
This depends on the type of agency that you choose. If it follows an agile approach, developing a basic website would not take more than 4 to 6 weeks. Further, a website with medium-level complexity would take around 10 to 16 weeks, and a custom web development project will take approximately 20 to 24 weeks.
Endnote
With this detailed guide, you can plan your web development budget strategically and get the most out of it. We recommend choosing a trusted web development company and getting a custom website developed according to your unique business requirements. It may seem costly, but it will have long-term benefits.