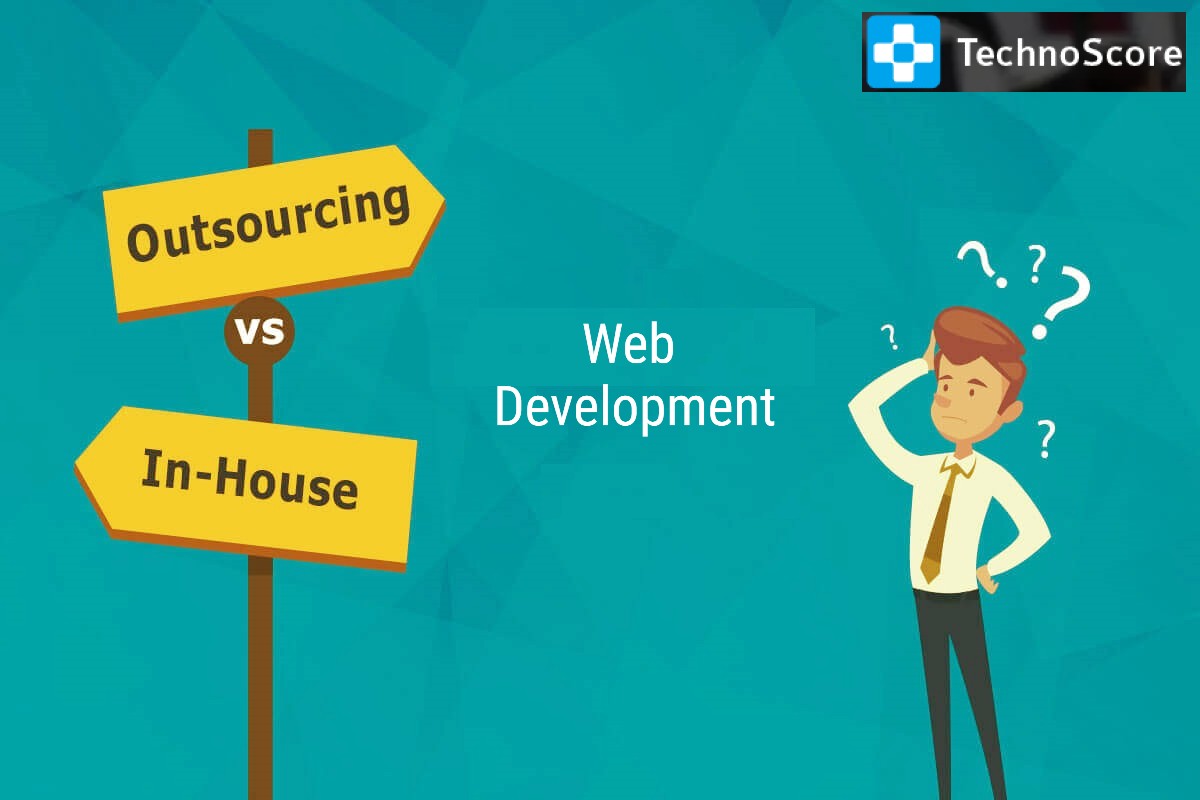 Once you have decided on building an application or software, all you need to do is figure out how you can actually organize the entire development process. But, the question remains whether you want to hire an in-house development team or opt for offshore web development services.
It is difficult to find experts that can cater to your requirements in a desirable way. It becomes even more challenging when you are looking to hire technical specialists who have a specific set of skills and expertise, especially within a limited time and money at hand. This is the reason why a number of companies are opting for offshore web development, intending to reduce their operational costs including software license, equipment, rent, etc. After all, hiring a specialized team of developers is a viable option if you are looking forward to a smooth, profitable outsourcing process.
Let us first discuss the pros and cons of hiring an in-house web developer or a team consisting of well-trained web developers for that matter.
In-House Development: Pros And Cons
Here are the pros of hiring an in-house development team:
Pros Of Hiring An In-house Development Team

1. Changes implemented instantly
When you have an in-house team of software developers, it's always faster to change a project's features, add new ones, and discuss their technical background. Also, in-house developers usually process bugs quicker.
2. Face-to-face interaction
Having the same working hours and being in one office allows making the communication process much more comfortable and clear. Direct conversations help avoid misunderstanding and increase effectiveness.
3. Cultural fit
The in-house developers tend to work dedicatedly to accomplish a task given to them. They are motivated to bring value and achieve the best results.
Here are the cons of in-house development:
Cons Of Hiring An In-house Development Team

1. Staff turnover
The in-house developers usually work for a certain period of time and then change their place of work. This happens quite often resulting in the loss of valuable time. The projects can also come to a halt due to this.
2. Lack of technical skills
There is an ever-increasing demand for technical experts in the IT market. Infact, in certain areas, hiring a suitable specialist having the requisite skills is quite a challenge, that too within the desired budget.
3. More costs
Without a doubt, having an in-house team of developers is a costly affair involving a lot of expenses such as hardware, rent, taxes, and more. Infact, a lot is spent on training them to carry out development tasks.
Offshore Development: Pros And Cons
Pros of outsourcing to an offshore web developer are as follows:
Pros Of Outsourcing To An Offshore Development Team

1. Cost Savings
The key benefit that makes a company outsource the development job to an offshore service provider is significant cost savings. When you hire a web developer from a reliable offshore company, it will definitely cut down on your operational costs as compared to hiring an in-house development team. Location is an important factor determining budget savings.
2. Focus on the key business activities
By outsourcing the web development task to an offshore service provider, you get to focus on the core business activities. After you discuss every detail about your project, you only have to provide your feedback on the work done along with work approval. If the offshore company is a reputable one, you will be getting regular updates on the progress of your project as well as recommendations.

You can utilize the spare time in other core business activities such as sales, marketing, building a customer base, participating in relevant events, networking with key partners, promotions, etc.

3. Reach out to the top experts
There are certain web development projects that call for sound technical expertise such as AR/VR, Blockchain architecture, etc. Some of them are even hard to find locally. Outsourcing helps in getting the work done under your budget.
4. Extensive knowledge & skillset
Another vital reason to consider outsourcing web development is access to a large pool of talent where every team member is an expert in his/her own field. The team comprises experts possessing extensive knowledge and experience to cater to the distinct requirements of clients. The experts include business analysts, web designers, frontend and backend web developers, project managers, software architects, quality assurance engineers, and a lot more.
5. Quicker process organization & development speed
Since you are assigned a dedicated project manager, meeting the deadline specified by you isn't an issue. This speeds up the entire development process and gets your work done within the stipulated time frame, or even before that.

An in-house team would take longer to integrate the hiring, onboarding, and HR operations.

6. An element of flexibility
Outsourcing companies usually adopt a flexible methodology to make the necessary arrangements for changes. For instance, use of Kanban and Scrum facilitates in organizing the project and work as per the specifications.
7. Scalability
Scaling your project is easier when you have a remote team working for you. If the workload is less, they can decrease the number of developers assigned for the project, and increase the manpower as the workload increases.
8. Management Of Risk
There is a high level of risk and uncertainty involved in outsourcing with lesser control over your project. However, choosing a reliable and trustworthy company can work wonders for your business. You will be able to get progress reports on a regular basis.
9. Continuous Support
With an offshore partner, you get assistance pertaining to competitor analysis, market research, project concept preparation, and so on. This way you can make your project a success and leverage the growth potential of your business.
10. Security
Security is a concern of every business owner. Outsourcing web development will render a better coverage to you against various IT security breaches. The experienced development team will make the coding and the entire development process safe and secure.
The cons of outsourcing to an offshore web developer are as follows:
Cons Of Outsourcing To An Offshore Development Team

1. Gap in communication
When the developer is located in a different country, there are a number of issues that need to be resolved. One of the problems is the language barrier. But, nowadays, the developers are fluent in English and communicate well. Additionally, the time zone difference is also met with frequent virtual meetings. Infact, all the communication is carried out effectively via messengers and emails.
2. The risk of security
Outsourcing the job to an offshore web developer definitely poses a risk to security. The lack of face-to-face communication makes you feel that you can't control the development process carried out by the offshore developers. You might as well feel less protected. But, hiring a developer from a reliable and trustworthy web development company can ward off those feelings while you communicate and discuss things beforehand. Signing an NDA agreement can also build a sense of confidence in you to trust them and ensure the protection of your project ideas and rights.
Companies That Have Outsourced Their Development Job
There are a number of examples of companies that have outsourced web development services to offshore companies to get the job done. Of course, you get substantial benefits from outsourcing. One of the companies is Google. This IT giant is outsourcing only some parts of their project and reducing the overall cost. Another one is Slack, a popular tool for internal communication. Slack outsourced its development process to the software development company that helped them build both mobile and web applications. Another company that had outsourced their development job is Expensify. It is basically a platform that helps its users in keeping a track of their transactions as well as collecting expenses. The entire back-end development was taken care of by the outsourcing company.
Outsourcing web development can be quite a viable solution for companies that intend to focus and attend to more critical business operations. Moreover, if you aren't familiar with web development and intend to create a profitable venture, then outsourcing is a great solution.
With outsourcing, you won't have to worry about managing complex tasks and plan the entire job of a developer. You may want to outsource only some parts of the development just like big companies such as Google does.
How to Make The Outsourcing Process Smooth, Yet Profitable
By outsourcing web development tasks to an offshore company, you need to look into certain things. Some of the useful ones that will make the entire process seamless include:
Be Aware Of The Hourly Rates & Quality Of Service Provided
The developers belonging to Asia and Eastern Europe are relatively cheaper and provide quality services. Infact, they have a rather lower hourly rate. And that doesn't mean that they are well qualified to do the job.
Go Through Their Past Projects
When you plan to hire an offshore company, you must research well and study their previous projects accomplished by them to get a clear idea of what they can do and whether or not they can be relied upon. Checking if they have a strong presence on Clutch and GoodFirms might also help you decide. Read the reviews and learn about the prices they offer on such websites.
Data Protection
Make sure you sign an NDA agreement in order to protect your development processes as well as the project idea. Having said that, the software development companies must follow the EU General Data Protection Regulation (GDPR) to ensure data protection.
The Transparency Factor
There should be transparency in the development process carried out by offshore companies. They should specify and update you from time to time regarding the progress of your project. The most common tools or, you can say, web apps used to track the project development include Kantree, Trello, Jira, and more. If the outsourcing partner is trustworthy, there won't be any issue in giving you access of such apps, keeping things all the more transparent.
Why Hire Software Developers at TechnoScore?
We can give you a plethora of reasons to outsource offshore web development services to us. At TechnoScore, we have an expert team of proficient web developers that takes care of complex web development processes and simplifies things for you. Our dedicated project managers possess fluency in English, facilitating an easy and comfortable communication process. Infact, even if we are located in a different time zone, we can still assist you in your web development project and follow your schedule to deliver in the stipulated time frame. We will keep you updated on the progress of your project on a regular basis. Furthermore, our developers use the latest technologies to create state-of-the-art websites and applications. They are in line with the advancements by attending various conferences, workshops, etc. to gain extensive knowledge and keep growing.
It is entirely your call whether you hire an in-house development team or outsource the entire job to an offshore company. It will all depend upon your project requirements as well as objectives. However, if you intend to avail our value-driven services, know more about our technical staff, or want to inquire about anything related to our services, you can simply connect with us at info@technoscore.com.
Make the entire outsourcing process smooth, yet profitable by hiring our web development experts.