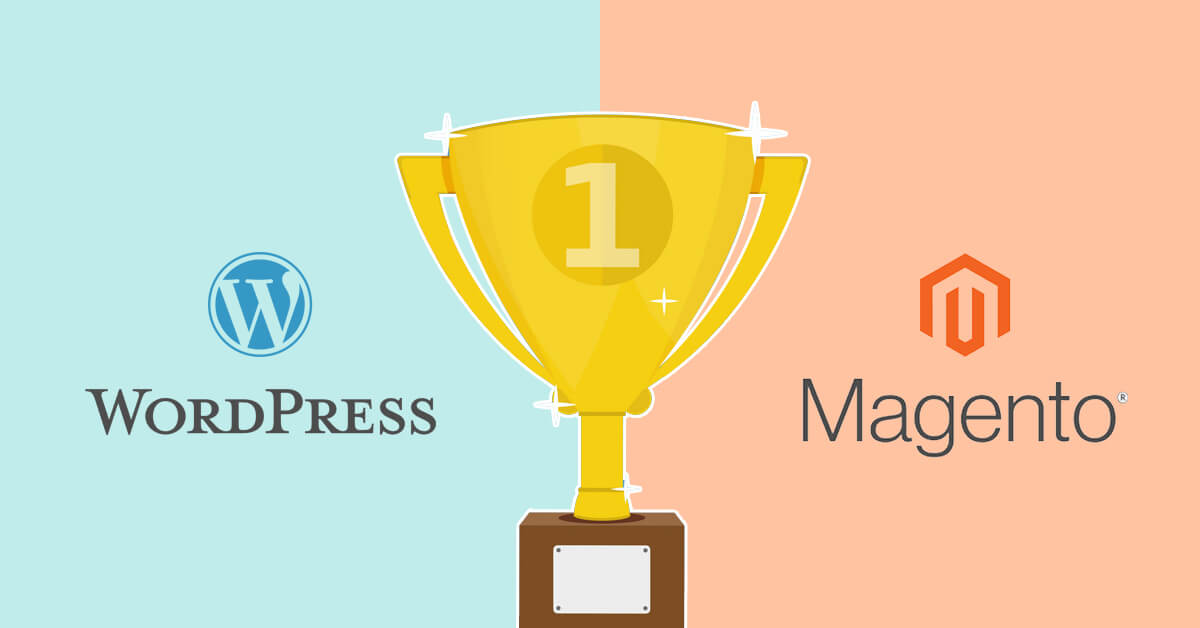 Setting up an eCommerce website? You'll probably need a CMS i.e. a content management system. Because let's face it, using a CMS is far better than writing a website code from scratch. And why should you when you can create a fully personalized website that's suited to all your requirements in the best possible way.
Intriguing, right? Sure is. But then, zeroing in on the best CMS out there is no five finger exercise. Now, even if you've had a brief stint with eCommerce, you might have heard that two of the best content management systems available at this time are Magento and WordPress. While both of these platforms may look similar, they actually aren't. Each one of them carries a different set of functionalities that can be leveraged in different ways to fulfill your requirements.
But obviously, you can only choose one. This blog will help you do just that. Let's get a deep insight into both of these platforms and compare their features to find out who wins the long drawn-out Magento Vs WordPress fight.
WordPress
WordPress is one of the most widely used CMSs around the world. It has a share of about 60.8% in the CMS market. Using WordPress, you can create any kind of eCommerce website you want. The reason why it is so popular is that it allows its users to customize and create a website without having to write multiple lines of code.
What's more, you can add virtually any kind of functionality to your WordPress site with the help of some simple plugins. Did you know that there are about 56,000 plugins available on the WordPress repository? That's a lot, right? Well, this number excludes the ones made by third-party developers.
Magento
Magento is a self-hosted eCommerce CMS, which has been exclusively designed for all kinds of eCommerce businesses including startups, small, medium-scale, large industries and multinational corporations. It has about 992,634 customers till date and is expanding rapidly.
Though both are amazingly capable, there's always a better one. Let's find out which by comparing their respective features one by one.
1. Ease of use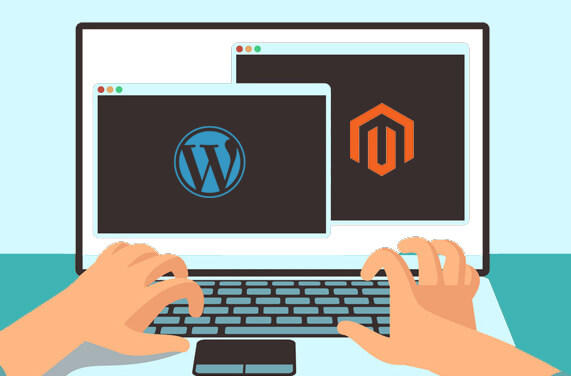 WordPress:
One of the best things about WordPress is that its interface is extremely simple to use. Also, you'll probably need to expand your eStore's functionality as your business grows. WordPress will help you do just that, thanks to a number of user-friendly eCommerce plugins. Using these plugins, you can easily add new features and added functionalities. Not just that, you can even tweak and customize your website anytime you want, thus paving the way for increased conversions.
What's best is that you don't have to be an expert or tech-savvy to be able to use and customize WordPress. Adding, creating, and editing pages can easily be done with drag and drop. You know what that means, right? No coding required, at least not for the basic customizations.
Magento:
Magento can be seen as a rather high-end eCommerce CMS solution with a complicated user interface as compared to WordPress. It can undoubtedly be challenging, especially for beginners and not-so tech-savvy users. Things such as managing multiple product categories, setting up checkout processes and product pages, etc. require some technical expertise. Opting for a Magento company can be very beneficial if you want everything to be just perfect.
Key takeaways:
WordPress
Simple interface
Easy-to-use CMS
User-friendly plugins
Easy for non-tech savvy users
Customizable
Magento
Complicated interface
Challenging for beginners
Plugins need custom development
Difficult for non-tech savvy users
Requires expertise for customization
2. Flexibility: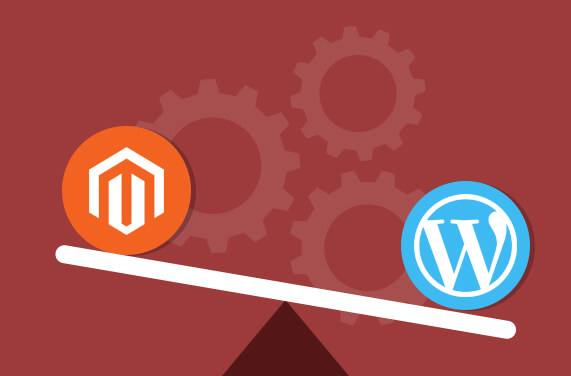 WordPress:
WordPress is the most convenient option when flexibility comes into the picture. Thanks to a plethora of plugins, you can create any kind of website you want. Even a mainstream website can be easily converted into a fully-functional eStore with the help of a few plugins. eCommerce features like checkout, contact forms, shopping cart integration, inventory, product catalog management, credit card integration, etc. can easily be added with the help of their respective plugins. Plugins not only make store management easier, but they also help you ensure that your customers have a pleasant shopping experience.
That's not all. If you have an eStore, you'll also need to optimize it for the search engines. How else will your customers discover it? Well, guess what. With WordPress, you get imperative plugins too such as SEO, social media integration, caching, speed optimization etc. That's great, isn't it?
Magento:
Magento is a robust eCommerce solution but it may fall a little behind when it comes to flexibility. As you know, Magento is solely focussed on eCommerce, which means that unlike WordPress, this eliminates the possibility of it being used for any other purpose other than eCommerce. Magento boasts of a lot of core features and out-of-the-box capabilities using which, you can create an eStore that actually stands out. Not to forget, it allows you to integrate custom developed extensions to enhance your eStore's functionalities with ease.
Key takeaways:
WordPress
More flexible
Comes with a lot of plugins

Can be used for purposes other than eCommerce
Magento
Less flexible
Limited extensions, requires professional development
Cannot be used for purposes other than eCommerce
3. Security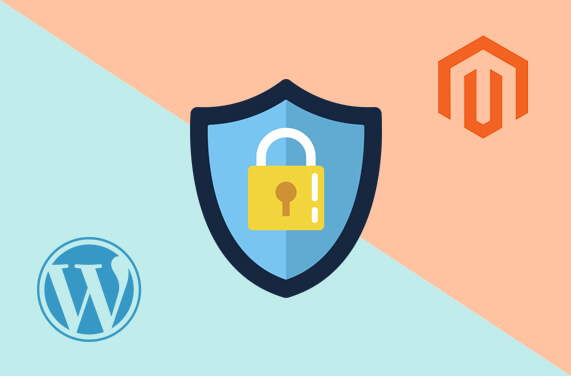 WordPress:
An eCommerce site calls for robust security measures for both the business owner and the customers. The need for a safe and secure environment that facilitates straightforward online payments is paramount. Now, if you choose to go for WordPress, we'd ask you to think again. WordPress, being the most popular CMS, is quite prone to numerous security threats including hacks. Also, plugins ad to the vulnerability, making the WordPress site even more prone to cyber attacks.
Though this is only true if you download a plugin from an untrusted source. Before opting for a third-party plugin, do make sure that is from a secure and trusted source so as to not cause any kind of harm to your eCommerce site. Also, updating your installed plugins on a regular basis is recommended to keep malicious activities and hackers at bay.
Magento:
When it comes to security, especially for an eCommerce website, Magento is your best possible option. Packed with highly-fortified features and robust security protocols, this platform makes it almost impossible for any malicious activity to cause harm. This is mainly because Magento allows a limited number of extensions which are, without a doubt, safe to use. This eliminates any chance of the extension's source code being malicious and checks for security loopholes. So, it is recommended that you use an extension developed by a professional Magento developer who renders Magento web development services only, just to be sure.
Key takeaways:
WordPress
Less secure
Installation of plugins from unknown sources must be avoided
Magento
More secure
Extensions installed must be developed by a professional developer
4. Purpose and functions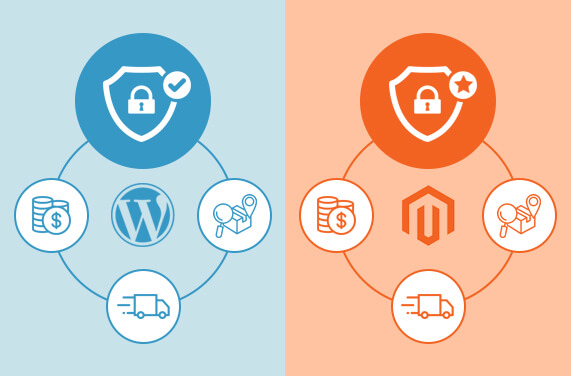 WordPress:
Before you decide on a CMS, it is important to take into account the primary functionalities that you, as an eStore owner, would need. For example, if you're a new seller with only a few number of products, then starting on WordPress with WooCommerce as a plugin can be a great idea. Or if you want a platform on which you can post cool, informational blogs along with a few associated products to sell, then WordPress is perfect for you. In fact, you'll be able to make the most of your eStore if you go for WooCommerce development services, because that way, you'll get skilled and expert developers to work on your store design and everything.
On the other hand, if you are looking for a CMS to sell a large number of products, then WordPress may not be a feasible option. It can only support simple functions like order tracking, delivery and payment option setup, shipping, etc. But to handle a large number of online products along with extended functionalities, you need a far better CMS that helps you drive more sales. And because WordPress isn't that secure for high-end eCommerce sites, you might want to consider a different platform, one that is.
Magento:
If you want a CMS that can handle a large number of products, then Magento is your best shot. With a lot of advanced features and a secure interface, Magento makes it easy for the sellers to include extended functionalities into their eCommerce site.
Key takeaways:
WordPress
Better for small eCommerce businesses

Simple eCommerce functionalities
Magento
Better suited for large-scale eCommerce businesses
Complex eCommerce functionalities with better security protocols
So, as you must have realized by now, both of these CMSs are extremely powerful. But when it comes to an eCommerce store, Magento is the better choice, especially if you have a lot of products to sell and security is your topmost priority.
What Makes TechnoScore Your Best Bet
Whether you choose to go for Magento or WordPress, TechnoScore can help you with everything you need. Want to create a Magento website or install high-end extensions for an existing one? Opt for our Magento web development services and hire Magento developers with the appropriate skill set to fulfill your requirements. Need one-of-a-kind WordPress based eCommerce website? Go for our WooCommerce development services and get a customized website like no other. All you have to do is write to us at info@technoscore.com and we'll handle the rest.