Being a web developer, you should not be afraid of committing mistakes, because "the only sure way to avoid making mistakes is to have no new ideas", said Albert Einstein. When it comes to WordPress development services, particularly plugin development, there's a lot of trial and error involved and every time you make a mistake, you don't have to curse yourself, instead, you should learn from that mistake and move on.
"A man who committed a mistake and doesn't correct it, is committing another mistake", says an old adage by Confucius.
Read on to find out the common mistakes that WordPress developers usually commit in the earlier stage of development but these can be easily avoided.
Not Paying Attention To Compatibility While Writing Code
Before you begin your spree of writing codes for plugin development, you've to figure out which version of PHP you want to develop for. Though it's hard to find out which version your users are likely to use, you should make the decision based on your potential market. For the same, you can refer to this usage statistics page of WordPress.org. Now, let's try to understand with the help of an example.
PHP 7 is the latest version, which is used by 46% of WordPress users. So, if you drop support for PHP 5 and below version, you're likely to lose 54% of potential users.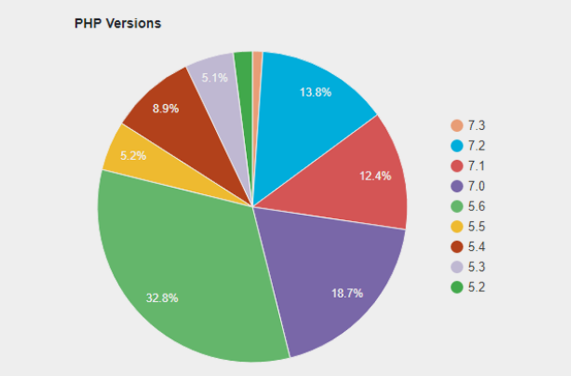 Thus, it becomes important that you have a clear picture of your market size and compatibility in mind before you get down to coding.
Not Conforming With The Official Guidelines Laid Out By WordPress.org
WordPress.org has laid out a set of rules that every developer must follow, if he is planning to submit a plugin in the WordPress.org repository. As a developer, it's vital for you to comprehend the guidelines and conform with them since any mistake could ban your plugin from the WordPress.org repository. If any flaw is detected in your plugin, an email will be sent to you to fix the plugin and resubmit it for the review. Always remember that there won't be any reapproval for the plugin if the intent is malicious.
Failing to Prefix Functions
As a WordPress developer, you might know that other plugin developers could also use the same name just like you. For better clarity, if you use function names like database_table_exists, save_data(), copy_file(), there are chances for it being used by other plugin developers as well. Once your WP plugin gets triggered, PHP starts loading the functions from the plugin into the same execution space without any separation and this could pose serious problems. Fortunately, you can easily overcome this issue by giving a unique name to each function of your plugin. For example, you could name the aforementioned functions as myplugin_database_table_exists (), myplugin_save_data() and myplugin_copy_file().
Wrapping Up
In this post, we've discussed some of the common mistakes that developers often commit when developing a plugin for the first time. If you are a newbie WordPress developer, you may consider this post as your checklist to avoid repeating the same. However, if you are a store merchant who is looking for custom plugin development for improved user experience, we suggest you hire WordPress developers from TechnoScore. Drop an email to info@technoscore.com