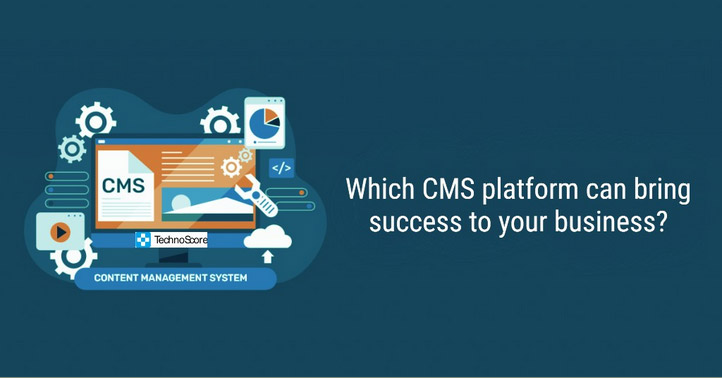 In today's digital era, CMS plays a vital role in the promotion of content marketing. This makes it necessary to make the best decision and choose the most suitable Content Management System (CMS). The best CMS portrays the value of content in the right manner. The leading WordPress development company can offer you an array of options.
So, what should you check for when picking a suitable content management system? Which features should you focus on? Should you go with a software-as-a-service (SaaS) or a hosted solution? After getting an answer to the basic questions, you can make a wise decision.
Table of content:
What factors should you consider while choosing a CMS platform for your website?
Who Should Use WordPress?
What are the Benefits of Using WordPress?
Who Should Use Drupal?
What are the Advantages of Drupal?
Who Should Use Kentico CMS?
What are the Advantages of Kentico CMS?
Avoid common mistakes while choosing a CMS platform
Which is the best CMS web development company in India?
How to hire a CMS web developer in India?
Conclusion
What factors should you consider while choosing a CMS platform for your website?
Many companies lack a thorough understanding of HTML, CSS, or JavaScript code. This can be used to create a website from the ground up. In this instance, with the right tools, users can easily and rapidly create a distinctive website. They may create a website with complex functionality and give it a personalized look. A website like this can provide consumers with a smooth experience.
The developers can use the best CMS platforms to make the work process easy. Everyone relies on platforms that are loaded with pre-designed templates and extensions. All these features can help in building an attractive website without any knowledge of coding. While selecting the best CMS platform, you can focus on essential points, such as:
Usability
It is necessary to focus on the ease of using the CMS platform. This can help your workforce to improve the work process. All team members should be able to use the same CMS platform. When everyone works on a particular platform, things become easily manageable. The best CMS features can make it convenient for all including content marketers and developers.
Customizability
Simplicity and customizability, when combined can provide an excellent solution. CMS platform with customization options and versatility can lead to the growth of the company. The users should consider the number of customization possibilities that are incorporated right into the dashboard? They should focus on how many extensions are accessible, and whether it is possible to alter the source code. Many CMS platforms provide users an option to select the best pre-designed theme. If required, they can modify it according to the requirements of their brands. Many CMS platforms, however, include coding options that allow you to add more complicated features to your website.
Security
A reliable CMS platform can safeguard your material, users, and front-end visitors. Consider what function the platform plays to guard your website and compare them with available alternates. Will you get the backup of your website manually? When is the time to update the software? Is there a requirement for installing security add-ons? Do you require an SSL certificate?
These are the fundamental questions to think about while evaluating CMS systems. If you don't know how to secure your site properly, you'll need a platform with strong security policies and tools.
Pricing
When choosing a CMS, everyone wants something that matches the expectations of visitors. Customers prefer to choose CMS platforms that provide diverse levels of plans. According to the budget, they can select the resources required to scale up at each point. On a limited budget, you can get all the desired features.
Are you searching for the best web development company in India?
Let's talk with our experts today and discuss your idea.
Who Should Use WordPress?
WordPress holds a 60.8% market share. Over 500 websites are developed each day, and WordPress powers 14.7% of the world's top websites. You may start developing your website right now because it is a free and easy-to-use content management system large-scale, powerful websites can also be created by developers.
Businesses can use WordPress to create websites for eCommerce platforms and online stores. WordPress can also be used to develop websites by digital media outlets, corporations, and major brands. It's also appropriate for portfolio sites, multilingual sites, online communities, podcasting sites, and non-profit organizations.
What are the Benefits of Using WordPress?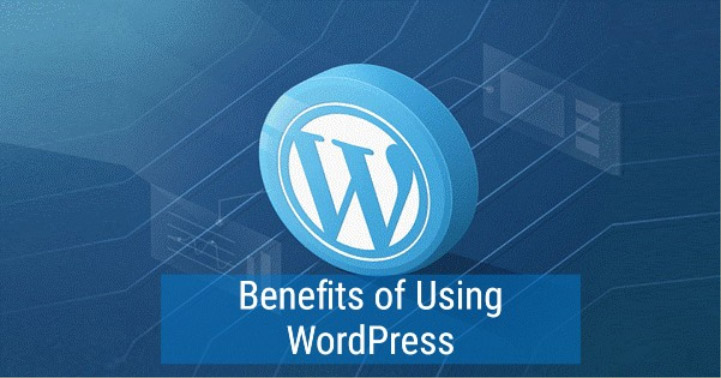 WordPress is a content management system (CMS) that allows businesses to create and administer their websites. They can also exhibit their products and services. It improves their search engine rankings by selling to potential clients. It allows businesses to share images of their work, post written content, and offer products and services through an online store. Let us take a look at the advantages of using WordPress.
Flexible and responsive to changing needs
WordPress was originally designed to facilitate blogging and other forms of online publishing, but it today powers a wide range of websites. It's suitable for running small enterprises, major multinational corporations' complicated websites, and personal blogs. WordPress can host a variety of eCommerce services, including social networks, communities, and podcasts.
Beginners will find it simple as well.
A WordPress site can be set up in minutes even if you have no technical experience. All that is required is a domain name and a web hosting account. WordPress is available for free download from WordPress.org or through your WordPress hosting provider. After that, an easy-to-use Admin panel gives you all the tools you need to adjust your site's heading and style. But if in case you are looking for WordPress development services, let us know about it since we are experts at wordpress development and even listed among the top WordPress developers on TopDevelopers.co – one of the leading IT Service Providers directory".
Themes provide a variety of options
Thanks to its wide directory of basic and premium themes. Hire WordPress developers to make the best choice among multiple options used to fine-tune the design and features of a new website. You can preview the themes by changing the layout and style of a WordPress site.
WordPress sites rank high on all search engines
Searchability is essential to achieving high rankings on Google and other search engines. These sites are continuously updated and as WordPress contains various tools and plugins, websites tend to score high for their keywords.
---
Read More: How to Build a Business Website for SMBs
---
Who Should Use Drupal?
Drupal is simple to customize and extend for developers. Drupal deviates from some of the old standards and methodologies, making it ideal for anyone interested in learning or researching new best practices for web application development. It is an efficient and well-architected platform.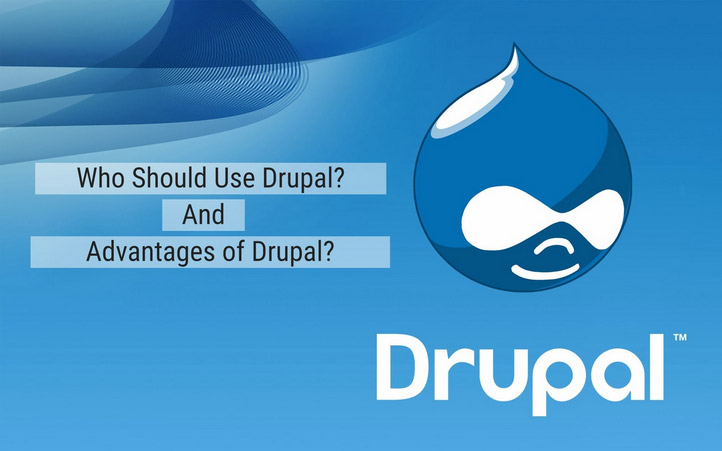 What are the Advantages of Drupal?
Drupal is for bloggers who want more than a blog. It allows groups to collaborate online, activists to spread a message, educators to provide online learning tools, artists to share media online, and businesses to sell goods online.
Flexibility
Drupal has a great capacity to create and manage content. It includes a wide range of content formats, ranging from blogs, videos, and polls to podcasts. It provides a flexible design platform for creating content-rich websites for various businesses.
Customizability
Drupal is customizable in addition to being adaptable. Drupal development services allow you to change, adjust, and incorporate unlimited unique features into your websites, such as CRM, security, and social media.
Scalability
Drupal's scalability is another important advantage. You can increase the number of web pages you have without changing anything. Drupal is excellent at switching between times of consistent traffic and periods of huge traffic surges.
Who Should Use Kentico CMS?
Many firms in the United States prefer to use Kentico CMS. The organizations dealing with the Computer Software industry can use it to create websites. They can also design online stores, intranets, and social networking sites. Kentico CMS runs on Microsoft SQL server and ASP.NET. It supports development through the portal engine, Microsoft Windows Azure Platform, and Visual Studio.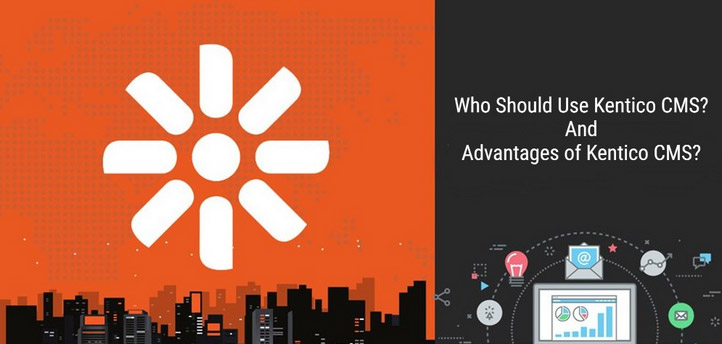 What are the Advantages of Kentico CMS?
Kentico is a feature-rich web CMS platform that creates business websites, eCommerce storefronts, and intranets. There are various benefits of using Kentico CMS. Let us read to know more.
Features of Kentico CMS
Kentico is a top-of-the-line CMS with a slew of features:
Simple and quick to use
Scalable, adaptable, and expandable
It's simple to integrate across your entire company.
Make changes at any time and any location.
Support and a 7-day bug-fix policy are included.
Security of the highest order
Unparalleled functionality right out of the box
Product that can be brought to market quickly
Product development is ongoing, with a clear path.
Combined Campaign management
Kentico can create, monitor, and manage marketing initiatives from a single location. It can track the activities taken by people who arrive on your site as a result of displaying advertisements, marketing emails, or social media campaigns by logging traffic generated by those efforts.
Multimodal capabilities
This functionality can be used by the web team to optimize the layout, formatting, and widgets of multiple web parts and web part zone components on a page. Kentico CMS development services make it simple to keep track of the testing's progress without requiring developer involvement.
Take one step forward to create the best website for your business.
Partner with us, and let's build something great together.
What factors should you examine while selecting a CMS?
Thousands of Content Management Systems (CMS) are available to help you manage the content, marketing, and SEO of your website. But how can you know which CMS is right for you when there are so many great options? There are a few things you should pay attention to, such as:
Implementation Timeline
Some CMS platforms take twice as long to set up as others, which affects development costs. Also, if you're switching CMSs, keep in mind that a team of designers and developers will be able to implement content more quickly on a familiar CMS. Learning how to use a new CMS takes time and money, and some CMS platforms have a higher learning curve than others.
Versatility
When it comes to fundamental integrations, some CMS platforms are far more adaptable than others. CMS platforms are difficult to detach from predefined layouts or data structures. Your technical staff will be curious as to how simple it is to implement custom code and handle customized data. Some CMS platforms, especially those oriented toward non-technical users, make this difficult. Hence, check with your CMS first if you wish to use one of the many plugins available.
Maintenance and Support
The purpose of a content management system (CMS) is to make site management easier. This necessitates a strong support network. Following are the methods to determine whether you have a CMS support:
Is enterprise assistance accessible?
Is there good documentation for the technical team in CMS?
How big is the CMS's following and how long has it been in existence?
How many different implementations have there been? Will you be able to get help from other forum users?
What is the organization's size and maturity level? Will they be quick to respond to support inquiries, updates, and bug fixes?
Who will take the responsibility to update and maintain the website?
Considering the aforementioned elements may assist you in choosing the best CMS platform for your company and users.
Avoid common mistakes while choosing a CMS platform
In their haste to choose the correct CMS, users frequently make the following errors. These can be resolved if customers have profound knowledge of diverse CMS platforms and make wise decisions.
Higher price packs bring more features
In general, we assume that a CMS's pricing determines its features. This is a general misconception. There is no correlation between price and features when choosing a CMS. So, while picking a CMS platform, consider your business requirements and choose the best ones.
Every implementation must produce immediate effects
It takes time for things to show the results. If you expect CMS to show results immediately, it can result in a poor user experience. You won't be able to receive all of the improvements right away. Hence, it is wise to start from the beginning rather than having your website under construction throughout and waiting for responses.
Creating a Section without understanding its features and importance
Usually, people create random sections in CMS to avail the features. They should understand that when features are used unknowingly, they might be negative. This can be a big mistake to use the trending CMS features without learning their functionality. Hence, it is wise to use your common sense and conduct research before finalizing the options.
Which is the best CMS web development company in India?
Many leading web development companies around the world provide clients with the best-in-class CMS development services. The companies also hold expertise in designing distinctive mobile app development using cutting-edge technologies. The experts leave no stone unturned to develop reliable solutions using emerging technologies and advanced programming languages.
They understand the client's vision, assets, and additional requirements. Focusing on all factors, they can deliver the most satisfactory solutions to fit your requirements. The professionals constantly work for various verticals such as Healthcare, E-commerce, IoT, Real Estate, Blockchain, Shipping & Logistics, Custom Software Development CRM solutions, and many more.
Are you looking for cutting-edge web development solutions?
Hire the best web development services trusted by the world's best brands.
A team of technically advanced developers and designers can create and deploy inventive and visually breathtaking websites. In addition, they can also provide the best solutions for apps. The customers can get an array of services provided by top companies such as:
CRM development
CMS development
Cloud app development
eCommerce app development
On-demand solutions
Full-stack development
Microsoft services
Mobile app development
Web app development
Database solutions
PHP web development
Software app development
Some of the top IT services companies providing these services are TechnoScore, and SunTec India. Konstant Infosolutions, Sparx IT solutions, Octal IT solutions, a3logics, and more. Customers who are in search of the top CMS development companies can get the best services from top companies. They can visit the websites of leading companies and check the services. After checking the CMS development services and projects done by them, it will be easy for them to make a wise decision.
---
Read More: Top Web Development Companies in India
---
How to hire a CMS web developer in India?
To hire CMS developers, it is necessary to focus on some essential points, such as:
Define your specifications.
Make sure your website is ready.
Create a thorough job description.
Post your position on well-known employment boards.
Request examples of previous work and review client comments.
Agree on the particular deliverables, price, and timeframe for delivery.
Request documentation and a logbook.
Conclusion
The Best CMS platform can provide you with a solution to all your requirements. It has amazing features that provide websites with easy-to-use interfaces. These websites can attract customers and increase sales. Hence, it is wise to find the best CMS that provides an ideal platform for your business. It also improves the ability of your team to manage content. Moreover, it is a medium for you to provide a desirable website experience to your visitors.