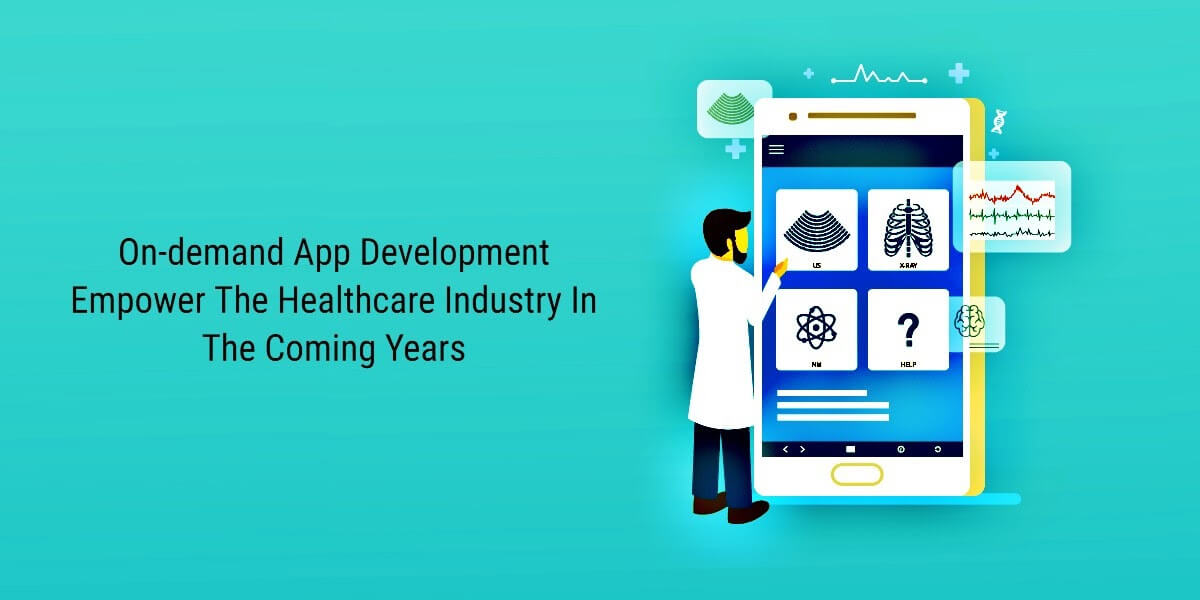 Today, every 3 out of 5 people use a healthcare app in their daily lives. Healthcare apps are not only for monitoring severe diseases, but it also offers multiple benefits in our day-to-day routines. At present, the market is overpacked with millions of on-demand healthcare apps related to various health conditions. But have you ever wondered what makes these apps so popular? What benefits will it offer to patients, doctors or other healthcare service providers? Or how it will bring a change in upcoming years? This post will help you learn all these factors; it will help you know why these apps are demanding, which technologies have made this industry highly demanding and how much it will cost you to create an on-demand medical app for your healthcare business.
Digital advancements have revolutionized many industries significantly. Today, custom software solutions and mobile app development have become the primary need of almost every sector. Whether it is the educational industry or healthcare, the market is filled with millions of mobile apps and software that serve different purposes and benefit the industries significantly. When it comes to the healthcare sector, this industry has witnessed massive changes in the past few years. With every passing year, the new emerging solutions made this sector more promising in providing better patient care. One of the critical solutions that play a vital role in its growing popularity is on-demand healthcare solutions.
The on-demand medical solutions have made this sector top among the various industries, and why not? These on-demand apps let you get medical help immediately. A few years back, people had to rush to the clinics or the hospitals for timely treatments for every minor medical emergency.
But today, with the technical evolution, the scenario has completely changed. A big thanks to on-demand healthcare apps that made this possible. Now people only require to book an appointment or schedule a call with their preferred doctors or health consultants visa application and get the proper assistance at the right time and the right place.
mHealth Apps Market Size:
The global mHealth apps market size was valued at USD 40.05 billion in 2020 and is expected to grow at a compound annual growth rate (CAGR) of 17.7% from 2021 to 2028.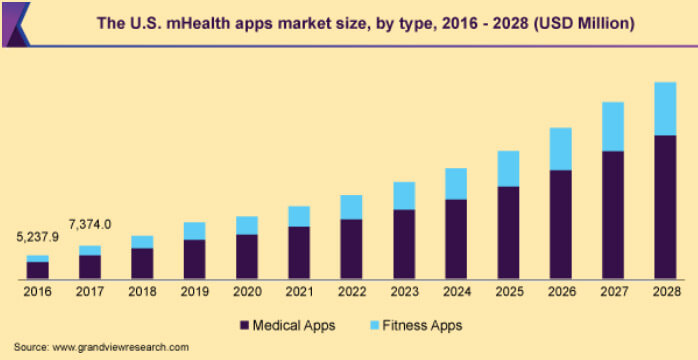 The growing promotion of mHealth applications due to their benefits in improving patient lifestyle and treatment outcomes is the key factor driving the market. According to the survey, 93% of physicians believed that on-demand medical applications could help improve patient health.
These on-demand healthcare applications not only benefit the patients but also offer immense support to the doctors, practitioners, and other medical staff. This post will discuss how these on-demand mobile applications benefit the healthcare sector and empower the industry.
Why Are On-demand Healthcare Apps Popular?
Gone are the days when people wait in long hospital queues for treatments or medical billing clearance. Digital health solutions have entirely revamped the healthcare sector. Today, digital health has become a cornerstone of developed health systems all over the world. According to Statista reports, in 2017, the total global mobile medical apps market was valued at around 2.4 billion U.S. dollars. It is estimated that the market will grow to over 11 billion dollars by 2025.
Have you ever wondered what makes these applications so demanding in the current times? This section covers a few reasons that define why on-demand medical apps are getting popular in the healthcare sector.
#1 Save Time and Dollars: The first reason for the rising popularity of on-demand medical apps is saving time and money. By the name of hospitals and clinics, the first thing that strikes in mind is the waiting halls and long patient lines, which generally are frustrating and time-consuming. But healthcare apps have eliminated this frustration to a great extent. With the help of mobile applications, people can easily book pre-appointments and visit their doctors on the scheduled date and time. It not only saves their time but also reduces the costs occurring in transportation.
On the other side, the hospitals also get great support from these apps; now, doctors and healthcare service providers can easily visit patients at their homes and provide them with the necessary treatment. This will free up space for the patients that require intensive care. The medical experts believe that this practice will cut down the additional costs of unnecessary E.R. visits or medical equipment.
#2 Convenience: Who wants to visit hospitals or clinics if one can get the treatment at their comfort places. This is the second reason behind the popularity of on-demand healthcare apps. In many different regions of the world, there are still some places where proper medical facilities are not available. People are required to travel extra miles for getting better treatments and care.
But one of the critical features of on-demand medical apps, i.e. "Remote doctor consultation", works as a blessing, which lets people connect with the doctors virtually and get real-time medical assistance. Such features give the convenience to get the proper medical treatment with just a few clicks.
#3 Eliminates Paperworks – Patient data is the most critical thing for all healthcare organizations. A single mistake or loss of data can cause a loss in millions to healthcare organizations. The on-demand healthcare apps offer a great advantage to the healthcare firms; it comes with various features that keep the patient data highly secured and managed. It allows professionals to access the data via their devices that eliminate the need for large files and paperwork. With just a few clicks, the doctors or the medical staff will get the complete information of their patients in their hands.
On the other hand, it also helps patients, as they do not have to fill several forms repeatedly; they can upload all their information once and for all. That information will be automatically saved in the platform's database that can be used later to generate the bills, certificates, reports, and more.
#4 Better Productivity and ROI: The on-demand medical apps reduce the additional burdens of the healthcare services providers, which help them focus on providing better care and treatment to their patients. The doctors will have a flow of patients without indulging in other administrative works, which helps bring more revenues to the hospital and enhance the workforce productivity.
#5 24/7 Medical Assistance: Another critical reason for the rising popularity of on-demand medical apps is the 24*7 medical services. Patients can get medical assistance whenever required; they only need to contact the respective doctors via their mobile healthcare apps and get instant medical treatment.
#6 Enhance Communication between doctors and patients: On-demand healthcare apps play a vital role in improving communication among doctors and patients. These applications allow patients to connect with their doctors with easy appointments and get the proper treatment. It eliminates the situations of visiting clinics and hospitals or follow-ups for the medications. With the help of various features like voice, video, and audio chats, patients can now explain their medical issues clearly to their doctors, which ultimately improves the relationships of the doctors-patients.

What Types of On-demand Applications Have Transformed The Healthcare Sector?
Today the healthcare sector is full of several on-demand mobile applications, from fitness tracking, diagnosis, reminders, on-demand doctors app, patient monitoring to healthcare references and databases apps; you will find a plethora of on-demand medical apps.
But do all medical apps have the same demand in the market? This section will cover the prominent types of on-demand medical apps that empower the healthcare sector to a great extent.
#1 Diagnosis Apps: Diagnosis of a medical issue has always been challenging, and when you don't have doctors around, it becomes more challenging and scary. Most people prefer to get a consultation from one or more doctors to ensure the actual health issues. While some prefer to Google their symptoms and make assumptions, this one is more risk-taking as Google doesn't know your actual health conditions.
In such scenarios, on-demand diagnosis applications play an essential role that helps people by diagnosing the symptoms accurately in need of emergency or as a second opinion. Several diagnosis apps are present in the market with robust features like a symptom checker, blood tests, or diabetes checker. These applications help both patients and doctors by giving them real access to understand the health conditions.
#2 Telehealth Apps: Another best and popular innovation in the healthcare sector is telemedicine apps. It is one of the most demanding healthcare applications that lets patients connect with their doctors via video conferencing, calls, messaging, using their smartphones or other devices. These applications offer enhanced availability of the healthcare facilities with qualitative care and lessen expenses. It improves the patient's commitments and increases stakeholders' satisfaction.
According to global market insights, the Telemedicine Market size surpassed USD 60.9 billion in 2020 and is estimated to grow at 18.2% between 2021 and 2027.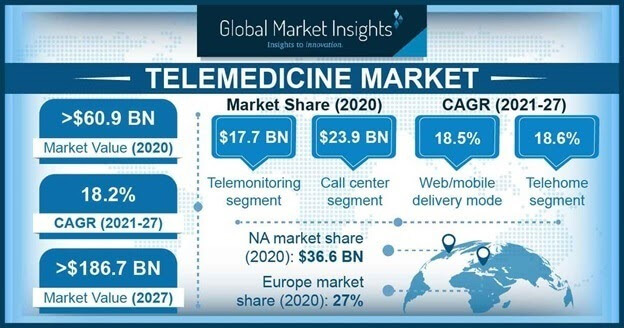 #3 Patient Monitoring Apps: These on-demand applications are a boon for healthcare professionals to monitor their patient's health closely. These apps allow doctors to monitor and review the patient's conditions and progress during the entire treatment process. Patient monitoring systems come with a comprehensive set of features like touchscreen user interface, easy-to-read graphical and tabular display, temperature data, electrocardiogram, and more that let medical professionals track their patients' health swiftly.
#4 Healthcare database Apps: Keeping patient's data secure and confidential is the foremost thing for every healthcare organization. The introduction of healthcare database apps has helped hospitals, clinics, and other health institutions keep their patient's records highly safe and secure. These apps allow doctors to categorize their patients' records easily. They can control and manage the documents based on diseases, medical conditions, medicines, prescriptions, and more. It helps doctors and other medical staff to stay updated with the latest health conditions of every patient.
#5 Mental Health Apps: This is one of the most popular medical apps in the healthcare sector. The demand for mental health apps has seen a sudden rise in the past few years, as due to the hectic work schedules and busy lives, people do not get enough time to take care of their mental health and end up with anxiety and depression. Statistics say 51.5 million individuals in the United States were affected by mental illnesses like anxiety, schizophrenia, major depression, etc., and 43.6% of the population received treatment of mental illness in the year.
To help people from these conditions, mental health apps come with robust features and functionalities. These applications facilitate meditation, stress relief, good sleep, and self-care to rebuild their mental health. According to market reports, the Mental Health Apps Market is expected to grow at a CAGR of 20.5% from 2021-2027 to reach US$ 3.3 billion by 2027.

What Top Technologies Have Empowered The Healthcare Sector?
Technologies have played a vital role in the rising popularity of the healthcare sector. Today, leading technologies like Artificial intelligence, IoT, Big Data, Blockchain, AR, V.R., 5G have covered a large part in the healthcare sector's digitalization.
#1 A.I. in Healthcare: The cutting-edge technologies like A.I. and ML have revamped the healthcare sector's working paradigms. These technologies poised a transformational force by reducing the burden of EHR (electronic health record) use. Usually, people spend most of their time on clinical documentation, order entry, and sorting through the in-basket, but the emergence of voice recognition and dictation improved the clinical documentation process. Besides, A.I. brings intelligence to medical devices and machines that help medical professionals detect health conditions more firmly.
#2 Blockchain: Blockchain technology helps healthcare institutions to keep their data more secure and confidential. This technology facilitates the safe transfer of patient medical records, manages the medicine supply chain, and helps healthcare researchers unlock genetic code. It makes the whole healthcare system more authentic, secure, reliable, transparent, and fast.
#3 Virtual Reality: Most people relate Virtual reality with games, but now this technology has covered a massive share in the healthcare sector. The introduction of V.R. in healthcare is not beneficial only for doctors, but it is highly advantageous for patients. This technology lets doctors virtually step through the 360° V.R. reconstruction of their anatomy & pathology. It helps physicians to experience the health conditions more closely. On the other hand, it relaxes patients to manage anxiety, depressing emotions, and loneliness easily. According to a survey in the U.S.- 100% of the participants reported that their overall hospital experience was improved by wearing the headset.
#4 Big Data: Big Data in healthcare comes as a blessing as it helps them manage large and complex health data electronically. Usually, traditional software and hardware used by healthcare organizations cannot handle large files like hospital records, medical patients record, medical examination results; here, Big Data plays a vital role. Today from diagnostics, preventive medicines, medical research to precision medicines, Big Data is widely used in the healthcare sector.
---
Also Read: The Future Of On-demand Mobile App Development Post The Covid-19 Episode In The US
---
How Much Does It Cost To Create An On-Demand Medical App?
The cost of developing an on-demand healthcare app depends on several factors, including the type of application, features, functionalities, app platform, size, complexities, work model, third-party integrations, and most importantly, the mobile app development agency you hire or hire mobile app developers for the project.
Considering all these factors, below, we have mentioned an average price range for building on-demand medical apps:
A basic on-demand healthcare app with features like book appointments, reports, and documents will cost around US$120000-$20000
An app with advanced features like video conferencing, audio chat, the diagnosis will cost between $25000-$50000
An app with emerging technologies like A.I., AR, V.R., and more will cost $90000-$150000.
Final Words:
Indeed is a long post to read, but we hope you will understand how On-demand medical apps have transformed the healthcare sector. Today, these apps have become an integral part of our lives. Be it a fitness tracking app, women's health app, or diet monitoring app, we all are using these apps somehow. Therefore, investing in on-demand healthcare app development is a great decision to make. If you are looking to create a healthcare app for your business, partner with a healthcare mobile app development company today. The professionals will help you with the best features and functionalities that make your app a great success in the market.
So what are you waiting for? Connect with us today and start your on-demand mobile app development project. We are a leading mobile app development company that has developed and designed various healthcare applications for our clients globally. To know more about us, feel free to contact or visit our website. We'll be glad to see you on our page.