With the changing technology, the demand for WordPress is increasing. Many customers are inclined to convert PSD to WordPress websites, as it is an easy option to use. Across the globe, all blogging and e-commerce sites are personalized using WordPress templates. WordPress has popular themes with multiple plug-ins. This can change the entire look of the website and improve the functionality of your website.
Table of contents
Steps for Converting Photoshop Design into WordPress Website
Analyze the PSD

Slice the PSD File
Create CSS and HTML file
Break HTML files into WordPress theme files
Add WordPress Tags
Testing

PSD to WordPress Conversion through Bootstrap
How much does it cost to convert Photoshop design into a WordPress website?
How long does it take to convert PSD to WordPress?
Why Do Clients Prefer to Convert PSD to WordPress?
How long does it take to convert PSD to WordPress?
Who is the best PSD to WordPress Service Provider company to convert your design into a reality?
Final Words
Steps for Converting Photoshop Design into WordPress Website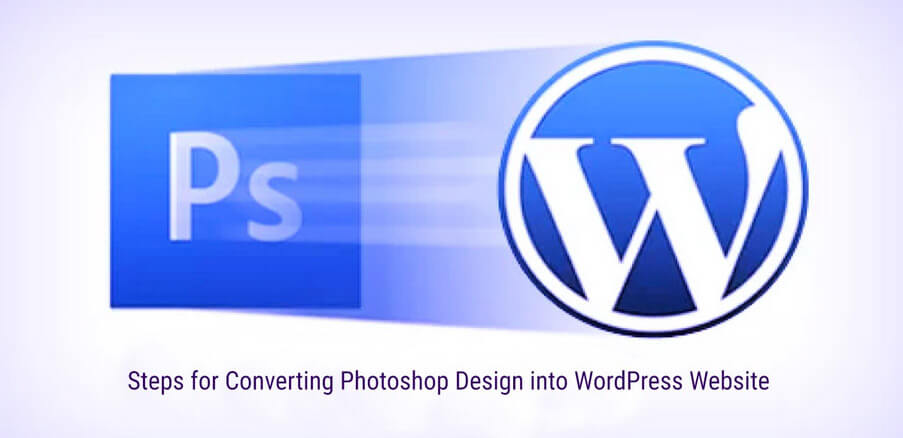 If you are looking to design an attractive, unique, and customized theme, WordPress is the right choice. You can also convert the existing PSD to WordPress files in simple steps. Read on to know the easy steps following which you can convert the themes into WordPress.
Analyze the PSD
The first step is to carefully examine the PSD file. It is important to analyze the challenges that might come across while converting PSD to WordPress. After getting a detailed idea of the PSD file, professionals can prepare a work plan. Then, they can decide on the steps such as breaking the mockup into HTML, inserting the header, title, footer, images, and CSS codes.
While converting PSD files to HTML code, web developers should possess a clear understanding of the work process. Hence, it is necessary to first analyze the PSD file. This will help in figuring out the process.
Slice the PSD File
A single big image requires more time to load. If it is broken into pieces, it can be easier to work on it. By slicing up the image, you can distribute it in different layers. The header can be on a separate layer, and the footer can go different. Similarly, buttons, background, and menus, everything can be sliced up.
Adobe Photoshop is software made with an incorporated feature to slice up the image. With this feature, it is possible to save the resulting segments in different image files. After slicing up, images can be saved in JPG or PNG formats. If there is a requirement for a transparent image, the image can be saved in a PNG format.
Create CSS and HTML Files
When transforming a PSD image to a WordPress theme, ensure that CSS is strong. A well-written script, when tested and improved, can provide enhanced visual design. After completing the basic layout of the webpage, you can use Cascading Style Sheet (CSS) rules for stylizing. This provides you with multiple options to use various sizes, colors, borders, font styles, text shadows, and resizing of images.
The sliced images can be assembled to create a webpage. The basic coding converts images into a website. To start the conversion process, create an HTML file and name it index.html, index.php, and style.css. With HTML or XHTML codes, you can show various images. This will control the visual presentation of diverse HTML elements. It also gives you the freedom from storing the images. With fewer images, the websites will take less time to load.
Break HTML Files into WordPress Theme Files
You would have a CSS file (styles.css) and an HTML file (index.htm). Here, you would have to break the HTML file according to the WordPress theme structure. WordPress has a pre-defined set of files.
Once you have completed the coding part of PSD to HTML conversion, you can incorporate HTML/CSS with WordPress. If the index.html is broken into .php files, then one can get perfect WordPress templates.
Are you looking for cutting-edge web development solutions?
Hire the best web development services trusted by the world's best brands.
Add WordPress Tags
Finally, now you can switch PHP files into WordPress theme files. Initiate the process by adding WordPress tags to your files. For example, when planning to update the latest photos on the homepage, you can write the PHP functions. This displays the data from the database on the homepage. It is simple to perform the task on WordPress. Instead of writing your own detailed functions, simply use the wp_get_recent_posts($args, $output) function of WordPress. This will provide you with a list of recent posts. WordPress has comprehensive online documentation that provides detailed information on functions.
After preparing the theme files, you can put them in a folder and name them according to the brand new theme. This folder can also include other folders to keep JavaScript files, CSS files, and image files. Here, you can also include an image file, which will be shown as the thumbnail image of the theme.
After uploading the theme folder, you can go to the Dashboard of WordPress and click on Appearance > Themes. This will provide you with a view of your self-designed new theme. Among various themes available for activation, you can select your theme and activate it.
Testing
This is the final and most important step of a web development process. After testing the WordPress theme thoroughly, PHP, JavaScript, and WordPress errors are fixed. Additionally, the performance, responsiveness, and browser compatibility of the theme are also tested. To make the theme run perfectly, JS and CSS codes are modified.
PSD to WordPress Conversion Through Bootstrap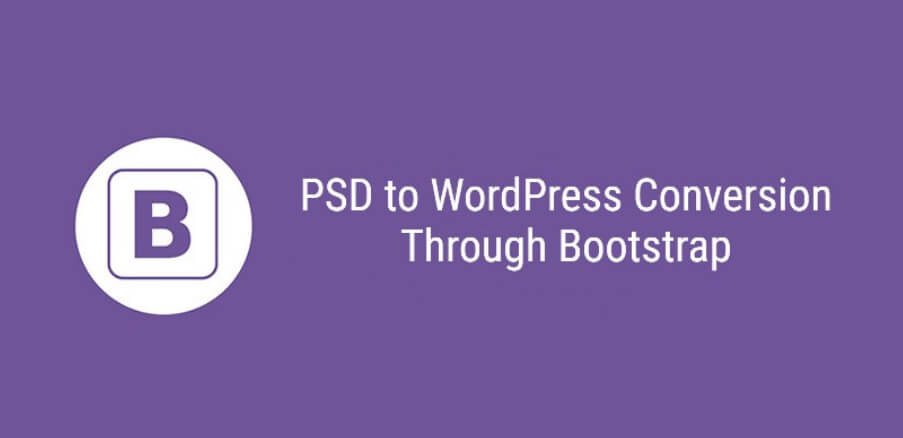 For designing responsive websites and mobile apps, Bootstrap is the most popular HTML, CSS, and JS framework. It was created by Twitter and includes HTML and CSS-based design templates that may be used to create a responsive website or a user-friendly web app. The experts at leading organizations hold a thorough understanding of the Bootstrap framework. They can provide customized solutions to match the specific design conversion requirements. The professionals aim at producing world-class solutions by employing the powerful features of Bootstrap. They construct mobile-ready websites and world-class apps from scratch. Using Bootstrap's capabilities, experts can create highly optimized websites and web apps. They ensure that the websites and applications perform well across multiple browsers and platforms.
To convert your design into a fast-loading, W3C-compliant WordPress web page, developers offer unrivaled PSD to WordPress through Bootstrap services. With the best knowledge of professionals, organizations always attempt to provide the finest results to customers. They prepare a plan to provide top-notch WordPress development services.
The professionals work to deliver high-quality conversion services. By utilizing modern Bootstrap technology, they can move PSD.files to WordPress and develop responsive WordPress web development. Each conversion is the result of extensive research.
When hiring professionals from leading organizations to convert PSD files to WordPress through Bootstrap, they can get various benefits, such as:
Bootstrap service makes your WordPress website advanced and user-friendly.
100% quality work
Competitive price
Take one step forward to create the best website for your business.
Partner with us, and let's build something great together.
How much does it cost to convert Photoshop design into a WordPress website?
The price of converting photoshop files to WordPress varies on different factors. The scope of the project, urgency, and complexity are some of them. Besides this, there is a diverse price range for various services. If the complexity and urgency are low with a narrow scope, troubleshooting and performance tuning services can be between (in USD) $200 to $300. There can be various other services such as customization of websites, custom website build, custom website build with e-commerce functionality, and more. If you require a custom website build, you can pay $2000 to $3000.
Nowadays, all businesses prefer to make a presence online through the eCommerce industry. If you are also planning for the same, you can contact a reliable company providing a custom website built with an eCommerce functionality service. To get this service with low complexity, urgency, and narrow scope, you can pay $3000 to $4000. In this service, there can be various features you can opt for such as homepage creation, responsive website, high-quality WordPress development, quick delivery, and more. If you are looking to hire professionals, you can rely on a TechnoScore professional, who charges $14 per hour.
There can be various factors such as the type of website to be created, the total hours required to complete the website, and the quality assurance. Each function might cost differently and so professionals can charge based on the page. The customers should understand that there are diverse types of websites for which there are different prices.
Static Website: For conversion of a static WordPress website, you simply require to place the information. By simply choosing a theme, you can push your content into it. If the information content is present there, it will approximately take one to two days.
Basic Dynamic Website: To examine the project's complexity, a correct data flow from back-end to front-end is extremely necessary. It will necessitate a thorough project requirement analysis, with everything from the design to the WordPress website implementation covered.
Advanced Dynamic Website: If multiple features are to be incorporated, including multiple mock-ups and revisions, it will take around three to four months. The time frame might differ based on required features. According to the preferences of customers, the features might differ, which will create a variation in the price too.
E-commerce Website: For an e-commerce website, you can get the PSD to WordPress conversion with the help of a skilled professional. The experts must possess essential knowledge to perform the task according to your particular needs. The service demands a large budget. The cost may differ for each project as there are a variety of features in your e-commerce store. Ranging from different plugins for online transactions to maintaining a proper catalog of all products to those assisting in adding reviews, ratings, and reviews of products, there can be multiple elements.
Blog: A blogging platform may be created more quickly. The cost of a blog website can be determined by the intricate features that clients require. It may require a good amount to convert the blog from PSD to WordPress. It can also be determined by the unique features and design challenges.
---
Also Read: How much does it cost to create an eCommerce website?
---
How long does it take to convert PSD to WordPress?
Converting PSD to WordPress seems to be an easy process but requires the help of professionals. The customers can contact reliable and skilled professionals to convert PSD files to WordPress. Before starting the project, customers can discuss in detail their requirements with experts. Professionals with in-depth knowledge of multiple software and plug-ins can easily work on various files.
All projects differ from each other and require different amounts of time. After going through the project, experts can plan a strategy to work. Moreover, the time to complete a project also depends on the experience of professionals. The availability of technology, resources, and customers' requirements are some of the important factors that help in finalizing the duration. Further, the customers might also take time to approve the project. If they are unsatisfied, professionals can modify the files, which would require more time. In this manner, some projects can be completed in a shorter duration and some might take more time to meet the industry standards and customers' requirements.
Are you searching for the best web development company in India?
Let's talk with our experts today and discuss your idea.
Why Do Clients Prefer to Convert PSD to WordPress?
Nowadays, many clients prefer to convert PSD to WordPress for various attractive reasons. Let us take a look at them:
Unique Design
The customers prefer to convert PSD to WordPress for its unique business model that provides an identity to the business. The converted files provide the exact look, feel, and functionality required for your website.
Cross-Browser Compatibility
WordPress themes lack cross-browser compatibility. This stops websites from working in different browsers. Due to this, the WordPress themes built through PSD are tested on multiple web browsers and operating systems.
Time and Cost-Effective
The users upload and activate the theme via the WordPress dashboard. Since the theme is not customized according to business requirements, customers can add or remove diverse elements to make it suitable. It becomes a very time-consuming process. Hence, customers prefer to convert PSD to WordPress themes. This method can provide customized themes for businesses.
Scalability and Flexibility
As the business grows, the website should be updated. The modification of the website is easily possible by adding posts and pages. Especially, a highly scalable and flexible WordPress platform makes it convenient to add the required functions to the website. Various plug-ins make it possible easily.
Maintenance and Support
When organizations hire professionals to convert PSD to WordPress themes, they can rest assured of the quality of work and maintenance services. They provide better assistance, delivery support, and maintenance services. Using their knowledge, professionals provide the most effective solutions to improve the experience.
How to find the best PSD to WordPress conversion service?
At present, WordPress CMS is the first choice for businesses to build websites. Some businesses also prefer to convert PSD to WordPress. In this situation, they should hire services from the best organization. After thorough research, businesses can select a company providing PSD to WordPress conversion service company.
Before finalizing a company, businesses can search the Internet. They can ask for recommendations from reliable sources, use references and gather detailed information about the company. Instead of relying on the advertisements by reputed companies, customers should check the previous projects. So, before handling the project, ensure that the company has the right expertise to provide the desired results.
To check the quality of work and services, customers can check the standard web practices followed by the provider. It is important to ensure that the website is compatible with diverse web browsers. Similarly, there can be some other requirements. The customers can check if the company provides all the required services by visiting their website. To hire services, customers can get a sample job done. This will help in judging the skills of professionals.
Who is the best PSD for WordPress Service Provider Companies to Convert your Design into Reality?
It has become necessary for businesses to use the latest technology to reach more customers in the digital market. Among diverse technologies, WordPress is highly trending. Many businesses prefer to use WordPress to provide an easy platform for customers. To avail this option to customers, businesses can contact reliable organizations providing PSD to WordPress conversion services. The top companies are listed below:
SunTecIndia – A team of skilled professionals provides customers with the latest services. Possessing good knowledge of Photoshop and the latest technology in the industry, experts ensure that they provide the best designs and most effective solutions to customers. The professionals start planning a strategy according to the requirements of the project. In this manner, customers can get the desired results. The company has served hundreds of customers across the globe.
TechnoScore – It is a leading organization with a team of dedicated mobile app & web developers. The experts in the company use advanced software and plug-ins to provide the best results. They ensure that the best PSD to WordPress conversion services are provided to customers at reasonable prices. The customers can contact the experts and discuss their projects. The professionals can provide the best solutions to make your website stand out among all.
---
Also Read: Top Web Development Companies in India to Look Out for Website Development in 2022
---
Wordprax – US-based company, Wordprax has served customers for the last 10 years. Providing high-quality work, the company has delivered over 10 thousand websites designed with WordPress. The developers at the company provide PSD to WordPress services, HTML to WordPress development services, and more.
Xhtmalchamps – Dedicated professionals of Xhtmalchamps provide accurate, fast, and affordable services. The company has a pool of skilled professionals providing PSD to HTML and responsive conversion services.
In addition to this, there are various leading companies such as MARKUPBOX, Codemyconcept, and PIXLOGIX. When looking for the best PSD to HTML conversion services, customers can hire developers from any of the leading companies.
Final Words
Converting PSD to WordPress can be a difficult task as it requires advanced technical knowledge. So, if you want to design such dynamic websites, it would be wise to engage conversion professionals. The experts at the leading organizations have good knowledge of different tools and techniques. Understanding the requirements, they can provide effective services.
If you are also looking to enhance your business website, contact a team of skilled professionals. The best PSD to WordPress conversion services can enhance your website. To get the best services, you can meet our professionals at TechnoScore. Visit our website and experts would assist you with the most effective solutions.