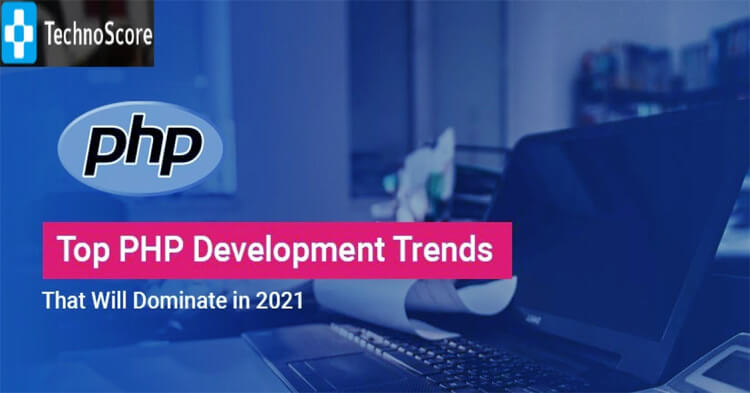 Summary- PHP is one of the dynamic languages that has attracted most developers around the globe. It is one of the best frameworks to create dynamic and interactive websites easily. This language has always been on the list of hot topics to discuss, and the latest PHP web development trends have made it more powerful and curious. Trends always bring an immersive opportunity for the business to take their business onto the next level. Therefore the companies need to keep aware and updated about the current advancements in the technologies, development frameworks, and tools to fierce competition in the market.
This blog will guide you with top-notch PHP web development trends. For spectacular results of your web presence, consider these trends and apply them with the help of professional PHP developers. It will surely help you improve your business's performance and bring value to it.
Trends in the technologies and development frameworks are always exciting to learn and discuss. These latest trends help companies improve the quality of their business services and enhance customer engagement. In the last two years, the web development market has seen massive changes and upgrades and more are on the way. One of the significant evolutions that have stunned the web development market is the PHP web development trends.
PHP doesn't require any specific introduction; it already has an enormous image in the software development industry. It is one of the oldest and most popular programming languages worldwide. According to the statistics, 79.2 % of total websites are built upon PHP.
And according to Stack share– 44235 companies reportedly use PHP in their tech stacks, including Facebook, Slack, Swiggy, Zomato, Lyft, and more.
Undeniably, PHP is a widely used server-side programming language. Still, it has been criticized by the developer's community as an outdated, average, and poor quality framework. But PHP version 7 has brought dramatic improvements and changed the entire scenario. Most developers and companies think that PHP is dead. But PHP has made a striking comeback with its updated versions and vital trends. This blog will discuss some of the latest PHP trends that have made this framework demanding and significant.
But before discussing PHP trends, let's take a quick look at its basics-
What is PHP?
PHP is an open-source general-purpose server-side programming language that is widely used to build dynamic websites. The language was initially known as Personal Home Page, but later it was recognized as Hypertext Preprocessor. It is one of the easiest programming languages to learn and a systematic framework to work, on.
PHP is a big family of 10+ frameworks, including Laravel, CakePHP, CodeIgniter, Symfony, Yii, Zend Framework, Falcon, FuelPHP, PHPixie, and Slim, used to build robust and scalable applications and web platforms.
The next big question that hits every entrepreneur's mind is- Why choose PHP?
PHP is one of the ancient programming languages used to build reliable, faster, and easy-to-use web applications. Apart from this, it can also be used to perform calculations, collect user information, interact with MySQL databases, create, and edit graphics using the GD Library, and work with cookies. Undoubtedly, PHP has a lot more to give; it is the most versatile programming language that's most sorted by the top software development companies in the industry.
In this section, we have mentioned a few of the most significant reasons to choose this framework over other programming languages for your better understanding.
Reasons for choosing PHP web development for your next project-
Open-source & Free- The foremost reason for choosing PHP web development is its open-source behaviour, allowing developers to access it easily. It is a free and friendly programming language that doesn't require any particular downloads or license fees. From a beginner, intermediate to a highly experienced PHP developer, anyone can learn it quickly. Due to its open-source feature, the internet is full of tutorials, and guides that profoundly help its developer's community understand this framework.
Easy to maintain- PHP comes with a decipherable syntax, making it easy to change over time. This framework has the most straightforward maintenance and upgradation process; its code is easier to update. If you wish to add the latest features lately in your web development project, PHP can do it quickly for you.
Reliable- PHP comes with a robust error handling module and extended support for object-oriented programming, MySQL extensions, data handling through iterators and more. It offers highly secure and powerful web development that keeps you relied on this programming language later as well.
Less time-consuming- Another best reason to go for PHP web development is the time-saving factor. PHP allows developers to reuse the code; since it is an object-oriented language, it enables code reusability. It ultimately saves the time of developers and fastens the web development process.
Compatibility with Operating Systems- PHP is one of the major programming languages compatible with all OS. PHP can be used with each OS, be it Windows, iOS, Android, Linux, or Unix. Not only the OS, but it is also highly compatible with the servers like Apache, MySQL, IIS etc.
So these are a few significant reasons that make the PHP programming language prominent and influential.
Moving on, let's discuss-
Why PHP web development is highly preferable by Startups and Small SMEs?
Indeed, PHP is the most preferred programming language by all business sizes. Big market giants like Facebook, Swiggy, Zomato, PayPal and more are using PHP. But PHP has unique and incredible popularity among small and mid-size businesses. It is considered as one of the best options for startups and SMEs.
In this section, we have mentioned some prominent reasons that have made small businesses choose PHP over other server-side programming languages-
It is an experienced web technology.
It comes with an easy library management feature.
It supports creating a variety of websites.
It prevents user abandonment.
It has a variety of extensions and mini-macro frameworks
It is a cost-effective framework
It supports robust CMS
It provides benefits of LAMP Stack
It has ready-to-use libraries, and,
The cost of hiring a PHP web development company is less as compared to other frameworks service providers.
Now let's discuss the much-awaited section for which we have written this blog.
Latest PHP Trends to look for in 2021-
Smart Chatbots with PHP- Chatbots are considered one of the most valuable mediums to stay connected with customers 24*7. These softwares are the best example of AI and ML that help businesses know their customers' preferences and provide them with favourable solutions. Direct chat via messaging and audio with the users eventually enhances customer engagement and increases the consumer base. Integrating Chatbot solutions in your business website not only assists your end-users with the best possible solutions but keeps your pocket safe from additional expenses of hiring resources.

According to the latest trends, PHP and its frameworks are the most suitable to build chatbot software. The PHP-enabled chatbots include ideal APIs, which makes this software highly conversational and easy to use. The best part about PHP based chatbot is, it can be developed within 10 minutes. Developers do not need extra time and effort; it plays a vital role in saving their time and cost considerably. BotMan is a significant example of PHP Chatbot software built on the Laravel framework and has gained popularity worldwide.

Chatbots developed with PHP offer exceptional features like a Multi-language support system, Mobile-friendly display system, effective dashboard system, Query customization option, and more that are highly successful in converting visitors into potential leads and buyers. If you wish to deal with eCommerce, messaging apps, or customer service and support business, PHP based smart chatbots would be an excellent deal for you.

Robust Cyber Security- Cyber threats and attacks are already a serious concern for the software development industry. Today, improving Cyber Securities within websites has become one of the most critical tasks for every company. The advancements in customer's preferences and online shopping trends have made the security factor more vulnerable for web platforms and applications. Suppose, if your customers started losing their confidential data and information through your website, it is a big red alert for your company and business. You will not only lose your customers forever, but your business will be doomed as well. Here, a suitable PHP framework can help you to overcome this issue.

One of the latest trends in PHP web development puts significant focus on enhancing Cybersecurity. PHP development tools come with effective cyber solutions that keep your website highly secure and safe from intruders. Phalcon and CodeIgniter are the two most vital PHP frameworks and are widely used for cybersecurity solutions. Phalcon is a well-documented PHP framework highly used for asset management, security, and caching of websites and web applications. And CodeIgniter comes with advanced encryption features that keep your website data secure and sound.

Cloud Integration with PHP- Cloud is one of the cutting-edge technologies that has marked tremendous omnipresence. It is a popular technology that is used by 94% of enterprises all around the globe. According to Right Scale's annual State of the Cloud Report for 2019, 91% of businesses used a public cloud, and 72% used a private one. And now, Cloud Functions extended its support for PHP. According to the latest PHP web development trends, the function frameworks of PHP support both HTTP Functions and Cloud Event Functions. https://resources.flexera.com/web/media/documents/rightscale-2019-state-of-the-cloud-report-from-flexera.pdf

With Cloud functions for PHP, developers can deploy functions in a fully managed PHP 7.4 environment, complete with access to resources in a private VPC network. With this cloud integration trend, businesses are now leveraging both the technologies and get a scalable, cost-effective, and advanced web solution.

IoT with PHP- Combining IoT concepts with PHP to build meaningful and result-driven apps is a significant evolution the software industry has witnessed. PHP is already a widely-used programming language preferable by almost every developer around the globe. This language comes with decipherable syntax that makes it simple and flexible with the IoT apps.

IoT applications are no more complicated tasks that require a lot of time and effort. With helpful hardware, software & tutorials tools like Arduino, Onion IoT, sensors, Firmata, UnoJoy, Onion IoT Cloud, you can combine the unique IoT and PHP application development and put the industry in jaw-dropping conditions.

Accelerated Mobile Pages- A web page with a fascinating appearance and faster loading time in both desktop and mobile web browsers already win 50% of its users. Today, users prefer to visit websites via their smartphones and tablets, and when they find a website with a slow loading speed, they shut down that page immediately. It ultimately increases the user's bounce rate numbers. Therefore it becomes essential for businesses to prioritize their site's speed that helps in keeping their users stick to their website. Here AMP (Accelerated Mobile Pages) can help you to increase your user retention rates. AMP is an open-source initiative project used to optimize mobile pages and make them appealing and faster.

If you have a PHP based website, adding the AMP version of your site is one of the most profitable decisions for your business. Hire a PHP developer today and start adding AMP to your site. It helps you improve the ranking of your business listings in popular online directories like Google, LinkedIn. Apart from this, it also leads your business to happy and engaged users that can turn into potential buyers and increase your revenues.
Wrapping up-
So these are a few best and the latest PHP web development trends that businesses must look at in 2021. However, PHP is already doing wonders since its inception, but after the arrival of its latest versions, this language has made a magnificent comeback. It is one of the best languages that are accessible by all. Not only its features and functionalities, but PHP also gives other more robust reasons to developers and companies to go with it. If you wish to start your business with emerging trends, we would highly recommend starting with PHP. It is one of the most reliable languages regarding security, functionalities, experience, and cost. Indeed it is a long post to read. But we hope it fulfils your requirement and gives you an idea of what PHP can do if combined with immersive technologies.
If you are looking for more PHP web development services, get in touch with us. TechnoScore is a leading web development company that helps businesses worldwide with the best PHP development solutions. Let's connect; we are just a ping away.