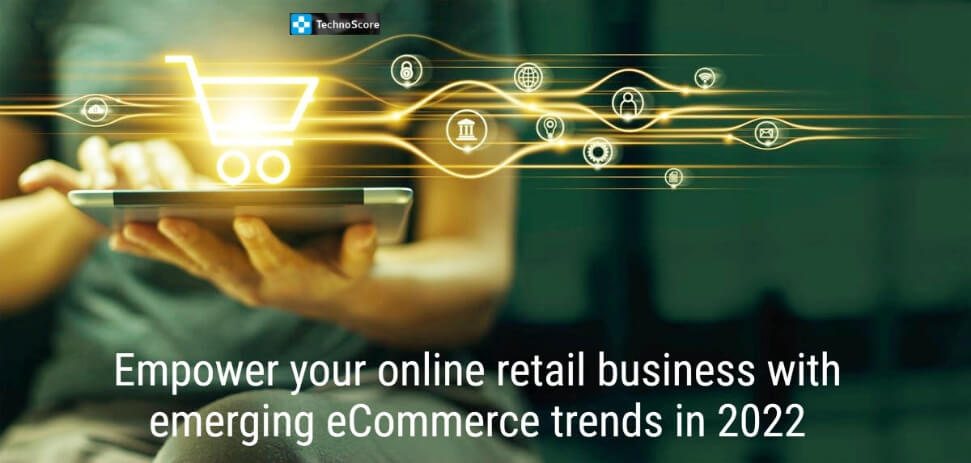 The realm of retail has been turned upside down by eCommerce. eCommerce's global expansion has been phenomenal, and it appears to be here to stay. Unexpectedly, it seems that eCommerce trends have a potential market. Of course, there are still many untapped opportunities in online shopping, implying that there is still a lot of room for expansion. Consumers in 2021 want retailers to provide fresh customer experiences to keep up with the rapid pace of digital evolution. In the post-pandemic years, having an eCommerce business isn't increasingly accessible; it is a requirement that a business must meet to generate sales, according to an eCommerce website development company. Global eCommerce retail sales increased by more than 25% in this pandemic year alone, underscoring the need to own a retail eCommerce business.
Retail sales are expected to reach $30 trillion by 2023, as per Statista.
This post outlines several significant trends that we, as top eCommerce website developers in India, believe will affect the eCommerce sector in the first half of 2022 and should be considered while developing a strategy for your teams.
So, let's start the discussion with,
Quick overview of the worldwide e-commerce industry in 2021!
When looking at previous years' performance, one can see an upward tendency, indicating that e-commerce is becoming a more profitable business alternative. In 2021, global e-commerce sales are predicted to surpass $4.5 trillion. Furthermore, by 2021, e-commerce is anticipated to account for 19.5% of total worldwide retail sales. That is, nearly a quarter of all dollars spent on retail products will be spent online this year.
What is the size of online shopping in the United States?
In 2020, e-commerce revenue in the United States surpassed $400 billion for the first time, hitting $431.6 billion. This is an about 20% increase above total revenue of $360.1 billion in 2019.
Aside from the market analysis given above, there are a few other vital statistics to consider.
In 2021, global eCommerce retail sales will total $4.89 trillion. The amount of business would increase by a factor of six in ten years.
Consumers in the United States shop online in 76 percent of cases, and eCommerce sales are expected to double by 2024.
By 2021, there'll be 2.14 billion digital purchasers worldwide, with smartphones accounting for 57 percent of online buying orders.
As you've seen, an overview of eCommerce and some key market stats. Now, it's time to check,
Why are trends so important to consider?
Here are a few explanations why every business, including eCommerce, benefits from following the current trends:
Retailers could indeed gain a competitive advantage by recognizing trends early on rather than when they start to fade away. You'll sell so many products and conduct a more accurate competitive analysis if you understand a trend early on rather than when it starts to fade away.
Developments encourage businesses to adapt: since the start of the COVID-19 pandemic, eCommerce has undergone a seismic transformation. Identifying and addressing your potential weaknesses before your company goes down with the ship can be as simple as recognizing the patterns.
Merchants choose to know their customers: nothing remains constant in this world, and neither are the tastes and wants of customers. Look at the trends to find out what's hot on your consumers' shopping lists, how they engage with businesses, the most popular online shopping platforms, and so forth.
Even if you're not ready to adopt new technologies like AR and VR in the user shopping experience, trends can help you like what lies ahead for eCommerce and use it as a metric for success.
So, these are the benefits of adapting to trends. Research is the foundation of every trend analysis. As a result, we've chosen to save you some time by presenting the most recent eCommerce trends that we believe are relevant. So, let's go!
---
Also Read: How much does it cost to create an eCommerce website?
---
Top eCommerce trends that are powering online retail forward
Below are some of the key trends that every eCommerce website development company and entrepreneurs must consider to build robust online store in 2022
#1. Utilizing Big Data
Online businesses collect and handle a lot of data, but it must be examined to add value. The information collected can be classified into three categories: behavior, action, and product. Companies may use big data to solve problems and develop solutions to assist them in overcoming business obstacles. Predictive analytics services can help businesses grow sales, improve customer service, and attract new consumers.
Retailers can employ predictive analytics to evaluate large amounts of historical data on user engagement. It's simple to monitor how customers react to your products, identify customer churn, and assess your company's strengths and shortcomings when you use them. Following the acquisition of analytical information, a retailer tailors the shopping experience to a specific audience and users. Customer loyalty and increased sales are ensured if the service or items are fine-tuned. If you are looking for smart analysis you can go for Shopify platform, it comes with a built-in analytics tracker that allows you to generate data based on your store's performance. Partner with us and get the best Shopify development services and create robust websites with rich features and functionalities.
#2. Mobile Commerce
Mobile Commerce also known as mCommerce has emerged as one of the leading trends in eCommerce website development in India. Mobile commerce sales will reach $47.8 billion in 2020, accounting for 31% of total retail eCommerce spending. Experts say that the growing number of people who own and use a mobile device proves that mobile commerce will grow in 2022. In the United States, there are currently 298 million smartphone users, with that figure predicted to rise to 302 million in 2022 and 311 million by 2025.
For merchants, mobile apps are becoming an essential component of any successful eCommerce strategy. Businesses will need them if they want to be successful in the following years. Mobile applications are twice as quick as web pages, work offline, and employ push alerts to drive purchases. They're a convenient way for buyers and sellers to communicate.
#3. Utilizing AR technology
Augmented reality is slowly making its way into our daily lives. It has a significant impact on business, commerce, and training. However, this technology is also revolutionizing eCommerce. Many companies have embraced augmented reality to improve the user experience. It's one of the most significant eCommerce development trends in the United States in 2022. It can assist reduce the frequency of product returns by making shopping exciting and visual for potential customers.
For a long time, companies like Ikea and Sephora have used augmented reality in their apps. You can use them to visualize how Ikea furniture might look in your home before you buy it. Customers can also test cosmetics before purchasing them at Sephora.
WooCommerce product view in AR has become one of the hottest functionalities that has drawn attention of millions of customers and companies. Hence if you plan to create an eCommerce website and use AR technology, WooCommerce platform is the best choice to go with. To unlock the complete potential of WooCommerce, hire WooCommerce development services today from TechnoScore.
#4. Headless Commerce
Headless commerce is built to work with a variety of front-end systems, including desktop and mobile apps, third-party platforms such as Amazon and Instagram, and voice assistants (such as Amazon Echo). Retailers can also administer their stock and sales from a single, central platform using headless commerce. This cuts the time it would take to perform multi-channel updates in half while also enhancing the quality user experience.
There are two key reasons why headless commerce is crucial. For starters, headless commerce has the ability to drastically reduce the amount of time and resources required by employees to manage different eCommerce channels. Second, headless commerce enables retailers to reach new markets, and platforms fast and affordably. Headless commerce, in essence, allows you to consolidate basic operational systems like supply chain operations, customer management, financial management, and so on. Additionally, headless commerce allows you to connect customer interactions to this core operational architecture without requiring any code modifications, allowing you to make radical changes.
The headless architecture in Magento is the key factor to consider. Magento 2 was chosen by many companies for headless commerce because of its unparalleled set of robust APIs, ease of use on the front end and back end, agility and speed. Hire Magento development services today and integrate headless commerce to stand out from competition.
#5. Voice commerce
Apple Siri, Amazon Alexa, and Google Assistant rule this industry, which is already enormous and dominated by devices made by IT giants. However, it has demonstrated the ability to grow further; as a result, this is an essential trend for the approaching years. By 2023, it is predicted that 8 billion gadgets (including smartphones) will have voice assistants. For instance, there were 2.5 billion such gadgets in 2018, indicating that their number is many.
Voice commerce sales will reach $ 40 billion by 2022, according to OC&C Strategy Consultants. Using voice assistants to place purchases is simple, hands-free, and does not require an input device, making it ideal for multitaskers. Voice technology requires additional development and support for more languages and accents, but once it is, eCommerce companies will aim to incorporate voice search and voice assistants into their customer journeys. Hire the best eCommerce website developers in India and build your dream eCommerce store incorporating this amazing trend.
#6. Payment Integration
Customers have more freedom in their activities and can select how to pay based on their circumstances when using various payment options in eCommerce stores. As a consequence, they're less likely to abandon the shopping basket.
You can use the below-mentioned payment modes in your eCommerce app:
Cards – Nowadays, debit and credit cards are the most widely used payment methods. Contactless cards, which are based on RFID or NFC technology and do not require the customer to touch the terminal, have grown increasingly significant during the pandemic.
Cash – Cash will still be an option for payment, even though cashless payments are growing increasingly popular for a variety of reasons. Some reasons include the fact that elderly people prefer cash, that a card terminal may not operate due to a terrible internet connection in remote areas, and that bank operations may occasionally fail due to server faults. Cash is usually useful in these instances.
Cryptocurrency – Payment systems based on cryptocurrency are still debatable, but they may gain traction in the near future.
E-Wallets – Digital wallets, often known as eWallets, are a new and easy payment mechanism for online retailers. Users create eWallet accounts, link them to their bank accounts, and then use electronic devices to transfer money to dedicated merchant accounts.
#7. Smart recommendation system
Recommender systems can benefit from large datasets. Amazon's recommendation engine is among the most well-known usage of AI in E-commerce for approach. When millions of people visit Amazon.com, they get a tailored web page. Netflix, another industry behemoth, saves $1 billion a year owing to AI-powered algorithms and provides 75% of content to customers via customized suggestions. These solutions are built on top of big data.
E-commerce suppliers and online shops must have a recommender system. You may enhance revenue, improve customer satisfaction, and better understand users' needs by using tailored solutions. Hire an expert eCommerce website development company like us and integrate a smart recommendation system to get insightful details and make informed decisions.
#8. Visual Search
In the field of e-commerce, visual search is a tried and true AI application. It's used by industry leaders to improve website performance and provide a more intuitive user experience. The functionality, however, is not yet completely accurate as text search. To learn how to choose the best possibilities from millions of photographs, the algorithm behind the scenes needs vast datasets.
The technology is presently undergoing tremendous advancements, and it will soon be exploited to its full potential. So, to prepare for the future, it's must to optimize your website's search engine for image-heavy inquiries.
OpenCart visual search extension is considered as one of the best solutions for companies looking for making product navigation easier. Hire our opencart development service and get the robust visual search extensions that enhance your product visibility and ultimately results in better traffic and sales.
#9. Try Omni-Channel Approach
Retailers should supply relevant offerings and address the demands of their customers right now to grab customer attention in the midst of a massive daily flow of news, adverts, and notifications. The easiest method to accomplish it is through an omnichannel sales and marketing strategy. The omnichannel commerce paradigm indicates that a customer has a number of alternatives for ordering, paying, and picking up items.
In other words, a retailer unifies purchasing channels such as a website, a mobile app, social media, digital catalogs, and physical stores into a unified ecosystem and offers the same terms (pricing, discounts, inventory, shipping, and so on) across all channels. Omnichannel does not imply numerous distinct touchpoints; rather, it refers to several interconnected touchpoints that track user behavior and exchange data in order to improve customer experience. Get help from a professional eCommerce website development company in India, implement an omni-channel approach and get the desired results.
#10. eCommerce optimization
According to eCommerce website developers in India, establishing an eCommerce business implies coping with a very competitive market unless you compete in a sector. That's why eCommerce optimization is so important: it enables you to differentiate yourself from the rivals, develop trust, offer a better consumer experience, and, ultimately, boost conversions. The eCommerce conversion rate is 2.27%, although it varies significantly based on the country and even the gadgets consumers purchase. That's why, rather than comparing your company to the average, you must use Google Analytics to cover your conversion rates and experiment with ways to improve them.
Therefore, eCommerce optimization is the answer. It's a continuous online store development strategy that ensures revenue gain. Do you have any questions about how it works? Take a look at Amazon.com for some ideas. You haven't seen them perform a significant makeover, yet they are always and forever improving. If you're wary of sluggish IT upgrades but don't want to spend much money on expensive redesigns, eCommerce optimization is a good option.
---
Also Read: 4 Little Known Ways to (Ethically) Drive Your eCommerce Store Sales
---
#11. 3D modeling
Another critical eCommerce trend to improve the user experience is 3D modeling. Customers will have a better understanding of what they're buying if they can see the product in 3D. What's the end result? Increased sales conversions and improved shopping results. Customers find online purchasing difficult since they can view, touch, and decide to buy a product in a traditional, brick-and-mortar store. Returns are indeed an industry hazard because that can't be done in eCommerce retail.
One of the eCommerce UX trends businesses may use to encourage fewer returns is 3D modeling. Another option to improve the user experience is to take this strategy. The shopping process will be sped up if the customer can see the product in 3D. Customers find it difficult to shop online since they cannot see, touch, or buy a thing as easily as they can in a physical store. Returns are common in eCommerce retail because this isn't possible. One of the eCommerce UX developments that is leading to fewer returns is the 3D model. Being a leading eCommerce website development company in India, we can help you to create the best 3D models to cater to your business needs.
#12. AI for customers support & service
A number of works formerly done by humans have already been taken over by AI. One instance is customer service. Using AI for customer service helps organizations streamline processes and improves the customer experience. Businesses may provide customer service 24 hours a day, seven days a week, using AI. Response times are faster since all of the systems are linked, making it easier to get the information that is relevant. In fact, AI has advanced to the point that most customers are unaware they are not speaking with a human. AI is also more effective when it comes to large data and website development.
Use AI to make your site more relevant with nopCommerce. NopCommerce has customized AI and chatbots that can help you with day to day administrative tasks. The chatbots are able to focus on the store front and make your customer experience smooth and interactive. Partner with us and get the best nopCommerce development services at highly affordable prices.
#13. Chatbots integration
Chatbots have improved the consumer experience recently, and this trend will continue. Chatbots are the primary choice for customer support inquiries for more than 60% of all end customers. Companies employ chatbots to enhance customer service, provide faster and more accurate responses, and collect more data so that they can provide better customer engagement the next time around. You will undoubtedly gain from developing chatbots and incorporating them into your corporate infrastructure. They also aid eCommerce websites in terms of marketing, such as search engine rankings.
Some companies, such as Lego, have even developed computerized shopping assistants that provide clients with individualized gift suggestions based on their responses to a few simple questions. When a consumer selects a product, the chatbot takes them to a website where they may finish the transaction. It's also worth noting that chatbots may do more than just replicate in-person interactions; they can also create interesting, fresh digital experiences. Above all, your consumers will receive personalized and prompt service, which is something that all successful businesses should aim for. Hire the best team of eCommerce website developers in India from us and get the supreme chatbot integration services tailored to your business requirements.
#14. PWA
A Progressive Web App (PWA) is a website that seems to be a mobile app. The thing worth mentioning is simple: a retailer can keep development costs low while providing users with a native app-like experience. Many merchants are leading the way in eCommerce by implementing PWAs and reporting impressive outcomes. After launching a mobile app, Starbucks saw an increase in customer retention and revenue. Similarly, Sephora saw a 100 percent rise in online orders after launching a PWA that let customers scan products in-store and create their own personal Beauty Bag accounts. It appears that the companies pioneering the use of PWA will continue to set the standard.
#15. Content-based promotion
In your promotions, content is quite vital. The use of content to market your brand will be more important in the future year, according to eCommerce trends. For online businesses, blogs and reviews are extremely crucial. Trends in B2B eCommerce are likewise pointing in this way. Customers are more ready to buy if they have positive evaluations or have been suggested by others who have utilized them.
Similarly, customers regard a product-related blog as more trustworthy than traditional advertising. As a result, one of the most recent eCommerce trends is the use of content as a potent marketing strategy. An expert eCommerce website development company can help you with the best solutions that let you promote your content with result-driven strategies.
#16. AI/ML integration
Artificial intelligence (AI) is quickly gaining traction as a potent tool for enhancing conversions. This technology is used by online stores to communicate with clients in a more personal way. As a result, client lifetime value and average order value grow. Artificial intelligence can be used to monitor client behavior. You may provide shoppers with more targeted discounts based on previous purchases.
Machine learning is a sort of artificial intelligence that integrates multiple types of artificial intelligence. This technology is used by online merchants to provide a more tailored client experience. It can help you attain your business objectives via your eCommerce platform, to know more about how it works, and get professional help from our top eCommerce website developers in India.
Conclusion
You can jump on any of them now that you've understood the fundamentals of eCommerce business trends. However, do it your way. Year after year, eCommerce expands by huge leaps. New trends are unavoidable, and staying ahead of them is essential for success. It's critical to use the most relevant technologies and adapt them to your target audience's needs.
Online retail will continue to increase in popularity, and only the most powerful organizations that provide clients with the most favorable and convenient options will prosper. We hope you will implement some of these to improve your consumers' purchasing experiences and help your company flourish.
Hire a top eCommerce website development company, discuss your requirements and create the best-in-class application for your online eCommerce business. Or you can get in touch with us. We have a dedicated team of eCommerce website developers in India who have rich experience in creating out-of-the box websites with advanced features and functionalities.