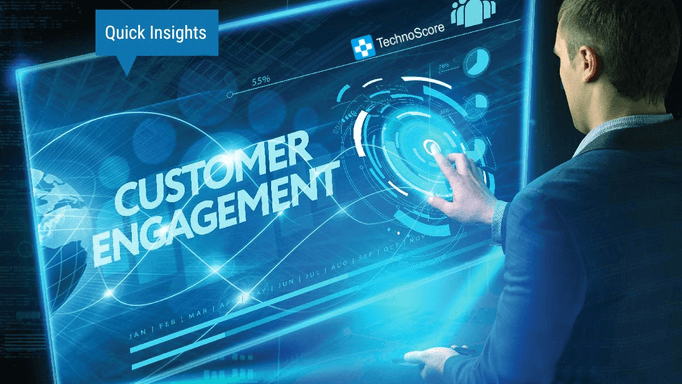 Competition in the eCommerce industry is growing fiercely, along with the rising expectations for more personalized and valuable shopping experiences. Today's customers prefer an immersive digital experience that covers all possible touchpoints. For example, think of Google adding a flight booking to your calendar automatically after booking confirmation or the end-of-year Spotify analytics on user listening trends. In this circumstance, success is rewarded to businesses that invest in creating stellar customer experiences.
In this post, we will discuss the critical aspects of digital customer experience and understand why it holds immense importance in today's stiffly competitive eCommerce environment.
Table of content
Digital Experience On A Global Level
Digital Customer Experience Affecting Brand Loyalty
What Makes A Good Digital Customer Experience?
How To Measure Digital Experience For Your Website?
Tips to Enhance Customer Digital Experiences

Make a Long-term Mindset
Find & Close the Loop
Constant Innovation
Offer Personalization
Hire A Reputed Web Development Company

Endnote
Digital Experience On A Global Level
The global customer experience management market was valued at USD 8.79 billion in 2021 and is expected to grow at a CAGR of 18.1% from 2022 to 2030.

Recent research by Emplifi shows that 4 out of 5 respondents would not be loyal to a brand after they face poor customer experiences in two-three instances.
As per Forbes Insights & Arm Treasure Data Survey, 83% of executives believed that poor customer experience put their revenue and market share at risk. Also, 74% of consumers said that customer experience is the only priority to choose a brand while shopping online.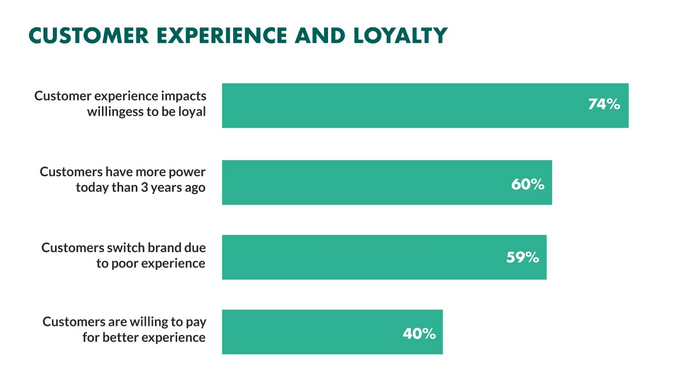 Digital Customer Experience Affecting Brand Loyalty
The concept of "customer experience" is ingrained in the consumer psyche and dominates the way a brand reflects its integrity and worthiness to its customers. Hence, the right mindset followed by an intuitive approach toward your customers can open seamless opportunities for your eCommerce site to capture the right audience, convert them, and retain them as loyal customers.
The retail behemoth Amazon is the biggest example of how a well-thought-out digital consumer experience strategy can positively impact brand loyalty. Its customer experience ranking is at an all-time high, leaving Amazon light years ahead of its competitors. A Conversity research data reveals that more than 55% of consumers ranked Amazon as the best eCommerce site because of its exceptional user experience, leaving Walmart in second place and eBay in third.
---
Also Read: The Greatest Online Consumer Shift In The US Market [An Analytical Report By TechnoScore]
---
What Makes A Good Digital Customer Experience?
Customer service and customer experience must go hand in hand if you want to leverage the fullest benefits of your business website. It requires constant optimization of certain aspects to ensure that customers get something valuable and new from your site every time they visit it. Here are some crucial factors that you must consider to ensure an enhanced customer experience.
Awareness
You must promote your brand through engaging media and influencers, allowing new customers to find your site easily. Moreover, sticking to SEO basics will also push your brand up in the search engine rankings. Try generating authentic social media reviews that will bring more customers to your site.
Discovery
Allowing your customers to explore your products without any trouble should always be the primary target. Offering in-app trials of your products is a great way to engage your customers and offer valuable information regarding the product and its relevance in the user's context. For this, understanding how customers engage with your site or product is a must. Moreover, you also need to understand if there is any specific point where customers often leave your site? Doing so will enable you to improve site navigation and help customers develop trust in your eCommerce site.
Data Interpretation
Merely observing consumers isn't enough! The observations (like higher-than-average costs or a frequent user drop-out rate) must be turned into actions and implemented across your website (like reducing costs or optimizing the number of clicks for a particular conversion goal). So, you must have a holistic approach to customer journey management and try to know them better through analyzing the data available.
For instance, one of the most common behaviors among online customers is comparing products across different marketplaces and from different sellers. To get an extra edge over your competitors in this case, you need to analyze what aspects of your website or products make you different from your competitors and highlight them on different platforms. Feedback also plays a vital role here. Customer reviews are a critical market differentiator so make sure that you monitor and respond to customers' reviews and address their issues professionally and thoughtfully.
Take one step forward to create the best website for your business.
Partner with us, and let's build something great together.
UI/UX
This is one of the most critical aspects of eCommerce development, where you need to utilize your fullest creativity smartly and innovatively. Your site's visual appearance and navigational aspects compel visitors to make a quick decision about whether they want to continue with your site or not. Therefore, an eCommerce website must support a comprehensive layout with everything explained perfectly to allow customers to navigate through the site in a hassle-free way. For this purpose, you should hire web developers with appropriate UI/UX design and development experience and also use advanced technologies to offer remarkable design and layout for your eCommerce site.
Support
Responsive customer support develops customers' trust that your brand cares for their convenience. You can harness the potential of AI-powered chatbots to instantly offer personalized customer support. When you enable customers to resolve their queries and common challenges at any point in their shopping journey through an active customer support system on your website, this eventually drives customer satisfaction and brand loyalty.
Tech Stack Used
No matter how creatively you have designed and developed your eCommerce site, your website's performance can easily amplify or subdue all other efforts made to create a good digital consumer experience. And this completely depends on the type of tech stack used. An appropriate technology stack ensures that your website meets the most common design, development, and usage guidelines on an international level, thus driving better UX. Apart from the tech stack used to develop your eCommerce site, today, you can also find ample customer experience stacks to enhance the customer journey.
How To Measure Digital Experience For Your Website?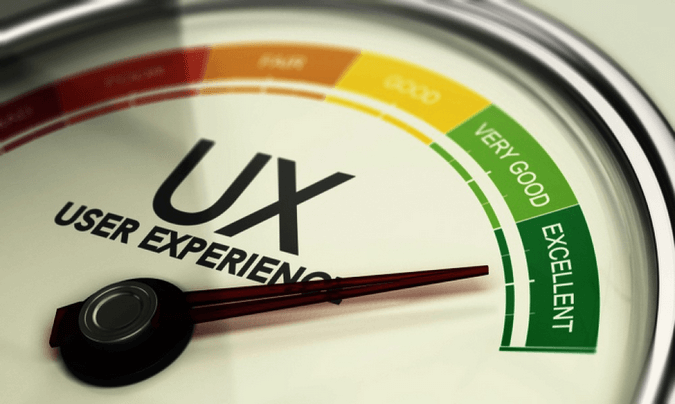 Digital customer experience encompasses a wide range of aspects. To measure customers' digital experience, you need to identify effective customer segments, key touchpoints (including click, tap, zoom, scroll, swipe, and real-time page visits), and metrics that can connect a user behavior on your website to the intended conversion goal. Define these factors in light of your particular business goals and use them to create a customer satisfaction score.
Additionally, the role of Artificial Intelligence comes into the limelight in this case as it helps to analyze large volumes of data and reveals trends and patterns. You can also use some best digital experience analytics tools like Nexthink, Glassbox, Catchpoint, and Sys Track to go beyond identifying technical issues and gain valuable insights into page views, the total number of visits, and conversion rates.
Content Is King: Validating Digital Experience
Following a content-centered customer experience strategy will offer multiple benefits to your eCommerce site. Put yourself in customers' shoes and try evaluating the value of content in the shopping journey. Fresh, relevant, and comprehensive content helps customers to know your products and policies in a much better and more precise way. You need to create personalized content based on customers' preferences and shopping patterns that will develop a sense of trust among them regarding your brand.
Tips to Enhance Customer Digital Experiences
Here are some proven ways through which brands like Amazon, eBay, Walmart, and Alibaba have completely transformed the way customers perceive their brands. You can easily formulate strategies based on these aspects to narrow the gap between customers and your products.
---
Also Read:Most Treasured Insights On eCommerce Web Development In The US
---
Make a Long-term Mindset
Online retailers need to improvise continuously to create a foolproof customer experience strategy and increase customer value. You need to identify key areas where your customers are facing trouble accessing your products through the site and fix them. This has to be an ongoing activity so that any new roadblock in a user's journey can be immediately identified and fixed. Such a framework that is based on constant improvements will certainly increase your customer satisfaction scores in the long term.
Find & Close the Loop
Closed-loop feedback is a practice of following up with customers who have sent negative feedback. Resolving their issues through proper feedback responses is a robust way to turn your customers' bad experiences into good ones. However, if you don't have time and resources to do it on an individual level, try developing a criterion for high-volume customers and use ticketing software to ensure that it prompts an alert to a responsible person who can resolve such issues and respond to negative comments.
Are you searching for the best web development company in India?
Let's talk with our experts today and discuss your idea.
Constant Innovation
To ensure a better and enhanced digital experience for your customers, you need to adopt innovative practices besides understanding customers' common pain points. You need to implement meaningful systems of action that keep resolving customers' issues as they arise and, on the other hand, keep analyzing the performance of this system to ensure its worthiness.
Offer Personalization
Knowing your customers is the key to success. Based on your analytics reports, you must ensure that their expectations and needs are met on time and on whatever channel they choose. Delivering tailor-made content and products will also offer many conveniences for customers and allow you to meet their diverse requirements in a way they have always expected from your site.
Hire A Reputed Web Development Company
There are multiple benefits attached to hiring a reputed and professional web development company to develop your eCommerce site. These companies have proven excellence in not only developing custom eCommerce websites but offer regular maintenance and support services to ensure that your eCommerce website performs uninterruptedly. They take good care of your cloud environment, SEO practices, scalability, and other crucial factors that drive value for an eCommerce website. All of this, when managed by experts regularly, will handle most of your digital experience concerns.
Endnote
Customer experience is the engine of growth and undeniably, a critical aspect in your way to digital transformation. Considering all these factors, you can easily evaluate your site's digital customer experience and plan an intuitive strategy to improve it. Evaluating these points will give you better insights into elevating the level of customer experience for your eCommerce site and ensure remarkable growth in sales and revenue.