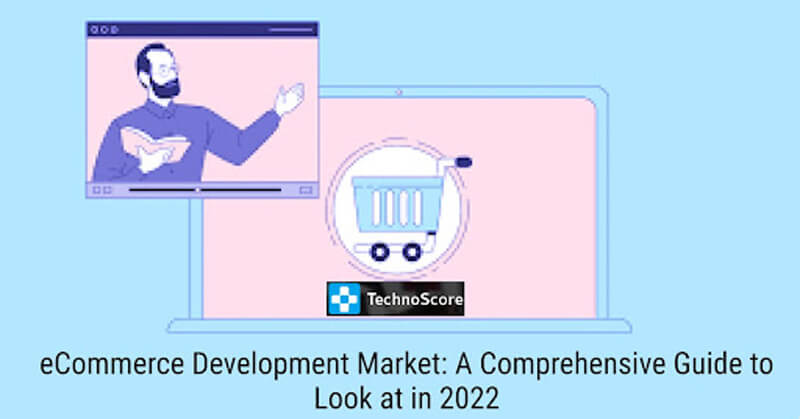 eCommerce is booming, both in India and overseas. But what are the top trends, features, and functionalities to cover in 2022? Don't worry; we got you covered; we came up with this comprehensive guide that will help you with the in-depth study of the eCommerce market and help you with every bit of information that can mark a huge difference in the success of your eCommerce business.
So let's get started, but before going into the depth, let's take a quick look at the current market size of the eCommerce sector-
According to Statista, In 2021, retail e-commerce sales amounted to approximately 4.9 trillion U.S. dollars worldwide. This figure is forecast to grow by 50 percent over the next four years, reaching about 7.4 trillion dollars by 2025.
Tremendous…
Now let's see,
In terms of web development, what is eCommerce?
Definition of an eCommerce Website
In essence, an e-commerce website enables users to buy and sell physical goods, digital services, or services online. eCommerce, also referred to as e or electronic business sells and exchanges goods and services over the internet.
It also entails exchanging data and cash electronically between two or more parties. Simply described, it is internet purchasing in the traditional sense.
The functions supported by an eCommerce website differ from those supported by a regular business or corporate website. Users will need to contact the company directly if they wish to do business with them because a company website may only contain information on the brand's products and services.
Meanwhile, an eCommerce website functions similarly to an actual store. Users can purchase things, arrange for delivery, and make payments on the same site, eliminating the need to speak with a person about their order.
eBay and Amazon, the market giants of online business, made a more promising approach to shopping. They are not that old to be called market rulers, but rather the more significant level of regard is inferred there. Internet trading was a thing previously, but since these organizations, online business sites turned into a simpler and more favored stage to many purchasers.
Fostering an eCommerce site is a typical speculation choice among most entrepreneurs, retailers, business people, and a large portion of the business endeavors to change the upper hands of web-based shopping into a reliable income source through a professional eCommerce online store.
What are the eight outstanding features of e-commerce software?
#1. A website that is mobile-friendly and responsive
Your website should be mobile-friendly and highly responsive, allowing it to resize correctly on any browser and device. Because smartphones and tablets account for such a massive amount of online traffic, it has become necessary to make your website mobile-friendly.
#2. Feature of Live Chat
Provide your consumers with a live-chat option. Many e-commerce businesses have introduced live chat support to their help desk software rather than making clients wait for answers. It adds a lot of value to your site because it allows for rapid communication to assist your visitors with whatever stage they're having trouble with. The quality of customer service you offer is critical to your company's success.
#3. Search Bar
This is a characteristic that you must remember. On your website, you must have a search bar. It aids your visitors in finding the information they seek. Make sure it's prominent and easy to find on your website.
#4. Feature to Share
A share function is the next most significant thing you can do for your site. To increase interaction, allow your customers to share your products, services, or blog content on social media. For online promotion and to encourage users to share your content, you'll need some form of sharing button. Shareable content is essential in today's digital age since it helps drive visitors to a website, among the most efficient and effective methods for attracting people.
#5. Smart security aspects
eCommerce, by definition, deals with transactions that necessarily involve the sharing of sensitive financial information. Credit or debit cards are used for most eCommerce purchases and one-touch mobile payments, while some may be done straight from bank accounts associated with a payment service like PayPal. Furthermore, many eCommerce platforms allow customers to link their store accounts to their social media accounts.
#6. Compatibility with different browsers
When surfing the internet, people utilize a variety of browsers. The appearance of websites and your business varies depending on the web browser.
#7. Statcounter
Statcounter displays browser usage statistics for the previous year. Each browser has its quirks and methods for displaying HTML text. For example, while Safari does not support SVG images, Edge will display your website's typeface as Arial by default.
The incorrect presentation of visuals and product information might naturally influence purchasing choices.
#8. Options for payment
The core of an e-commerce business is commercial transactions. Therefore, payment options are required for e-commerce characteristics for a website to be classified as an e-commerce store.
As per Statista, credit cards and digital/mobile wallets have been the most popular mode of payment in the United States in 2020. Each of them is responsible for 30% of all e-commerce transactions. Debit cards are the third most popular online payment method, accounting for 21% of all transactions.
A few payment gateways can be used to facilitate a payment transaction.
Let's look at the payment gateway usage patterns in e-commerce in 2021. PayPal, Authorize.net, and Stripe are the most popular and well enough on the market right now. A trustworthy payment gateway adds an extra layer of security to the transmission of sensitive financial data while also making payments more convenient.
Consider the following aspects when selecting shipping choices for your e-commerce website:
The type of product

The delivery cost and the shipping method you choose are influenced by the size, weight, and substance of your sold objects. For instance, not all transporters can deliver fragile products efficiently and safely, while the majority can convey substantial quantities.

The intended audience

The audience you want to reach is determined by what you sell. Determine whether they require the quickest or cheapest shipping option. Maybe your customer is willing to wait a little longer if they can save money?

The shipping location

Not all shipping firms offer international delivery. If you're selling worldwide, consider your delivery options carefully and be prepared to utilize more than one.
Do you want to go with a well-known firm, or are you willing to combine a few delivery providers to save time and money on delivery?
The four most popular e-commerce shipping choices are:
Free shipping is known as the gold standard in e-commerce for making a trade and significantly influences shoppers to place an order.
Flat rate shipping doesn't bear any software for calculating real-time rates and gives guests a sense of stability no matter what they order.
Expedited shipping acts as a time-saving offer for your guests, allowing them to get their particulars for the coming day or 2nd day delivery for an additional cost.
In-store pick–up is an option popular among e-commerce businesses operating online and slipup-and-mortar stores. It provides an enhanced stoner experience via a combination of several deals channels.
Develop your shipping strategy by paying attention to all the reviewed features. Track website callers' preferred shipping styles, and don't be spooked to apply changes grounded on what you learn. This will optimize your deals channel, facilitate connections with guests, and increase the conversion rate in the final result.
#9 A Menu That Is Easy to Use
Among the most important aspects of eCommerce website design is a user-friendly menu. Users are used to seeing a horizontal menu over the top of a website and a vertical menu along the left side. You do, however, have options here as well. Our customers typically choose from Mega, Dynamic, or Dropdown menus on their Magento websites.
A mega menu is a two-dimensional dropdown panel that expands to make website browsing easier. Text, links, and graphic elements are all included.
A dynamic menu creates menu trees that expand when selected by pulling the relevant data from the database. This allows customers to view only the menu items they are interested in quickly.
A dropdown menu allows visitors to navigate to the product category or subcategory quickly they're looking for, as well as advertise specific products or deals.
Filtering and a more advanced search function- Product search and filtering are popular eCommerce website design elements because they help customers discover the products they want quickly and easily. Shoppers can use filters to narrow down product lists and focus on the items they want, passing over the pages and items they don't want.
#10 Navigation on the Website
Among the most significant aspects of eCommerce website design is navigation. The navigation should be straightforward. If a visitor can easily browse your online store's products/services and find descriptions for them, the chances of their purchasing increase.
#11 Product Evaluations
Reviews are a unique element of eCommerce websites that help to build social proof and increase consumer loyalty. Consumers trust online testimonials as much as specific suggestions, according to 88 percent of respondents. eCommerce stores can use modules from central review systems like Yelp, Trust Pilot, and Facebook, depending on their website's capabilities.
Another critical aspect of any eCommerce website is SEO (search engine optimization). Encouraging clients to leave product feedback builds credibility for your website by demonstrating that you have real paying customers. Furthermore, customer reviews will contribute keywords to your online store, which will help your site's search engine optimization.
#12 Shopping cart
A shopping cart is a vital functionality to have on your eCommerce site. Make sure your eCommerce store includes a versatile shopping cart that allows both registered and non-registered clients to shop simultaneously. Customers' chosen products are added to this area before proceeding with the checkout procedure. This allows guest shoppers to simply browse for what they want without signing up, resulting in a more seamless shopping experience.
#13 User-friendly
Any website's primary goal should be to assist customers in finding products faster and leading them to checkout without any unwanted pauses. A good design should be simple but sophisticated at the same time. According to research, 76 percent of shoppers who visit an eCommerce site prioritize simplicity of use over all other factors.
It would help if you recognized that you only have a few minutes to assist them in their buying, so make the most of it by providing options such as filters, price comparisons, and other shopping categories. Adding an autocomplete tool to the search will assist users in rapidly finding what they are looking for.
#14 Make a wish list
The most excellent method to save something is to make a wish list.
#15 Find-in-store
The majority of eCommerce websites have physical locations. It would be prudent for them to incorporate find-in-store functionality into their website. Customers can use it to identify the location of a store if they want to make an immediate purchase and can't wait for the item to be delivered to their door.
Some buyers prefer to conduct their research online before purchasing things in physical places. As a result of this functionality, they will search for the product online and buy it in their local store.
#16 Related Items Suggestions
Consumer need for a personalized and curated buying experience is one of the most significant trends in eCommerce.
What are the most recent eCommerce trends for 2022?

The eCommerce industry has witnessed many dramatic changes and trends in the past few years. In 2022, the following are the trends that will be responsible for flourishing the eCommerce sector to new heights-
#1 Breadcrumbs
A "breadcrumb" is a superior website navigation element in eCommerce website building. Breadcrumbs are a collection of links separated by the symbol (>) that indicate the user's location within the site's hierarchy. Breadcrumbs are typically found on eCommerce stores with many product categories structured hierarchically.
These helpful visual aids not only show visitors where they are on your eCommerce site but they also assist Google in determining how your site is structured. Breadcrumbs make things easier for visitors to navigate between a product catalog, categories, and homepages on a website.
As a result, superior navigation makes it easier for potential customers to find what they're looking for. On the other hand, poor navigation might irritate users and lead to them abandoning your eCommerce site.
#2 Chatbots are a new way for businesses to engage with their customers
The global chatbot market is estimated to produce over one billion dollars in sales by 2025. And eCommerce accounts for a significant portion of this.
The global chatbot industry has grown at a staggering rate of 24.3 percent CAGR. Chatbots are the preferred method of customer care for 45 percent of end-users.
#3 e-commerce via voice
Siri, Alexa, and Google's Assistant are among the most prominent voice assistants. By 2023, it's expected that 8 billion gadgets (including smartphones) will have voice assistants. In fact, by 2022, voice shopping is anticipated to be worth $40 billion.
However, it appears that both large and small eCommerce players are still unaware of their potential – only 11% of smart speaker owners in the United States use them to make purchases.
#4 Machine Learning and Artificial Intelligence
Every day, the immense value of AI and machine learning expands. In a word, AI helps teach a machine to recognize and interpret recurrent human behaviours. As AI expands its reach across all phases of the consumer journey, the focus in eCommerce will shift away from intelligent suggestions.
#5 Virtual Reality Is Taking Off
VR gives the impression that we're in a virtual environment. Customers will have an even more personalized shopping experience thanks to virtual reality.
#6 Gamification
AR is a mobile-only technology that is most commonly seen in games. It was just a matter of time before businesses began to use it for gamification.
Gamification is popular in eCommerce: companies employ loyalty programs, games, and challenges to motivate people to buy more, share their experiences on the internet, and win special incentives.
Augmented reality can be a powerful marketing tool for attracting consumers to your online store.
#7 Headless Commerce
In recent years, headless eCommerce infrastructures have been popular due to the desire for an omnichannel experience.
A content management system (CMS) with only a back end is known as a headless architecture. REST APIs are used to display the front end. You aren't reliant on a specific frontend framework because the front end isn't predetermined and is realized through an API request. This allows you to save all of your material in one location and display it on every screen without changing the database for each platform.
#8 Various Payment Options
During the checkout process, customers want to select their preferred payment method. Businesses that diversify their payment method are more likely to gain customer trust, minimize cart abandonment, and encourage customers to spend more. Interest-free financing options like buy now, pay later, and seamless 1-click payment choices will continue to gain popularity and appeal to online buyers seeking more flexibility.
#9 Purchase now and pay later (BNPL)
Buy now, pay later is a sort of short-term financing that connects buyers' and sellers' purchases and then pays for them later, usually in interest-free installments. One significant distinction between this payment method and traditional credit card payments is that the former allows users to divide the cost of goods.
Even though the BNPL concept has been around for a long time, the pandemic's dramatic impact on consumer buying habits has given this trend a considerable boost. BNPL currently accounts for about $100 billion of all global e-commerce transactions, and this number is predicted to skyrocket by 2024.
#10 Digital Omnichannel Strategy
Retailers should supply relevant offerings and address the demands of their customers right now to grab customer attention in the middle of a massive daily flow of news, advertisements, and notifications. An omnichannel sales and marketing strategy is the easiest method to accomplish it.
The omnichannel trade paradigm indicates that a customer has several alternatives for ordering, paying, and picking up items.
Omnichannel does not imply numerous distinct touchpoints; instead, it refers to several interconnected touchpoints that track user behaviour and exchange data to improve customer experience.
#11 Social Business
The sale of things through social media is referred to as social commerce. Social media is used by 90% of the world's population. As a result, it's no wonder that social media is at the center of several current e-commerce trends.
Businesses linked social media sites such as Instagram and Facebook to their e-commerce platforms via a direct purchase connection.
---
Also Read: Empower your online retail business with emerging eCommerce trends in 2022
---
For what reason are eCommerce trends significant?
Regardless of how grounded your eCommerce site is today, you'll be in a difficult situation if you're not staying aware of eCommerce improvements. Online business is getting more cutthroat, and remaining on top of things, eCommerce patterns should be observed persistently. It is fundamental to look forward to guaranteeing achievement later on along these lines.
As we approach 2022, it is essential to know about these patterns so you can benefit from these patterns. Accordingly, it's indispensable to guarantee that eCommerce patterns are assessed and executed on schedule. Along these lines, you will assist your eCommerce with marketing development and remain ahead of your rivals.
Supported by the pandemic, internet business has proceeded with its triumph walk in 2021. In any case, what are the main patterns for 2022 in this quickly developing area?
Peruse on to discover.
Social media turns into the top publicizing channel

Online media is an inevitably significant variable in numerous areas across the globe, and internet business is the same. Indeed, assuming we investigate the showcasing expenditure of organizations, we might observe that web-based media has turned into the main publicizing channel.

While spending on TV and radio promotions is expanding a little (1.4% and 2.2% separately) and web index publicizing (SEA) and video showcasing are also extending (10% and 14%), it's online media advertising that is projected to become the most, in particular 15% somewhere in the range of 2021 and 2024.

AR will keep on affecting item encounters

Coronavirus has got clients progressively expecting view-in-room and attempting before-you-purchase accommodation. Statista gauges there will be 2.4 billion versatile AR clients worldwide by 2023, with 95 million clients in the US alone. This comes as uplifting news for brands also. Studies recommend that 3D virtual photography is multiple times more practical than traditional photography.

Web-based business players would do well to draw over the fleeting idea of photography versus the unlimited potential outcomes of reusing 3D models to make pictures that can be altered and advanced and embedded into various ways of life shots or utilized in intuitive watchers, spinners, and room organizers. AR has likewise procured merited acclaim for empowering extraordinarily vivid encounters, from picturing a household item in your front room to checking your shoe size, subsequently taking out the mystery from purchasing shoes on the web

Google Shopping Ads

Google Shopping advertisements can assist your web-based store with prevailing in 2021. Shopping promotions are information-rich postings of items sold by organizations. They consist of a title, a depiction, the cost of the item, the name of the business selling the item, a picture, and client surveys. Google shows Shopping promotions inside its indexed lists pages and its "Shopping" tab.

In 2020, Google reported that it would never again expect organizations to pay for Shopping promotions. It offers paid Shopping promotions; however, Google presently offers free Shopping advertisements. You can make free Shopping advertisements by connecting your Google Ads record to your Merchant Center record. To get more familiar with free Shopping advertisements. Whether they drive 10 or 1,000 new deals to your internet-based store, you will not incur advertising costs with free Shopping promotions.

Voice shopping gets stronger

An expanding measure of clients ditches their consoles for voice orders on their cell phones, which also incorporates shopping. While as of now, just 2% of customers use voice orders while shopping, this might be entirely because of an absence of voice choices given by webshops. Who leans towards composing while talking?

Counting such a choice might acquire an entirely different horde of clients to your image's webshop. The venture this requires could be significantly not strictly the real return such a move might bring for your image.

The ascent of Social Commerce

Social trade is a recent fad in internet shopping and an expected goldmine for web-based business organizations all over the planet. A subset of internet business incorporates each progression of buying an item through the middle person of an online media stage. Buyer spending through channels like Instagram, TikTok, Snapchat, and WeChat has turned into the quickest developing area in retail. Livestream shopping occasions drive enormous elevations in the South East Asia and USA locales specifically.

Our new Insights LIVE occasion investigated social trade with how Asia is driving many energizing new web-based business patterns and a quickly evolving web-based business scene. Co-facilitated by Asendia's Head of Asia-Pacific, Lionel Berthe, it additionally checked out how manageability is becoming standard in Asia, changing how Eastern customers shop and even take on friendly business.
What are the various sorts of e-commerce business models?
#1 Manufacturing and private labeling
Retailers can outsource manufacturing and sell their products under their brand. On-demand manufacturing enables retailers to have things built to their specifications or prototypes while avoiding the costs of managing their production.
Private labels were born when online retailers sought to own a brand but didn't want to invest any money. As a result, they outsourced the manufacturing of their products, which were subsequently packaged in their own branded packaging.
#2 White-label product
White label merchants, like private-label retailers, put their brand names on generic products obtained from a source and resell them.
White-label enterprises are free of production and quality control management, but they face fierce competition. Package design is under the authority of white-label vendors, but not product specs or quality. Because any reseller may sell these products, competitors have a slight advantage in unique selling factors and must rely on marketing techniques and distribution networks to stand out.
Inventory management is another issue that white-label business owners face. Most suppliers specify a minimum order quantity to accelerate economic growth by increasing production.
Understanding the demand for your white-label items as a reseller is crucial. Due to inventory mismanagement, white labels may be attached with vast batches of unsold inventory.
#3 Dropshipping
Dropshipping is a viral e-commerce business strategy. When you use dropshipping, you don't have to bother about storing inventory, keeping track of it, or even shipping it to your customers. Once the orders are placed, you'll work with a warehouse partner who will keep track of your inventory and oversee all operations. This enables you to focus on other aspects of your business, such as merchandising, branding, and marketing.
Dropshipping is a possibility if you're selling at a quantity that you can't maintain in your office alone. It also allows you to try out new products without paying for inventory that may or may not sell. Working with a warehouse for a dropshipping firm costs money.
#4 Service with a subscription
This is an eBusiness model in which a consumer must pay a set amount for access to a product regularly. Many businesses have benefited from subscription services, and customers have saved money. Netflix, Spotify, Zipcar, and SaaS companies are good examples of subscription models.
Each revenue model is well-represented by the companies described above. Before we go into eCommerce, let's look at some other topics.
#5 Wholesaling
Wholesaling has existed for as long as anybody can remember, and eCommerce is merely an extension of it. Wholesaling has traditionally been a B2B business, but many shops have switched to a B2C approach. Simply said, this eCommerce approach entails selling things in large quantities to retailers, who then sell them to customers.
Because the merchants will perform most of the work for you, eCommerce wholesaling allows you to improve sales without increasing your marketing expenditure. Lowering the risk of expansion also makes new marketplaces more accessible. Finally, because the wholesaler or retailer can accept to store the goods in their inventory, eCommerce wholesale can lessen your storage demands.
#6 Print-on-Demand
As the name implies, print-on-demand companies specialize in generating personalized items such as mugs, phone covers, mugs, t-shirts, leggings, and hoodies. If you decide to use it, keep in mind that it's similar to dropshipping. You build a website that includes third-party items. That party can make an item and dispatch it to the customer once it is placed. You won't need any up-front cash, and you won't have to bother with inventory management.
#7 eCommerce B2C
The most common business that involves a retailer and a customer is B2C, which stands for Business to Consumer. B2C is the most frequent business model, both offline and online.
The most significant benefit of B2C eCommerce is that it allows any sector to expand. Businesses can develop globally quickly if they have the appropriate brand material targeted at the correct audience. As a result, identifying your target audience or cohort groups before engaging with them is essential to the success of your business or brand.
#8 eCommerce from a customer to business perspective
Consumer to Business is referred to as C2B. This model encompasses all freelance jobs. The C2B business module is used by freelance artists, authors, designers, and software engineers. Bloggers that sell ad space on their website are also involved in a C2B transaction.
Because many freelancers have problems getting work, C2B business modules can be unreliable.
Customer to Administration (C2A) is similar to Consumer to Business (C2B), except that the consumer is offering their service or product to a government agency.
#9 eCommerce for businesses to businesses
Business to Business (B2B) is an acronym for business to business. A B2B seller, as the name implies, sells goods or services to other businesses. B2B merchants frequently provide things that end consumers would never utilize, such as raw materials used in production. Wholesalers who sell to retailers are another type of B2B eCommerce, as are sellers of business items like office supplies or branded staff attire.
The B2B sales model is also popular, but not as much as B2C. One B2B company may supply an unlimited number of customer-facing stores, limited mainly by the inventory it can create.
#10 Consumer-to-consumer transactions (C2C)
Purchasing things from large corporations and organizations is usual in the marketplace; nevertheless, there are times when customers trade with one another.
Some people create online stores to ease transactions between private parties or customers who want to sell assets, old or unwanted things.
#11 Business-to-administration (B2A)
Government agencies use websites to conduct online transactions between businesses; the government and organizations that approve websites can submit forms online, bids, tenders, or suggestions to the government. Big corporations use it to conduct business with public/government administrations. The services provided by this model include the exchange of payments, contract services, logistic data, and so on.
#12 Consumer-to-administration communication (C2A)
Because private entities interact with the government, the customer to administration model is entirely consistent with the previously stated administration models. Using this model, customers/citizens can contact the government and pay for government-related charges such as taxes, water and power bills, social security, and college tuition.
Is eCommerce on the rise?
Global retail e-commerce revenues are anticipated to reach 4.9 trillion dollars in 2021. Over the next four years, this value is expected to increase by 50%, reaching $7.4 trillion by 2025. The growth rate of global eCommerce is expected to be 16.8% in 2021, increasing global eCommerce sales to $4.921 trillion.
Governments worldwide were compelled to enforce stringent lockdowns as a result of the COVID-19 outbreak, which meant that brick-and-mortar stores were forced to close and consumers were forced to stay at home. This promoted online retail growth since more individuals used the internet to make purchases.
With some regions of the world still under martial law (as of the third quarter of 2021), eCommerce sales are expected to rise this year, albeit at a slower pace, and growth is expected to drop in the ensuing years.
For example, global online sales growth will be 12.7 percent in 2022, down 4.1 percentage points from 2021. In 2023, 11.2 percent, 9.8 percent in 2024, and 9.0 percent in 2025, respectively, will be achieved.
Why is eCommerce so popular?
Following are the key reasons that make the eCommerce industry one of the significant sectors:
#1 Convenience
The accessibility of a store is no longer a factor in purchasing decisions. eCommerce is accessible 24 hours a day, in a year, with no downtime due to holidays, closing times, poor weather, or other aspects. Customers can indeed shop whenever and from anywhere they wish, including from the comfort of their beds. eCommerce enables customers to shop more quickly and easily without dealing with crowds, traffic, or unpleasant social interactions.
#2 Retailing using several channels
Websites, email, social media, and physical stores are all ways businesses communicate with their customers. Customers can order online, pick up their orders in person, and replace any defective items. This results in a plethora of channels for purchasing, receiving, and exchanging goods, as well as a plethora of shopper-friendly shipping and return policies.
eCommerce websites also include all of the facilities needed to handle a customer's purchasing, such as generating orders, creating and publishing wish lists, and following orders through the build process in some circumstances, such as custom computer sales or sales of other modular items.
#3 User Interaction
Many studies have demonstrated that the joy consumers get from shopping is as much about the experience as it is about the purchases they make, and eCommerce is no exception. A well-designed website is easy to navigate, mainly when the products are presented so that the customer finds them appealing.
The choice is the final determinant of eCommerce's success. There are a limited number of specialized product suppliers in the business world.
In an e-commerce website, what technology is used?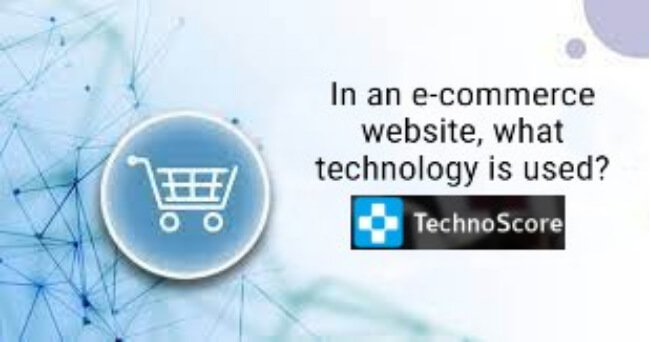 Here are the most popular eCommerce Web Development Technologies
#1 LAMP
The shortest tech stack for application development has significant disadvantages: it is not as scalable as other tech stacks and is rather low-performance.
Linux is the operating system
Apache is the webserver
MySQL or MariaDB for database administration
Perl, PHP, and Python are examples of scripting languages
#2 Python-Django
The Django Framework, which is used in combination with Python, provides a high level of security for backend development:
Apache is the webserver
MySQL or PostgreSQL for database administration
Python is a scripting language
#3 MEAN Stack
This is most likely the best technological stack for an eCommerce website, and it's extensively used to create online stores:
MongoDB / MySQL database administration
Express is a backend framework
Angular is a web application framework
Node.js is the backend platform
#4 .NET Framework Stack
Microsoft's proprietary stack, built in the early 2000s and is now largely open-source, is gaining traction.
Windows as the operating system (but you can use Linux & macOS)
ASP.NET Framework
Microsoft SQL is the webserver
Database management: a variety of options
C# and JavaScript are two scripting languages
#5 Front-end development
HTML

It's the industry-standard markup language for creating documents viewed in a web browser.

CSS

CSS is a style sheet language used to describe the display of a page written in a markup language such as HTML. Like HTML and JavaScript, CSS is a fundamental technology of the World Wide Web.

JavaScript

JavaScript is a frequently used front-end programming language for adding interaction to static HTML pages. React, Angular, Vue, and jQuery are some of the JS libraries used in front-end development.

Vue.js

Vue.js is a progressive open-source JS framework that aids in the creation of web user interfaces and single-page apps. It's also great for creating lightweight eCommerce sites.

Node.js

Node.js, an open-source runtime environment, allows you to create JS-based front-end and backend solutions. For eCommerce applications, Node.js development has several advantages.

Angular

Angular is a front-end framework for designing dynamic mobile, web, and desktop applications. It is regarded as a reliable and comprehensive solution developed and backed by Google. Angular.js development services are preferred by several brands when creating eCommerce websites.

React.js

React.js is a well-known JS framework that aids in developing interactive elements on websites. It's also used in the development of software and for e-commerce websites.
Backend
Server for the internet
A web server accepts user requests, analyses them, and then sends the required documents to the users. Apache and Nginx are the two most popular open-source and free web servers.
Apache has been developed and proven since 1995, making it nine years old. Nginx is a newer web server gaining favour among developers because of its architecture, which allows users to process unlimited requests at once, making it perfect for massive websites.
Integrating a CRM is very common, especially if the online store has many customers. Online store managers can use a customer relationship management system to collect customer information such as names, email addresses, phone numbers, and transaction histories.
The following are the most common CRM connections among our customers:
#6 Services Provided By Third Parties
Third-party services are frequently used to improve efficiency and reduce the cost of developing and managing an online store. Third-party services are required to ensure additional benefits for the eCommerce website that are not seen out of the box with B2b eCommerce software solutions. Third-party services boost the performance of the initial solution by allowing the online store to run faster.
As a result, third-party services include, but are not limited to, social channels, payment gateways, analytics tools, shipment modules, CRM, and the marketplace, as well as a variety of other features that are essential for a store but not as crucial for different types of websites.
#7 Various Operating Systems
Operating systems are essential for applications because they give them access to the processing power and resources required to run.
The following are the most popular operating systems for e-commerce tech stacks:
Linux is a popular open-source operating system for servers, Kubernetes, and Docker containers.
Windows is a Microsoft operating system widely used in both consumer and commercial technology. It's a popular choice among merchants since it allows easy interaction with other Microsoft components like MySQL.
#8 Data Retention
Digital assets such as photographs and documents are stored in data storage systems. Many retailers now store their data on the cloud since it is scalable and cost-effective.
The following are the most often used data storage options:
Amazon S3 is a cloud storage system that allows you to store and retrieve data from any location on the internet. Entity storage, rather than typical file storage, is used to store data as a separate object.
Google's Firebase Storage is an object storage system. The data is kept in the cloud and accessible via reference calls. It's a web server. The server receives HTTP requests from the browser and processes them before returning the results. Nginx and Apache are two of the available servers.
#9 Databases
Databases are necessary to process a large amount of data, such as dates and geolocations, purchase information, etc.
Language for programming. Developers use programming languages to construct server-side programs. Many languages are available, including C#, PHP, Ruby, Python, etc. The decision is always based on the project's requirements and business objectives.
#10 Frameworks for web development
Frameworks are a collection of technologies that make the development process more quickly and smoothly. As a result, various frameworks exist, such as Laravel, Yii2, Express, Nest.js, and others.
C#

C# is a general-purpose programming language that can indeed be used to create a wide range of software applications, including E-Commerce applications. Microsoft made this language as a section of the .NET framework.

Many capabilities in C# assist software developers in creating strong, safe, and effective apps. It has a simple syntax, can operate with various programming languages on the.NET platform, and has other essential functionalities such as code error handling.

C# has its web framework, ASP.NET for creating web applications. Many sites, including Microsoft, Dell, WildTangent, TacoBell, and others, were constructed using the ASP.NET framework.

Java

Java is a general-purpose, object-oriented programming language. It also has core notions that dictate consistent Java application development, are solid and safe, and assure that its apps run at high speed. Many programmers favor Java because it can operate on practically every platform.

For diverse development goals, Java includes several frameworks. Spring is the most popular. Developers can indeed use Spring to build robust and complicated E-Commerce sites.

Spring

Spring is a Java framework that makes it quick and straightforward to create secure and effective software solutions. Spring is a collection of frameworks that have been grouped under the Spring umbrella.

Spring allows framework software developers to create any app, regardless of its complexity. It contains a specific Spring WEB framework for constructing E-Commerce sites, including a well-designed MVC web development pattern. Spring also comes with various out-of-the-box solutions, making it a versatile, productive, fast, and helpful framework for E-Commerce development.

PHP

PHP is a prominent and popular programming language for developing backend web applications. It's a free and open-source general-purpose scripting language. For a multitude of reasons, PHP programming is helpful for E-Commerce, including the following:

It is inexpensive because it is open source, which means it is free. PHP programming services will also be affordable because PHP is so commonly used.
PHP is incompatible with most popular operating systems, including macOS, Linux, Microsoft, and UNIX. It also connects to various databases, including MongoDB, MySQL, PostgreSQL, and Oracle.
Several frameworks are available: PHP includes a slew of frameworks that can help you speed up software development, improve consistency, and reduce bugs. The most well-known PHP frameworks include Zend, Laravel, Symphony, CakePHP, and CodeIgniter.

Python

This language enables modular design and offers a quick, easy-to-learn grammar. Its main feature is that it allows you to reuse the same code several times. Furthermore, it is the most popular choice among developers just starting.

improved safety
a plethora of add-ons and libraries
highly scalable code
simple to learn and use
things that help you get to market faster
---
Also Read: which is the best technology for your website?
---
What Marketing strategies have enabled e-Commerce to achieve such significant growth in sales?
The following are some of the most effective eCommerce marketing strategies:
#1 Bots and Engagement
Most eCommerce marketers use cTRs and website visits to determine the effectiveness of their online marketing campaigns, yet these metrics do not provide a clear picture. Instead of allocating your entire budget to increasing CTRs and website visits, you should set aside some funds to invest in Chatbot technology, which is a novel but successful way to improve client interaction.
Conversations with Chatbots are more natural and engaging than traditional adverts and movies. Many eCommerce behemoths implement cutting-edge technology and Artificial Intelligence (AI) based on machine learning.
#2 The Use of Programmatic Advertising Is More Efficient
eCommerce companies are spending more money on programmatic advertising this year. Unlike traditional approaches that rely on human customers, salespeople, and a lot of guesswork, Programmatic Advertising can save you money and time. Programmatic uses data analytics to select the correct audience and the suitable ad format to be projected to that audience using modern technologies. This automation will also save you a lot of time, which you can put to better use in other areas of your organization.
#3 Influencer Marketing
People who they trust have a strong influence on them. Users are more likely to trust influencers or a specialty expert than a brand, which is why e-commerce firms invest in influencer marketing.
Influencer marketing entails collaborating with celebrities or users with a large fan base to act as brand ambassadors. You provide them with the content parameters so they don't encounter your stuff. You can evaluate their performance when they post the content on their social media profiles.
Influencer Marketing's Top Tools
Followerwonk
Kred
HypeAuditor
#4 Change Rate Optimization (CRO)
The change rate is maybe the primary measurement for any web-based business store. It is the number of guests changed over per hundred guests. The following are four different ways that can further develop the changing pace of internet business stores:
Proposal Engine: Recommendation motors customize the shopping experience by recommending items to guests given their buy and site perusing history.
Cart Abandonment: Cart deserting programming sends update messages to customers who left the site without finishing the buy. Web-based business stages such as BigCommerce offer this element as a piece of their item.
Lead Generation: These devices assist you with directing customers through the transformation channel using lead goal pop-ups, pick-in structures, and social verification warnings.
Top CRO Tools
Sumo
OptinMonster
TrustPulse
#5 Advanced production network
The beneficial administration of outrageous market and spiked-request has become the new center region, improving the production network, the executive's interaction for these organizations, and assuming an essential part in guaranteeing effective and quicker conveyance models. Mechanical developments are additionally empowering another important region of the inventory network, for example,
Port administration (independent cargo transport debuts),
Stock administration (hack-confirmation RFID chips),
Brand assurance (undetectable advanced markers to assist with battling fake items),
Stockroom the board (robot innovation for cooperative robotized request picking),
Foundation (conveying robots to assess spans), and
Conveyance (utilizing robots to give shipments).
Online business organizations are additionally putting resources into raising innovative new companies to acquire an upper hand and amplify benefits. In particular, new businesses having some expertise in warehousing and coordinated factors arrangements are gaining a foothold as they offer extraordinary robotization valuable open doors to internet business organizations.
#6 Computer-based smart personalization
In the present hyper-commoditized market, were separating a business from any semblance of monsters like Amazon, Alibaba, and Flipkart, is becoming increasingly troublesome; internet business sellers are zeroing in on giving an unrivaled client experience. A way to achieve this has been to utilize innovation that drives a severe level of personalization. The end goal is that every client is treated as a singular objective section rather than a piece of a summed-up mass.
Numerous AI organizations are changing online business by devising unique answers for e-commerce companies. For online business organizations, AI innovation is turning out to be progressively significant since it holds the potential for dynamic and versatile focusing, which assists organizations with getting the right pitch, brilliantly, to the right client, on the right stage.
#7 Facial acknowledgment
Facial acknowledgment innovation can assist retailers with better understanding client inclinations. By tracking where most clients first go in quite a while, business pioneers can foster a store format that is generally useful for its customer base. Concurring to Forbes, facial acknowledgment can follow where clients float inside stores, decide client socioeconomics, and even forestall burglary.
#8 Cloud administrations
With distributed computing, retailers can reduce the expense of programming advancement and interaction information at a lot quicker rate. For example, Hallmark Cards uses the cloud-based Retail as a Service arrangement that permits representatives to look at constant stock accessibility, stock, delivery subtleties, and store orders. Stock following, stock accessibility, transporting subtleties, and charges are on the whole moving to the cloud.
#9 Market Affiliation
The internet business webpage will utilize standard advertisements or references from better-known sites to direct forthcoming clients to their page.
#10 Web optimization
Increasing natural pursuits is dependably competent for e-stores, as it can drive importance and ubiquity up immediately.
#11 Email Marketing
This is an excellent method for connecting with current clients, sending them offers and advancements to keep them intrigued and steadfast.
#12 PPC
This is a practical choice. You can pay different sites to broadcast on their site, and they will get compensated each time a client taps on your connection.
#13 Show Advertising
It is an incredible choice for occupied destinations. You can take pictures and connections that will wind up in a reasonable perspective on the purchaser, furnishing them with visual improvements that urge them to look at you.
---
Also Read: How much does it cost to create an eCommerce website?
---
What percentage of ecommerce businesses fail in India and USA, and Europe?
Starting an eCommerce business in India and abroad is not rocket science, but the market stats are pretty scary when previewing the chance of success. According to market reports, 70-80% of eCommerce businesses in India have failed. No matter how unique a niche the companies brought into the market, there were specific points in which they all lacked, and it resulted in their failure.
The top factors that become the critical reasons for the failure of eCommerce businesses in the Indian market are:
Small investment
Lack of competitor research
Bad website
Poor marketing
Lack of online search visibility
Little to no need for their products or services
Market debts
Price and costing issues
Got outcompeted
Retail giants dominating a large share of the market
Poor customer service
Inexperienced team
Not only in India, but the rate of failure of the eCommerce business is also relatively high abroad. Countries like the USA and Europe have witnessed a massive setback in the eCommerce business. According to several sources – including Forbes and HuffPost – 90% of e-commerce start-up businesses fail within the first 120 days.
What is the success rate of an ecommerce business?
However, the ecommerce market shows about an 80% failure rate as per studies. But you don't also need to fail; the following are a few key business strategies that need to be considered while planning an eCommerce business. Being an entrepreneur, if you think of all these strategies, it will make your business a huge success-
Focus on conversion rate
Work on abandoned cart recovery
Always keep transparency
Keep significant gross margins
Maintain low customer acquisition cost
Introduce multiple payment gateways
Keep buying options more personalized
Easy and Quick checkout procedures
According to GlobalData, a data and analytics company, the Indian ecommerce market is expected to grow by 21.5% and hit $74.8 billion in 2022. This means a perfect time to invest in the Indian eCommerce market.
Which country is best for ecommerce?
China tops the list of the best countries for eCommerce infrastructure. Apart from China, the following countries hold a significant position in the eCommerce market.
Ten eCommerce Destinations for Businesses to Sell Into for 2022
China
United States
United Kingdom
Japan
Germany
France
South Korea
Canada
Russia
Brazil
---
Also Read: Top Web Development Companies in India to look out for website development in 2022
---
Start your eCommerce business today with us!
The eCommerce industry has much more potential; starting an eCommerce business can become one of the smartest and profit-driven decisions in 2022. All you need to do is focus on the key areas that play a vital role in making an eCommerce business successful.
If you are planning to start your eCommerce business in 2022, you have landed on the right platform; we can help you create a complete website for your eCommerce business. No matter how complex your requirements will be, we will help you with the best eCommerce development services. Indeed, this post is long to read, but we hope you will get an idea about the eCommerce market, its trends, demands, and success ratio in India and overseas.
Bring out your idea to us, have a detailed discussion with our experts, and let's get started.