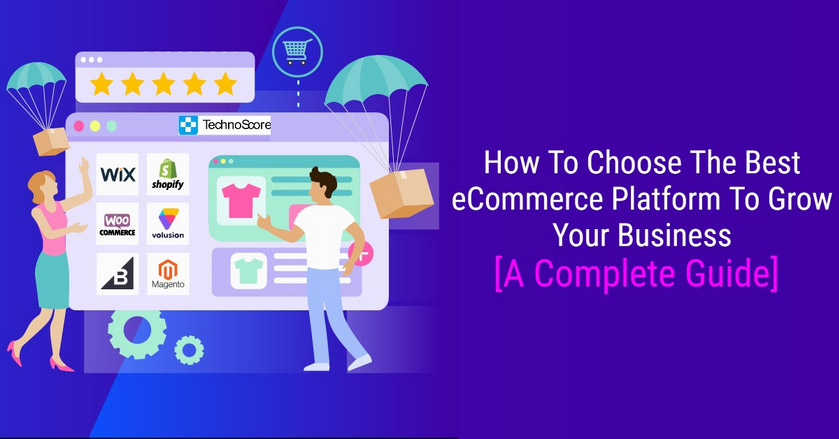 Choosing the best ecommerce platform to go digital can be a difficult decision for businesses. To flourish on ecommerce platforms, businesses require a simple, satisfying, and safe platform. When looking to set up an online store from scratch, businesses can get a suitable ecommerce platform. The ecommerce website development services provide a scalable framework that is designed for the growth of businesses.
Table of contents
What should you consider before choosing an ecommerce platform?
How to Grow your business through an ecommerce Platform?
What is the duration to get an ecommerce website?
What is the budget required to develop an ecommerce website?
What are the trending ecommerce platforms?
What are the best technologies for stack for ecommerce website development?
Conclusion
What should you consider before choosing an ecommerce platform?
It is better to focus on the essential factors required for developing and operating the ecommerce platforms. The ones who are new in the industry can focus on the following factors to make the best choice.
Ensure Developers have the Required Skills and Experience
While hiring ecommerce web developers in India, customers should check the projects completed by them. The past projects would give an idea to analyze the technical skills and experiences of developers.
Support Service for Smooth Functioning of Project
After completing the project, it is necessary to get the support service. The leading companies provide ecommerce website development services to resolve the technical glitches. The customers looking for post-services can look out for developers providing complete support. The professionals are available through diverse mediums such as email, online chat, and call.
Opt for a Scalable Platform
Business owners must focus on the growth of the business. Operating the business on an ecommerce platform can help it grow faster. Nowadays, the ecommerce platform has become the central hub to provide recognition to your business. So, you need a platform that can provide scalability to enhance the growth of your business.
Choose SEO-friendly ecommerce Platform
ecommerce platforms incorporate SEO features that enable the ecommerce site to rank high. It enables the website to appear on top of all items on search engines. When planning for an SEO-friendly ecommerce platform, you should use your domain name, add a blog to the ecommerce platform, and get reviews from customers.
Mobile-friendly Platform
In recent years, it is noticed that a lot of customers prefer to buy things online. Instead of visiting the websites, customers prefer to check the stuff on their mobile phones. It is a convenient form of online shopping in every industry.
Security
When moving to an ecommerce platform, security is one of the biggest concerns. Especially, because all these platforms accept financial payments, it is essential to make the transactions secure. Following all security protocols to provide a safe and secure transaction, customers should check the services of ecommerce platforms beforehand.
Take one step forward to create the best website for your business.
Partner with us, and let's build something great together.
How to Grow your business through an ecommerce Platform?
Nowadays, an ecommerce platform is the latest trend in the software industry. This allows businesses to sell products and services online. Through this platform, businesses can manage their websites. It becomes easy for them to manage sales, marketing, and other operations. If you are new to the industry and are planning to become successful through digital media
Building Your eStore
When starting a new business, it is necessary to follow the recent trends. To get recognition in the market, businesses can set up an e-store. While entering the digital market, businesses can gather data about their competitors. This will help them to understand the market strategies. By selecting the best ecommerce hosting platforms, they can gain an online presence.
There are leading platforms like Shopify, where customers can create easy-to-use websites using attractive templates. According to the product, you can choose the theme that attracts the customers. Selecting the target audience and pricing should be decided in advance. Besides this, you can think of a unique name for the identification of a business. A website with a smooth ordering process for customers can become popular. By adding unique and interesting features, you can provide detailed information to customers.
Promote Your ecommerce Business
After launching the e-store, you should focus on generating traffic. This will lead you to reach more customers. Businesses should choose the right ecommerce platform to expand the customer range. When products are marketed through the right medium, there are more chances of converting audiences into customers.
Initially, the businesses can start attracting customers through free channels. After gaining identification, they can start promoting the business on paid channels. The money earned through the promotional channels can be utilized for ecommerce marketing. You can also keep a check on the profits earned through it.
---
Also Read: How much does it cost to create an eCommerce website?
---
What is the duration to get an ecommerce website?
All websites have different requirements and so there is no specific answer to this question. The time taken to complete a website depends on a wide array of factors such as business goals and design requirements. A complete ecommerce website development process may take a long time as everything is to be prepared from scratch. The customers also understand that website development takes time as everything is prepared from scratch. Moreover, it is a digital extension of your brand which should be done step by step.
When developing an ecommerce website, developers make the best use of drag-and-drop options. They apply appealing templates, themes, and plugins which takes a significant amount of time. While using the best platforms to create a website, there is no requirement of writing lengthy code snippets. This saves the time to create each web page.
The right ecommerce platform can help you develop a website in less than a month or two. This can be possible if you plan things. Spending adequate time beforehand can give you the right design for your website. With a full-proof plan, you can get it designed and test the website before launching it.
Generally, a small-sized project takes up to two months. If your project is of medium size, you can get it done in 3 to 4 months. In case, your website is big and you have a large project, it might take around 12 months, which is feasible for designing from the basics and paying attention to all steps.
Are you searching for the best web development company in India?
Let's talk with our experts today and discuss your idea.
What is the budget required to develop an ecommerce website?
Budget is one of the primary concerns when getting an ecommerce website redesigned. To calculate the cost, one should consider all the factors affecting the development and maintenance of websites. The customers can get an idea of the budget by comparing multiple ecommerce platforms. They can consider the add-on features, tools, and additional services required for business.
The cost of developing ecommerce websites can depend on various factors such as:
Type of online store
Sell products through an offline or online store
Add-ons and extensions cost
ecommerce hosting
Payment processing costs
Design costs
To design a new ecommerce website or redesign an existing website, you require help from professionals. There are various ecommerce web developers in India providing excellent services. The customers who are looking for such services can look for the reputed companies providing professionals. The customers can choose the features according to their requirements. With more features added to the website, the cost will increase. The customers can include the latest features for designing the best ecommerce website.
The best website development agencies have a team of ecommerce web developers. Well-known for their knowledge and expertise among customers, developers can work on a small scale to large scale businesses.
Customers who want to develop an ecommerce website can hire developers from the topmost development company. They can provide you with various options and ensure high-quality performance. They provide cost-effective services in the long run. To get the most skilled developer for your project, you can search online. By visiting the websites of different companies, customers can get highly experienced professionals.
What are the trending ecommerce platforms?
Selecting the best ecommerce platform is a primary choice for businesses. This process can lay the foundation for your online business. The right ecommerce platform can drive your sales to the next level. From a range of ecommerce platforms, customers can choose the various trending ecommerce platforms. Read on to know about the latest and most preferred ecommerce platforms.
Shopify
Many new brands stepping into the ecommerce industry may opt for a Shopify store. The platform helps established businesses to grow. It also solves the complex requirements of other businesses looking for flexible options.
Shopify is designed to satisfy the needs of small businesses. It provides a user-friendly online platform and encourages customers to shop online. With drag-and-drop options and interesting features, you can develop a simple website without coding.
Businesses looking for Shopify development services can rely on the leading organizations. The top companies provide customers with the required services that help in improving the online presence of the business.
Magento
Magento is widely in demand for offering cloud-hosted options. It is flexible software, which makes it easy to navigate the complexity of a website. The platform provides users with the ability to control the functionality, look, and content of the online store. It provides the best shopping experience and provides multiple useful tools and features.
---
Also check: Top Magento Development Companies List
---
The ecommerce businesses can consider using Magento for various benefits. They can take Magento development services from reputed companies. Search engine optimization, marketing, and catalog-management tools are some of the important advantages. The developers have designed Magento in such an easy manner that it can be easily used by customers. There is no prior requirement of technical and developmental experience.
Are you looking for cutting-edge web development solutions?
Hire the best web development services trusted by the world's best brands.
OpenCart
OpenCart
OpenCart is a free and open-source ecommerce platform. It is a platform where business owners can sell and purchase online products. It provides access to the source code to modify and customize the online store. The businesses should download the OpenCart program to create an OpenCart website. After downloading the program, they can upload files to the server.
Users with a good understanding of operating the platform can use it for free. Through this, they can create a robust ecommerce website and an application. A professional Opencart developer can provide complete assistance in developing the right application. The developer builds a dashboard that provides a perspective on different factors. If you are looking for the best services, you can contact the professionals at a reputed opencart development company.
WooCommerce
WooCommerce is free to use and developer-friendly. It is the best platform for small businesses planning to open an online store. The salient features provide good control over the WooCommerce stores. As an open-source, WooCommerce also allows developers to create and develop extensions and plugins. It can help in designing a complex online store. Starting from scratch and extending a store for customers, WooCommerce can make everything possible.
WooCommerce is known for its multiple functions. It is one of the biggest features that make it a highly demanding ecommerce platform among users. It provides a plethora of functionalities required for an ecommerce store to run smoothly. It also supports payment gateways by providing control over the checkout process. These functions ensure that customers get a pleasant experience. When looking for such services, customers can hire professionals from the leading woocommerce development company.
nopCommerce
nopCommerce is one of the most demanded free platforms to build ecommerce projects. Irrespective of the size of the project, it provides the best solution for every website. One of the most significant benefits of using nopCommerce is that you get multiple e-commerce functionalities free of cost. Combining the best features of commercial software and open source can establish an advanced e-commerce store. This can help in bringing your business to the next level.
The most effective nopcommerce development services can provide customers with the best results. This can help businesses to reach more customers and excel in the marketplace. More customers result in increased sales.
---
Also Read: Top Web Development Companies in India to Look Out for Website Development in 2022
---
What are the best technologies for Stack for ecommerce Website Development?
The ecommerce platforms have multiple attractive features. These features provide flexibility to support various kinds of product types and solutions for diverse industries. If you are unable to pick the best ecommerce platform, read on to get the best solution.
Suitable ecommerce Platform for Fashion
Fashion products including apparel, shoes, and accessories can get promoted by various ecommerce platforms. If you have a business in this industry, you can get solutions like BigCommerce, Shopify, 3dcart, and more. In this field, WooCommerce can be a good option as it is an open source and self-hosted platform. Moreover, it can be linked with social media that have social selling capabilities.
A Demanding ecommerce Platform for Electronics
When you are selling a wide range of electronic gadgets, you can rely on Shopify and BigCommerce. These are the tried-and-tested platforms that provide recognition in the market. These platforms allow customers to build a website consisting of all the details of products.
Popular ecommerce Platform for Food and Beverages
If you own a business in the food and beverage industry, you can connect with professionals to get the best solution. They can provide suggestions related to the best ecommerce platforms. The developers can design the best website using ecommerce platforms such as wooCommerce, Shopify, and more.
Conclusion
Finding the most appropriate ecommerce solution requires great research. Picking the right solution can enable you to improve the operations of your business. These platforms can increase sales and help you reach more customers. Undoubtedly, the process of choosing the right ecommerce platform can be challenging but it can prove results.