With the devices becoming smarter and users becoming more demanding, progressive apps combine the modern capabilities of an app in the form of an app that serves the best of both worlds. Despite being a hesitant addition in the app development realm, progressive web apps(PWAs) have come a long way. Occupying significantly less space in comparison to a typical app, progressive web apps are slowly becoming an important part of the app development strategy of businesses.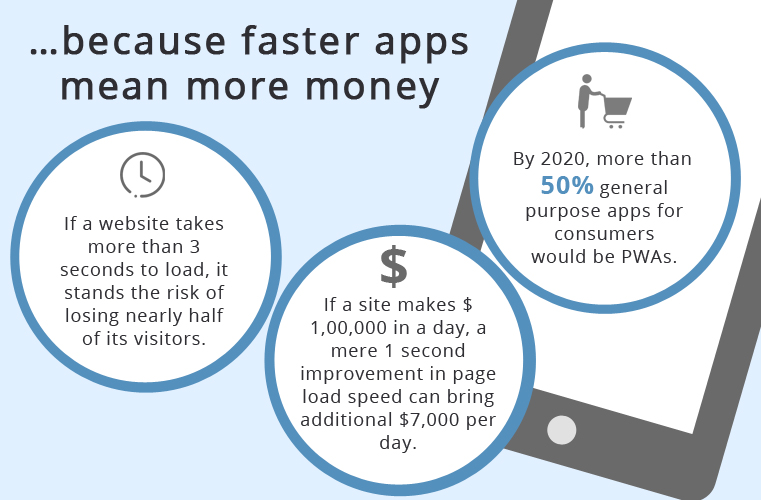 Sources: Gartner, Hubspot
Eminent brands taking the PWA way
Following the path of eminent brands like Uber, Trivago and Twitter, Facebook has started testing its prospects in the PWA domain. The move towards taking the advantage of modern web browsers, front-end frameworks and APIs is aimed at delivering great app experiences to desktop and mobile users under a single roof.
Similarly, businesses are increasingly opting for progressive web application development services to boost their user acquisition, presence and eventually revenue. Since PWA is a relatively new territory, it is best to hire PWA developers to help you understand its possibilities and how to exploit them to your utmost advantage.
Progressive app: Is it really worth the investment?
For a long time, native apps have been enjoying an undisputed dominance over other types of apps in terms of overall user-experience. However, many state that progressive apps give a tough fight to native apps in terms of performance. Not only this, they are not dependent on app stores for installation.
Progressive apps have the following benefits: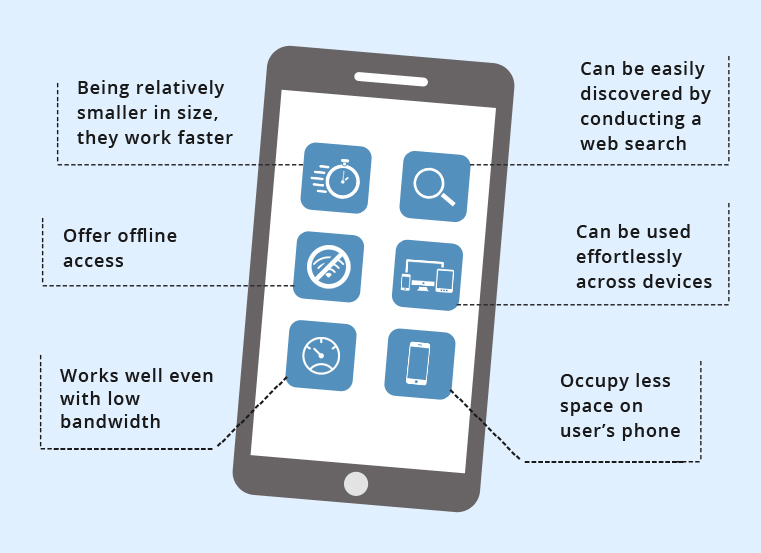 With the Google Play Store and Apple's App Store boasting more than 3.8 million and 2 million apps respectively, standing out in the 'clutter' is not as easy as a pie. In such a scenario, an app that delivers your content effortlessly irrespective of the device used to run the application, is a prudent alternative. As far as customer-friendliness is concerned, PWA developers remark that PWAs have proven themselves time and again.
Owning to the present scenario and its bright future prospects, it wouldn't be wrong to call it a Progressive Web App Development Era.
Get to Know
Want to try your hands on progressive apps? Our PWA developers ensure that when they create a progressive web app, it captures the true essence of your business. Still have doubts? You can write to our experts at info@technoscore.com and gain better insights how PWAs can really help you grow.