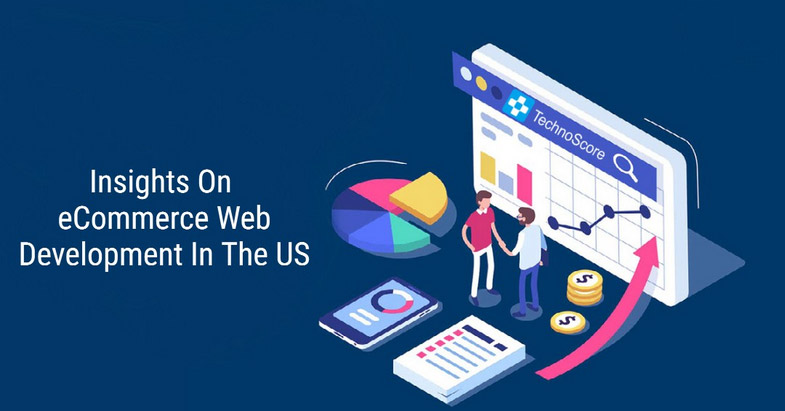 The massive adoption of digitalization has opened a whole new world of opportunities for online retailers. eCommerce Website Development Services are gaining quick momentum as businesses recognize the worldwide reach and revenue potential of a custom website. Grab this chance and use this relevant checklist to start your eCommerce web development project.
The recent pandemic has already proven the worth of eCommerce websites and how capable they are of driving traffic & bringing revenues even in critical times. Moreover, with increased internet adoption, eCommerce websites have become the most handy forum to access products and services online. This post has been curated prudently to help you get the best eCommerce website by imparting an extensive understanding of eCommerce platforms, their features, functionalities, and how to choose one for your business. After reading this post, you will certainly approach your project with an informed mindset.
Table of content:
eCommerce Web Market Size & Growth
Types of eCommerce Platforms
Identify Your eCommerce KPIs
Critical Factors While Choosing Your eCommerce Solution
Must-have Features & Functionalities for an eCommerce Website
Plan & Build Your eCommerce Website
Have a Robust eCommerce Marketing Strategy
Endnote
eCommerce Web Market Size & Growth Potential
The global retail eCommerce sales was valued at USD 4.9 trillion in 2021. It is expected to reach USD 7.4 trillion by the end of 2025. (Statista). At present, there are 26.2 million eCommerce sites in the world. These figures reflect that borderless eCommerce will be the future of online retail in the coming years.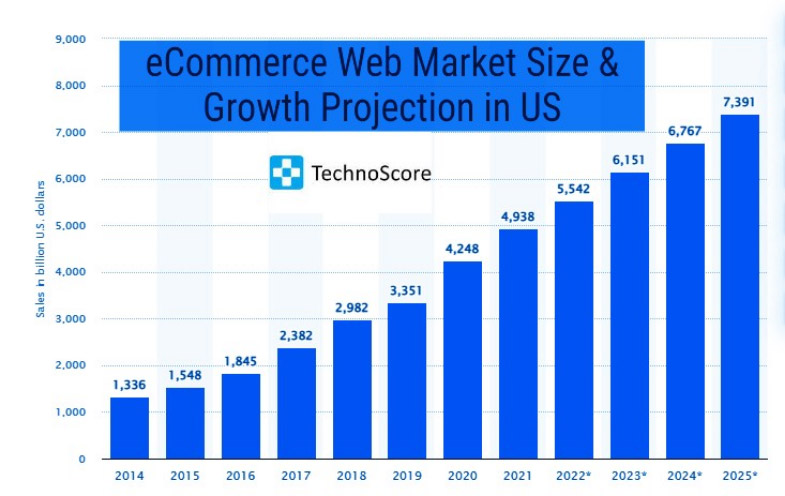 eCommerce has become an indispensable part of the global retail framework. And if you are looking forward to leveraging its full potential for your bottom line, you must switch to eCommerce website development services to enhance your reach & brand value.
Types Of eCommerce Web Development Platforms
An eCommerce platform refers to software that enables sale and purchase over the internet. It acts as a central dashboard where you can easily create your digital stores, manage virtual assets, conduct sales, and handle marketing operations.
However, in most cases, online store owners often fail to identify the right type of eCommerce platform for their eCommerce website. Poor UIs, lengthy checkout processes, and an unrealistic approach to web development are some major examples of businesses failing to leverage the potential of eCommerce websites.
Therefore, we have elaborated on this aspect to help you make the right decision.
Three Major Types of eCommerce Platforms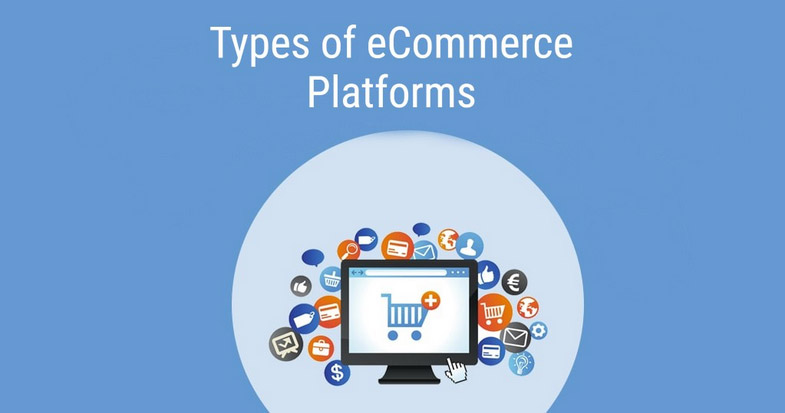 Subscription-based:
This type of business model is a little expensive but advanced as compared to traditional platforms. Shopify comes with feature-packed functionalities, like secure payment options, tax handling, recurring revenue, scalability, and many more. WooCommerce, Shopify, and Magento are some widely popular subscription-based eCommerce platforms.
Open-source:
An open-source eCommerce platform is free and easy to install. They usually come with a number of smart features that can be customized easily. Plus, the open-source model ensures an economical solution that can be optimized as per your budget.
Some of the best open-source eCommerce platforms at present are Wix, Ecwid, WooCommerce, CS-Cart, PrestaShop, nopCommerce, and Magento Open Source. So, when searching for an eCommerce web solution service provider, clarify if they provide assistance for the open-source platform of your choice. For instance, a dedicated WooCommerce Development Company or a third-party vendor with specialization in nopCommerce development services will offer more support and better results than a generic service provider can.
Take one step forward to create the best website for your business.
Partner with us, and let's build something great together.
Headless eCommerce:
Such a platform is most suitable if you want complete control over your online store and the data related to it. The APIs allow you to perfectly align front-end development with your back-end requirements. Technologies like Shopify Plus, BigCommerce Enterprise, and Commerce Tools offer some valuable features like A/B testing and omnichannel selling capability to help you get better results.
---
Also Read: Choose The Best eCommerce Platform To Grow Your Business: A Complete Guide
---
Identify Your eCommerce KPIs
You must prepare a detailed list of eCommerce KPIs to ensure your website's optimum efficacy. However, merely preparing a list of KPIs will not work at all. You also need to align your KPIs with your website's performance. Tracking the right eCommerce KPIs will enable you to make better decisions regarding conversions, revenue, user experience, and many more.
Here are some important eCommerce KPIs that you must consider.
Conversion Rate
Customer Retention Rate
Average Order Value
Net Profit
Cart Abandonment Rate
Return on Investments
Organic Search rankings
Customer Satisfaction
Critical Factors While Choosing Your eCommerce Solution
You must plan your unique business requirements and specify them in terms of features and capabilities that you need in your eCommerce website. We have mentioned some critical factors that you must consider while developing an eCommerce solution.
Front-end Requirements:
Generally, front-end development refers to everything visible on your eCommerce website. Make sure that your UI/UX designs are in perfect sync with the type of products or services you offer. The visual appeal of your eCommerce website will also depend much on the expertise of your service provider. Designs, layouts, logos, banners, and product information need to be highlighted creatively and impressively.
Back-end Integrations:
This aspect refers to the overall performance of your eCommerce website. Consider navigation, search, functionalities, and user engagement as critical components of your eCommerce website. You need to hire a trusted and experienced OpenCart Development Company to ensure foolproof back-end development.
Website Security:
Security remains the most demanded aspect by worldwide businesses when it comes to getting an eCommerce website. Online customers have become much more aware and cautious regarding their data privacy. Make sure that the eCommerce platform that you choose is equipped with payment card industry (PCI) compliance, Secure socket layers SSL certificate, fraud prevention, and data backups.
Are you searching for the best web development company in India?
Let's talk with our experts today and discuss your idea.
Supports Multiple Selling Channels:
Since social media has emerged as a viable revenue-generating source, It has become imperative for sellers to build eCommerce websites that support multiple selling channels like Facebook, Instagram, Amazon, and others. This will not only increase your chances to earn heavy traffic and sales but will also publicize your website on different social media channels.
Scalability:
This refers to the increased storage size of your eCommerce website as it grows with time. Your chosen eCommerce development platform should be capable enough to handle higher traffic or appealing designs without affecting the website's performance. Make sure that the eCommerce platform that you choose should not charge extra fees for extending storage capacity or for incorporating additional features to it.
Experience & Expertise
Regardless of the eCommerce platform you choose, the end results will heavily depend on implementation. To ensure optimum results from your eCommerce platform, you can train yourself or your team on the software. Or, you can hire experienced vendors with specializations, like in Shopify development services or Magento development services.
However, software development requires diligence along with a professional temperament to deliver quality projects. Hence, if you choose to hire external resources, you must look for the best in the industry to develop your eCommerce website.
---
Also Read: How much does it cost to create an eCommerce website?
---
Must-Have Features & Best Practices For eCommerce Website Development
Software is often known for its smooth performance and interactive features. Features are the backbone of any eCommerce website and a deciding factor for its success. So, while you can be as creative as you want, you have to follow certain best practices and functionalities to remain competitive.
User-friendly Designs:
You just can't find an alternative to this aspect. User-friendly website design is mandatory to assure user engagement and retain it. If your customers find themselves troubled anywhere on your website, they'll simply leave.
Hence, keep website designs comprehensive, relevant to the products & services, and somehow unique from your competitors. Moreover, responsive eCommerce website design will also make your website eligible to be accessed via smartphones.
Multiple Payment Options:
Shopping cart abandonment is often a disturbing issue for most online store owners. If you really want to seal the deal, you need to provide multiple payment gateways in the shopping cart. Moreover, make sure that your checkout process is short and hassle-free. Online customers just don't like waiting too long once they have added items to their shopping cart. So, it will be a great idea to ensure a smooth and swift checkout process.
Extensive Product Information:
People often falter before purchasing anything online just because they can't see or try products before paying for them. However, AR/VR technologies have made it possible to virtually try products and then purchase them. But adding comprehensive product information on your eCommerce website is a much more cost-effective way to do this. When your visitors will see detailed information about products, they will respond in a much better and desired way.
Personalized Deals & Discounts:
Consumers love exploring deals and discounts when they shop online. Hence, you must look for some creative ways to offer personalized discounts and offer the best deal to your visitors.Try offering user accounts where users can easily access loyalty pricing offers and their personalized wish list.
High-Resolution Graphics & Videos:
In this digital age, people often believe what they see. High-resolution images and videos will certainly help your eCommerce website catch more eyeballs towards your product. Although, this will require you to shoot or edit multiple pictures quickly. At the same time, product photos are not the only part of an eCommerce website that requires graphic support.
To ensure unmatched visual appeal for your entire eCommerce website, you can hire eCommerce web developers in India as they are highly cost effective and adept in quickly creating high-quality images, video, and graphic design for websites.
How To Plan & Build Your eCommerce Website?
Automation and technological advancements have made eCommerce platforms much more economical and user-friendly. You can choose among several open-source platforms where you can easily develop a website in a few simple clicks. But a professional eCommerce website will need intense effort along with experience to get desired results. Planning is an indispensable part of that process before you actually get started with eCommerce web development.
Choosing the Best eCommerce Website Development Services
You may want to handle the development process in-house, but doing so will require investment, time, and effort in finding, onboarding, and managing appropriate resources. On the other hand, while a vendor will shoulder most of the responsibility, accountability, and hassle of creating the right solution, finding a trusted service provider is a hard nut to crack.
For instance, consider OpenCart- an in-demand & open-source eCommerce platform. If you choose this platform, you will need an OpenCart development company that employs experts in this niche, has a proven record of success, and can fit in your budget.
So, look for the company's profile, clientele, experience (especially in eCommerce web development), and the development cost. You can visit some rating sites like Trustpilot and Clutch to authenticate your information for the company.
Are you looking for cutting-edge web development solutions?
Hire the best web development services trusted by the world's best brands.
Choose Domain Name Wisely
A domain name is also termed as a web address or URL of your site. It is the home to your website on the internet. Hence, you must pay due attention while selecting one. It is always advised to select a domain name that best reflects your business or its products and services. Once you finalize your domain name, you can simply get it registered on GoDaddy, Bluehost, or Google domains.
Choose a Dedicated eCommerce Platform
We've already discussed that you have many options for eCommerce platforms. There are various free platforms with limited features, other premium (paid) versions, and some with exceptional capabilities. BigCommerce, Shopify, Weebly, Magento, and Squarespace are some of the major ones that most businesses prefer at present. However, when choosing an eCommerce platform, always compare your requirements with their offerings and align the choices with your budget.
Customize Your eCommerce Website
You must customize your eCommerce templates as per the target audience and the products offered by your business. Templates and themes are ready-built pages and you can easily customize them as per your eCommerce website's vision. Don't try to be too experimental, rather, select fonts and color schemes that best reflect your brand.
Set Up Payment Options
This is something for which online visitors are much concerned. Integrating trusted and secure payment gateways is a mandatory aspect of any business website. Your eCommerce website must have secure payment options to close a sale. Offering a lengthy and complicated payment option may compel customers to quit your site without a second thought. Hence, you must deal with this aspect cautiously.
Determine Your Shipping Policy
Planning your shipping settings will allow you to boost your sales promptly. Also consumers prefer to know if they are being charged additionally for shipping, and by how much. In fact, free shipping has been known to reduce cart abandonment in several cases. So, determine whether you can afford a free shipping method, a flat rate, or a variable fee method. Also, you must partner with trusted and reputed shipping agencies to ensure on-time deliveries for your products.
Thorough Testing
Make sure to perform thorough testing before launching your eCommerce website. Even if a single link doesn't work properly, the reputation of your eCommerce website will be at stake. Ensure whether your checkout process is working as expected or not. Test each button and link on your eCommerce website and check it on different browsers.
Final Launch
Along with the final launch, you must also get ready with a perfect marketing plan. Develop an effective eCommerce marketing strategy that can leverage both offline and online channels. Include effective components in your post-launch plan, like paid advertising, which is in much demand these days and ensures positive results.
---
Also Read: Top Web Development Companies in India to Look Out for Website Development in 2022
---
Have a Robust eCommerce Marketing Strategy
When it comes to developing an eCommerce website, everything needs to be well-planned. Marketing your newly developed eCommerce website is an indispensable aspect to make it successful. Here are some commonly used marketing techniques that have yielded positive results for online retailers.
Content Marketing
Curate high-quality original content to highlight your business personas. Be creative and original and deliver compelling ideas that can mark on users' minds. Add informative content to your website's primary pages and then promote your content on different channels.
Social Media Marketing
Social media platforms have become the most targeted places to generate engagement and interaction. Targeting different social media platforms helps you create a rich presence before your target audience. Maintaining a good reputation through different social media channels also promotes brand recognition.
Search Engine Optimization
There's a saying that if you want to hide a dead body, keep it on Google's second page as almost no one visits that page. And, anything that ranks on Google's second page is less likely to be found by any online visitor. Hence, you must aim to rank on the first page, as high as possible.
You can follow standard SEO practices to make sure that your eCommerce website is visible on the first page. In case you are outsourcing eCommerce website development services, then choose a vendor that also offers post-launch support and specify your content requirements to them.
Optimize for Mobiles
Smartphones have become ubiquitous these days. There are more than 6.64 billion smartphone users in the world today which comprises 83.72% of the world's smartphone users. Considering this valuable figure, you must make sure that your eCommerce website is responsive to mobile users. Additionally, have a good UX strategy, personalize user experiences with geo-targeting, geo-fencing, geo-location, etc. and appeal to customers based on their locations.
Endnote
We hope you can use these crucial insights for developing a robust and fullproof eCommerce website. Just don't forget to follow a dedicated and planned strategy to expect desired results and cross-check each point mentioned in the blog to eliminate all possible loopholes. And, if you choose to outsource the process, we suggest hiring eCommerce Web Developers In India, as that's surely going to cost you much less than an in-house recruitment of even most other outsourcing destinations.
We wish you good luck in your endeavors.