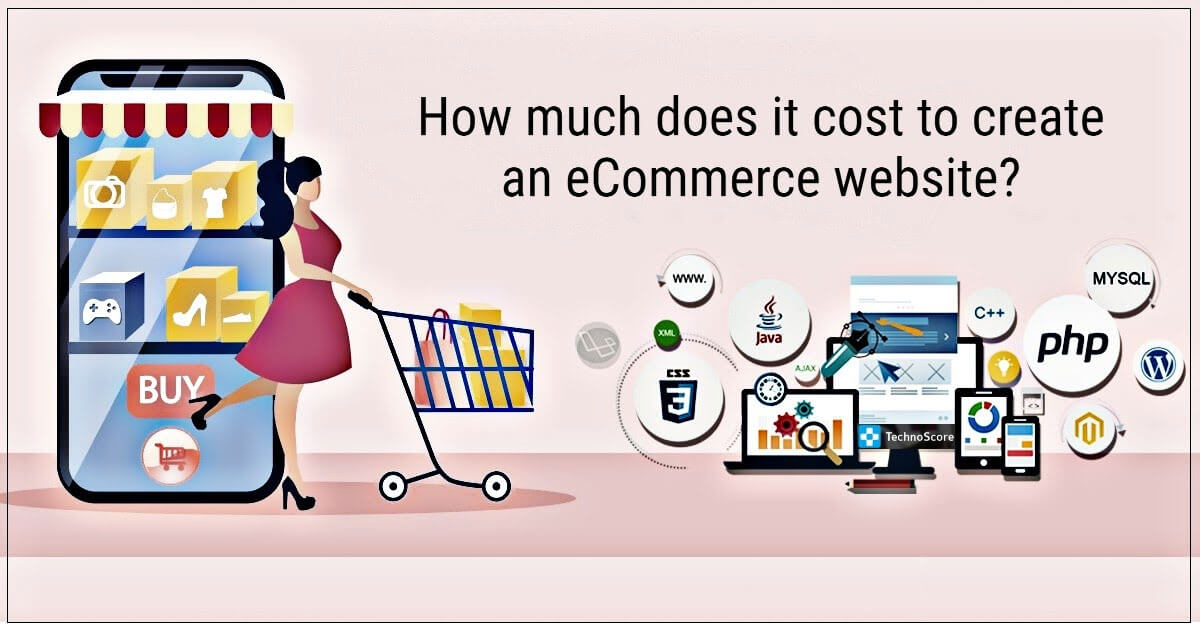 eCommerce websites have changed the entire paradigm of shopping. We would like to scroll down the website for every little thing instead of visiting the stores. Be it a party dress, household stuff, or even decorating items, we can easily find various products on the eCommerce platform. Thanks to eCommerce web development solutions. With the increasing demand for eCommerce platforms, many businesses plan to invest in, but there is a thing that usually stops many entrepreneurs from going ahead, i.e. cost.
Many companies fail to comprehend the actual cost of an eCommerce website. They are unaware of the factors that have a significant impact on prices. This post will help you with all the essential elements that play a critical role in determining the final costs of an eCommerce web development project.
Gone are the days when people preferred to visit stores to get their selected items; now the shopping is all about ordering online. The popularity of online shopping has taken a dramatic change in the past few years. According to market reports, the eCommerce B2B and B2C website sales have reached 159.3 bn GBP. In the last few years, the eCommerce industry has taken tremendous development turns with rapid speed. Online eCommerce has wholly altered the ways businesses were conducted and the lives of shoppers.
Business Insider predicts that by 2024, mobile retail trade, or m-commerce, will account for 44 percent of all eCommerce in the United States. As a result, many companies shift their businesses to online platforms. A big thanks to eCommerce development companies who come up with eCommerce web and app development solutions, developing robust platforms with advanced features and functionalities, and playing a vital role in making a business successful.
Being an entrepreneur, if you wish to stay competitive in the modern age, attract more clients, and make more revenue, a mobile-friendly eCommerce website is a must for your business. But an eCommerce website development is not an easy task; it takes adequate time to consider several things.
Usually, while planning to create an eCommerce website, businesses come across various questions, which are common yet important to consider. Below are some of the common questions that hit every entrepreneur's mind before building an eCommerce website:
How much time will it take to create an eCommerce website?

How much does it cost to build an eCommerce website?

Who will be part of the development process?

What tools and technologies are required to create a website?

What does it cost to hire the required personnel for the duration of the project?
If you can answer those questions, you've figured out a big part of how much an eCommerce website costs.
Well, time is one of the most important criteria for assessing how much your eCommerce website will cost. But other factors also play a crucial role in determining the actual cost of a website project.
This post will explain the factors which are responsible for estimating the costs for eCommerce website development. It helps you understand what things you need to consider before starting a development process.

What Factors Influence The eCommerce Website Cost?
#1 Business Requirements: Your business requirements mainly determine the price of an eCommerce website. For example: If you want a basic Shopify website, it will not cost around more than $1,000. But, if you wish to create a custom eCommerce software, you'll need to go through a lengthy procedure that comes at a significantly greater cost.
#2 Features: The price of an eCommerce website is also determined by the features you desire. The primary or advanced features you'll require on your site will result in regular or higher prices. It would be recommended to go with basic features; this is because it helps you understand your customer's expectations and market demands.
#3 MVP Development: To know the market expectations, MVPs can be your best partner that checks your website's essential features with potential audiences in real-time and helps you with accurate feedback. That feedback allows you to make your web platform more advanced. The average cost of MVP development ranges between $8000-$30000.
#4 Types of Platforms: eCommerce is a vast field to explore; you cannot cover it with just one solution. Hence, to get the best business benefits, you must select the type of eCommerce platform you want to invest in. You can also choose the types based on your target audience. Below are a few significant types of platforms that attract business people to a great extent-
P2P – Customer-to-customer (C2C) is another name for this approach, which focuses on giving customers the option to sell and manage services and products. Consider Etsy, a marketplace for handcrafted goods created by small groups of people. No big companies are allowed; this is a place for those with artistic abilities to express their work. Anyone can purchase products, and sellers must pay a set price. Uber, which provides and handles peer-to-peer ridesharing, is another beautiful example.
B2C – B2C refers to businesses that aim to sell their products or services directly to customers without the involvement of a third party. The majority of this model's representatives offer a wide range of products. AliExpress is undoubtedly the most well-known example in this regard.
B2B – B2B marketplace systems assist firms in expanding their product distribution by connecting them with new partners. Alibaba is the world's largest B2B marketplace, as well as a B2C and C2C marketplace. It is a holding company that includes companies like Guangzhou, Evergrande Taobao, F.C, UCWeb, 1688.com, and AliExpress. It was founded by Jack Ma and Peng Lei in 1999. Alibaba's revenue was over $72 billion.
#5 Infrastructure: These are the things that keep your eCommerce store running behind the scenes. You'll need software to power your store, hosting to keep it running, a domain name to direct users to it, and an SSL certificate for encryption.
#6 Design and functionality: Visitors will directly interact with the design and functioning of the site. Consider your store's design or the social coupon offer you employ to develop your email list. You could also use third-party eCommerce platforms that give cheap (or free) templates for creating an eCommerce store to reduce development costs. If we talk about the average price of design, it will range between $2000 and $8000.
#7 eCommerce Web development company: However, you will find many choices in the market for developing your eCommerce project, but you need to remember that every option comes with its pros and cons.
For example: If you hire a freelancer, it will work on a per hour basis with an average cost of $500-$5000. This seems less as compared to hiring a professional team. But one of the most significant drawbacks of hiring freelancers is the time and additional costs for every change you require.
Freelancers work on multiple projects at a time. Therefore you will not get a satisfactory response for your project on time. Plus, if you want to make some add-ons or changes, you must pay them extra.
On the contrary, hiring a professional eCommerce web development company will save you from extra expenses and deliver your project on time. They have separate teams of experts that are dedicated to the projects. The experts will provide you with a whole package that includes the entire cost structure that avoids extra payments.
Moving on, let's discuss,
Other Significant Factors Influencing The Cost Of An Ecommerce Website:
Several factors influence the entire cost of building an online eCommerce store. In general, some Ecommerce stores can be put up for a few hundred dollars, whereas others cost large sums of money.
You must pay for the following items:
Domain name
Ecommerce hosting
SSL certificate
Store theme and designs
Extra Add-ons and extensions
Payment Gateway
Marketing and SEO
Maintenance/Support
But before, here's what you should know:
#1 Get your domain name
This is the easiest part of getting your website up and running. Consider it your company's internet home. Depending on the domain extensions (.com,.net,.ae, etc.), a domain can be yours for a year, after which you must renew it.
#2 Website Hosting
You'll need to set up a hosting solution after the domain is up and running. Internet users can access your website, thanks to hosting solutions. In most cases, your solution must be rapid and allow for immediate contact with visitors. You can choose from a shared host server and a dedicated server when choosing a server host. The disadvantage of using a shared server is that your website will be quicker, and you may not be able to get help.
Because E-Commerce sites are supposed to make money, it's best to have hosts who can help. This may not appear to be crucial at first, but they will be able to help you if your website has problems. It could prevent you from losing money for days. If you're running an e-commerce site, you'll need web hosting that's more reliable and secure than standard hosting.
On the other hand, having your servers allows you to customize features, which sets you apart from the competition. As a result, you will be able to provide your clients with a superior experience.
•Shared hosting – The most straightforward. Its chosen provider provides the required resources, and you pay a monthly fee. The user of such a shared system can download files via FTP or through a dedicated panel.
•Virtual Private/Dedicated Server (VPS/VDS) – It's a hosting technology that allows you to run several remote virtual computers on a single physical server. You can control all processes at the root-user level as its user. This is a fantastic alternative for creating an e-commerce website.
•Dedicated server – The client receives a physical machine with specific characteristics housed in a data centre that is particularly outfitted. Major portals typically use dedicated servers with a massive number of visitors.
---
Also Read: https://www.technoscore.com/blog/3-reasons-to-love-shopify-for-ecommerce-store-development/
---
#3 SSL certificate
SSL is a protocol that ensures the absence of even the tiniest dangers and risks of cyber assaults when your server interacts with the visitor's browser. The SSL browser allows coded data to be transferred via HTTPS. With the secret digital key, it converts data to the decoded format. SSL certificates are divided into two categories.
Domain validation – is a requirement nowadays, and it is in great demand.
Business validation – This option is essential for business people that value their reputation. In this scenario, a more in-depth research is required, as well as an assessment of your company's operations.
#4 Advertising cost
Most firms overlook this one. Some companies believe that once they develop a website, the millions of people who use the internet would flock to it. You should set aside some funds for website promotion.
To advertise your new website on search engines, you can utilize search marketing (like Google Adwords). You may also advertise your website on social media platforms like Facebook, Instagram, and WhatsApp using social media marketing. You can hire an SEO or social media marketing specialist to assist you with these. Offline promotions aren't a bad idea.
You should also budget money to refresh your contact information and other printed materials with your new website's information. This is entirely dependent on your financial situation.
You can choose to disregard it entirely, but this could prove to be a costly error. This expense component should be budgeted for at least N36,000 Naira every month.

#5 Design
Some eCommerce platforms allow you to purchase themes to get your store up and running quickly. While we don't suggest this method, getting an eCommerce site up and operating swiftly is a viable choice. If you're on a budget or don't need any special features, an off-the-shelf theme is also a good option.
We advocate investing in a bespoke design that represents what your eCommerce website is all about if you want to start a professional eCommerce business with a solid foundation or if you currently have one. This helps you to develop a closer relationship with your clientele in the future by making your brand and website quickly recognized and precisely aligned with your values.
What it will cost: Most modern websites also are adaptable. Google began favouring mobile-friendly websites in 2015, ranking them higher than those that were not responsively constructed. Responsive websites can recognize the platform on which they are being viewed and adjust the layout to fit the screen size.
#6 Payment gateway
Payment gateway integration is another critical component that influences the price of eCommerce website development. It's essential since they function as a middleman between you and your consumers, keeping their card information and PINs safe and secure.
It is also necessary to ensure that the payment gateway you use supports the different currencies in which your clients are comfortable.
The majority of payment gateways are free, although a few charge a fee in commissions only in certain circumstances, such as currency conversions.
#7 Ongoing operations
The process does not end with the development and design of your eCommerce platform. Now that it's up and running, the internet store must be adequately maintained and promoted. Maintenance and support will guarantee that your site functions smoothly and that you respond quickly to issues and errors that could detract from the consumer experience.
While maintenance is included in the subscription price for off-the-shelf systems, custom development support might start at $500+ per month. The difference between the two solutions is that you rely on your provider's maintenance schedule and your subscription plan with a SaaS platform.
On the other hand, custom software creation allows you complete control over the type and frequency of support you require.
Consider it this way:
An eCommerce website is an extension of your company. The way it functions and provides information to potential customers directly impacts conversion rates and revenue. So think twice about using low-cost templates to develop a distinctive brand.
---
Also Read: Magento 2.3 – Taking eCommerce To The Next Level
---
How Much It Will Cost To Create A Ecommerce Web Development Solution?
Considering all the above factors, if we evaluate the average cost to create an eCommerce web development solution, then
A small or regular eCommerce web store will cost you approximately: $10000-$25000.
Whereas a highly scalable loaded eCommerce website will cost about: $45000-$50000 or more.
Conclusion
Every website project and development process is unique. Hopefully, this post will assist you in determining how much money you will need to pay to create a successful eCommerce website that meets your needs.
Before answering the question, there are several factors to consider. Other aspects affect the ultimate cost of eCommerce web development, in addition to the ones listed above, including search engine optimization, advertising, customer base, supporting applications, content, and more.
Unfortunately, there is no specific solution because requirements differ depending on the business strategy. The e-commerce development web company you hire will also have a significant impact on pricing. It's up to you which one you select based on your requirements.
If you are looking for affordable eCommerce solutions, we can help you with them. Hire eCommerce developers from TechnoScore at affordable prices and start creating a robust eCommerce website for your business. Connect with us today, drop your query, and get a call from our experts soon.