The eCommerce platforms industry has got so dense that it has become really hard to keep a track of the number of solutions. However, this increasing number of platforms has led to a stiffening competition – which is beneficial for the customers. Being a cradle of innovation and progressive market, it furnishes a strong growth and improvement. Although, it is becoming hard to keep up to date with all the latest happenings but if it accompanies the creation of a perfect shopping cart, it's really worth the wait.
Over the years, OpenCart and Magento have emerged as strong contenders to become maybe not perfect but close to perfect eCommerce platforms. Powerful and robust, both stand tall in terms of basic capabilities, scalability, and functionalities. Deciding the best of the two is more of a personal choice and business requirement.
OpenCart vs Magento – Similarities
OpenCart and Magento have a lot in common. Both the eCommerce platforms can be downloaded for free, are open-source and structured atop PHP. With multi-currency and multi-language support, each of these solutions has a huge number of loyal followers, resulting in the development of plentiful custom extensions. Both are capable and loaded with advanced features to comprehensibly host a responsive and nimble store.
OpenCart vs Magento – Differences
Potential And User-Friendliness
Ease of management is one of the major point of differences between these two platforms or in other words, something where Magento lags. Comparatively, Magento requires the admin to have some level of technical know-how to easily manage the store. However, the availability of expert and affordable developers turn out to be a good solution to this. You can hire a magento theme developer to get a unique look or a developer for building your store from scratch.
In the hands of a skilled developer, Magento can be everything an e-merchant can dream of. From a completely customizable design to flexibility and endless SEO resources to countless extensions – Magento offers everything at one place.
OpenCart, on the other hand, is considerably simpler to operate and manage. Just a few hours to set up and you're good to go. Speaking of its UI, you can either choose from the themes it offers or go for a OpenCart Custom Design. However, this simplicity and intuitiveness will come at the cost of many functionalities that only Magento users can boast of.
Magento is a great choice for large-sized stores, and OpenCart for smaller ones. Magento at times feel like offering too much for moderate shops but a perfect fit for bigger online merchants.
Popularity And Community Support
According to a report by Hivemind, Magento occupies 19% of the eCommerce market, powering three times more stores than OpenCart. Google trends provide such a picture regarding both the platform's popularity:

Speaking of support, both OpenCart and Magento boasts strong communities, ready to assist a merchant with the store. Magento, however, has a bigger number of specialized programmes running, thanks to the high technical requirements it demands.
Hosting Plans And Extensions Cost
Although these carts are open-source and available for free, you obviously have to pay for hosting, extensions and premium templates.
Magento offer a wide choice of extensions and platforms, and also costs comparatively more. A robust and resource-demanding platform, it needs a strong hosting plan to ensure the best performance and optimal utilization of all the resources.
On the contrary, OpenCart being a lightweight cart won't really require an exorbitantly priced hosting plan. Themes and extensions are more affordable as compared to Magento. However, when it comes to choice of templates and plugins, Magento tend to get ahead.
OpenCart and Magento – Pros & Cons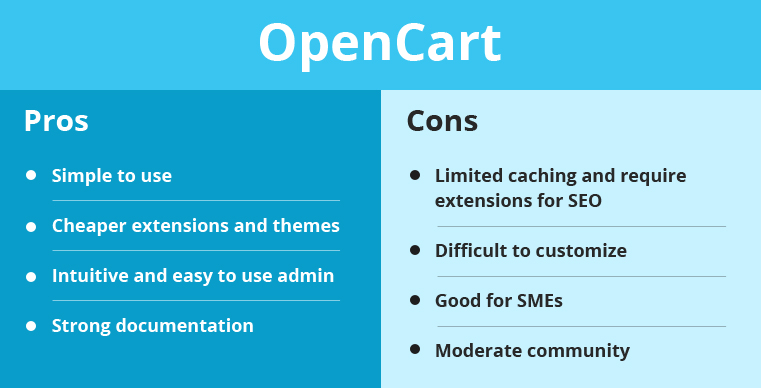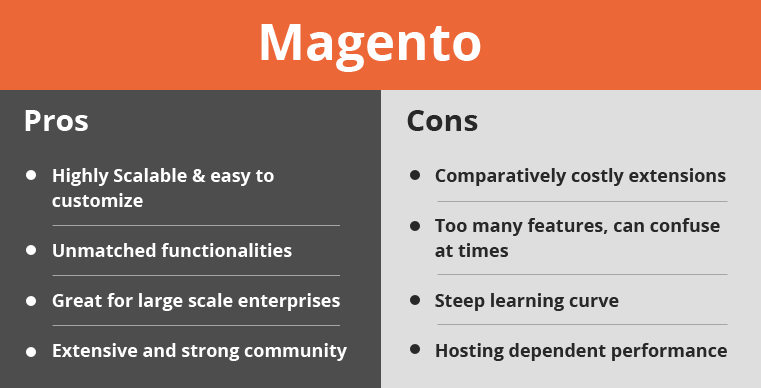 Final Verdict
It is tough to say which of the platforms is better. OpenCart is great if you're on a shoestring budget and are planning to build a medium or small sized store. Magento, on the other hand, is a perfect choice for large sized stores with advanced functionalities and obviously big budget. However, one thing both these carts are good at are selling and earning revenue.