In this post, we are going to talk about how Indian outsourcing companies can help you survive and thrive during the Coronavirus pandemic. It can be quite useful for the next time you decide to hire mobile app developer India. We will also discuss the benefits of outsourcing and how TechnoScore can help you cut costs and boost efficiency amidst the COVID-19 epidemic.
The Coronavirus pandemic has bought a massive change in the way we do business. It has had a great impact on every company, regardless of size or industry. Most are looking to control costs, increase efficiency, and boost profits even during crises. They do so by reducing their workforce, shutting physical office spaces, and enabling work-from-home for all non-essential operations.
Table of Content
India, A Global Outsourcing Hub
Some Facts
How Is India Managing During The Global Pandemic?
How Businesses in India Operating Amidst COVID-19 Pandemic?
How Is India Assimilating to the Epidemic?
Why Outsourcing to India Is a Good Option?
A Perfect Alternative – TechnoScore
This brings more challenges, as business-critical data may not be safe from cyberattacks on someone's home computer. Data security is one of the reasons that has led organizations to rethink their business continuity plans and evolve their day-to-day operations. Many are looking for outsourcing solutions to address these challenging times.
India, A Global Outsourcing Hub
COVID-19 has highlighted weaknesses in the current operational models for many organizations. They cannot function smoothly and create profits in times of the global pandemic. This is a deterrent to a company's success and needs fixing fast.
Most businesses allow operations to work remotely to adjust to this "new" normal. They opt to outsource their technology needs to a reliable vendor regardless of the location. Countries like the United States and Australia already have tie-ups with smaller countries for outsourcing their essential services.
India is one such developing country that is proving to be a great outsourcing partner. It has been helping organizations for years in handling the core business and operational functions. Those who are already outsourcing to India have seen minimal disruption in operation from the COVID-19 pandemic.
You too can benefit from flexible teams, years of experience, and diverse skill set when you outsource to India. Now is not the time to dwell on limitations like the language barrier and time-zone availability. In such painful times, it is important to confront the crisis together and fix the dwindling economy.
So, the next time you think to hire web developer India, you need to just broaden your search parameters. You need to look further to developing countries like India to be a dependable IT partner to fulfill your outsourcing needs.
In this post, we are going to talk about the impact of Indian outsourcing companies in rebuilding the global economy. We are going to discuss how important they can be in uplifting your business and making it profitable even during a pandemic.
Some Facts
Before we begin, let us look into some numbers that show the impact of outsourcing to India. It will allow you to see the current market trends and how India can be your ideal choice for managing your services.
According to the '2020 Global Managed Services Report', 45% of organizations will outsource in the next 18 months.
According to A.T. Kearney's 2019 Global Services Location Index, India ranks the highest to attract companies for outsourcing.
According to the report, India hosts over 1,140 global outsourcing centers, which is almost half of the top 500 global companies to work in India
According to Wikipedia, India has over 100 million English-speaking people in the world. Making it the second-largest country with English speakers in the world. Thus eliminating any hesitation or difficulty in communication.
According to NASSCOM, the IT-BPM sector is growing at a rate of 7.7% collecting a total revenue of USD 191 billion in FY2020. The sector has over 4.36 million total workforces, including 205,000 new hires this year.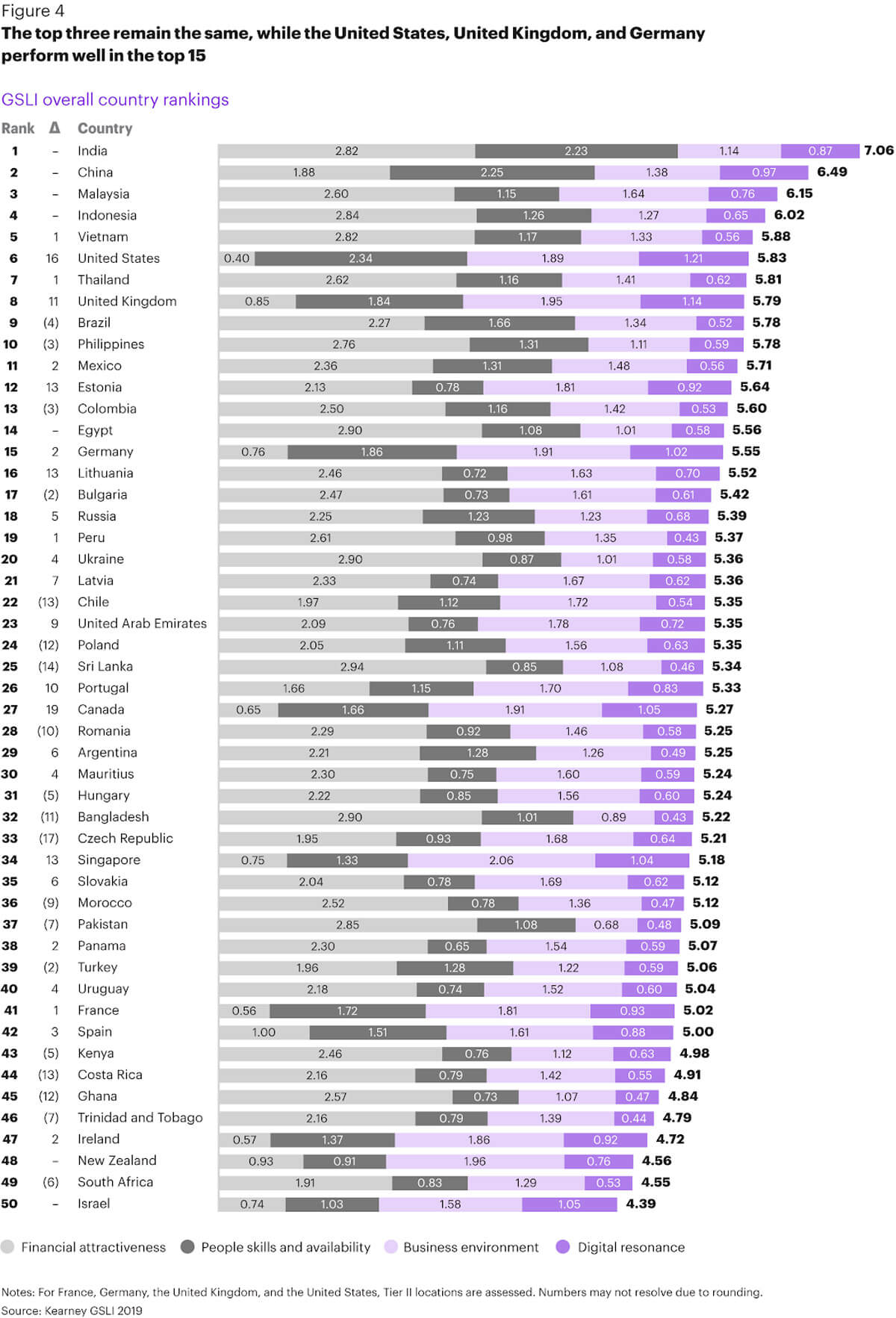 The number clearly shows that India is well-prepared to handle all your outsourcing needs. You just need to look for an ideal company that can handle your workload. This way you can lessen the burden and take advantage of the global outsourcing revolution.
How Is India Managing During The Global Pandemic?
Despite the COVID-19 crisis, India is handling the outbreak extremely well so far. With the government announcing support packages, the focus is on shielding the underprivileged from the virus outbreak.
Organizations also look to provide flexibility in the working conditions and changing their plans to manage the crisis. They are making allowance for their staff and rethinking their business strategies to emerge from this crisis stronger.
With a healthy workforce willing to work-from-home, we are looking at a new normal of doing business. The staff has been stretching their work timing and reciprocating the generosity of their employers and country.
How Businesses in India Are Operating Amidst COVID-19 Pandemic?
With the lockdown over, many companies have been able to resume business as usual. They are embracing technology for their daily operations and trying to acclimatize to these changing times.
Any paper documents are being delivered at their doorstep using courier delivery apps. The rest of the data is accessible through a cloud server or being digitized. This is a logical course of action to stay in control, relevant, and competitive.
Some people are still reluctant to step out of their homes unless it is unavoidable. Hence, they shop online for their essential needs and give eCommerce businesses an enormous boost this year. It is enabling many retail stores to hire mobile app developer India to create an application to remain profitable during the coronavirus crisis.
How Is India Assimilating to the Epidemic?
India has been quick and stringent in reacting to the COVID-19 pandemic. The country's government quickly imposed the lockdown on all major cities and union territories. Even the World Health Organization (or WHO) appreciated India's efforts in controlling the spread of the coronavirus.
However, soon after the lockdown was over, the cases of the virus skyrocketed. Despite the hurdles, Indians are diligently carrying out their duties. Many companies have put in place effective work-from-home strategies for their employees. It has been safeguarding the personnel by avoiding their use of public transport for commute or preventing visits to public places during breaks.
Many companies are using communication and collaboration tools like Zoom, Skype, or Microsoft Teams for their daily meetings. Professionals are undergoing regular training to adapt to the new technology and keeping up with the changing times. This allows employees to interact on a social platform and not feel the isolation.
Why Outsourcing to India Is a Good Option?
India is well-known as one of the fastest-growing countries in the world. It has been offering quality solutions at a relatively low cost, making it an ideal option to outsource your IT-related operations. There are lots of other benefits as well, including reduced time-to-market, innovative solutions, and highly skilled labor.
Gone are the days when outsourcing only meant customer support or back-office work. Now, companies from India can handle complex tasks like eCommerce, system integration, ePublishing, website designing, and search engine marketing. Here we mention the best reasons to make India a preferred outsourcing destination.
Factor #1 Huge Talent Pool Of Resources
Every year millions of people enter the workforce in India. They are talented, well-qualified, and beaming with new ideas to grow your business. Such a pool of young and talented resources will cost you a lot in western countries. You can take advantage of the labor arbitrage in developing countries like India and get the perfect team of professionals you desire.
Factor #2 Government Policies
There are specific data protection laws in place to prevent any misuse, misconduct, or violation to protect your copyrighted or protected material. India even has an Indian cyber law team that controls criminal activities over the internet. There are many other such initiatives undertaken by the government to protect the rights of companies who wish to outsource to India.
Factor #3 Low-Cost Solution
When you hire web developer India, you can cut your overall cost by 60%. This is because labor is much cheaper in India as compared to western countries. You can also benefit from flexible pricing models when you outsource to India. You can charge a professional per hour, per lead, or on a fixed monthly price according to your requirement.
Factor #4 Adoption to Modern Technology
Most of the outsourcing companies work with the latest infrastructure to provide the best solutions to their clients. They have the latest computers, high-speed internet, and updated software to get the work done fast. Security measures also include having biometric scanners at all points of entry to maintain data secrecy.
Factor #5 Assured High-Quality Services
Companies in India are looking to establish themselves in the global market. Hence, they adhere to strict time and quality standards to meet the expectations of the client. They aim to provide consistent high-quality work to retain clients and create a lasting impression.
Factor #6 No Communication Barriers
India has the second-largest number of English speakers in the world. They can easily converse with you regardless of your location. Indian outsourcing companies try to understand your requirements and devise solutions accordingly.
Factor #7 Experience and Expertise
When you hire mobile app developer India, you get an expert with hands-on experience in using the latest tools and techniques. There are companies like TechnoScore when you can find developers, designers, writers, SEO marketers, etc. under a single roof.
Factor #8 Quick Turnaround Time
When you outsource to India, you can easily leverage the time difference to get delivery the very next day. Many outsourcing firms are also available round-the-clock to offer support and to solve all your queries.
Factor #9 Works on Variable Loads
The outsourcing companies in India can handle any kind of workload you require. They can work on a minor task or a large project and deliver the same quality. They can share your burden regardless of the volume of work.
Factor #10 Get Ahead of The Competition
When you hire web developer India, you get premium services that can push you ahead in the competition. Your business does not stop even during the pandemic. You thrive in the current market scenario and get more time to focus on other core business-related tasks. It also frees you from the responsibility of interviewing, recruiting, hiring, and training professionals in-house.
A Perfect Alternative – TechnoScore
Lockdown and the ensuing economic downturn have been affecting revenues across all the industries. Companies are no longer reporting profits and looking for fresh ways to grow despite the pandemic.
The best way is to outsource all technology needs to a reliable third-party firm like TechnoScore. We are a 15+ years old company that has been providing bespoke solutions to industries across the board. We aim to provide affordable, secure, and high-quality results within a quick turnaround time.
When you hire mobile app developer India, you get the following advantages:
Flexible teams that can scale according to your requirements
24*7 support to solve all your queries and address your doubts
ISO 27001:2013 certification for "Information Security"
ISO 9001:2015 for "Data Quality" to ensure 100% accuracy
Customizable solutions as per your preferences
We assign a dedicated project manager for your project
20+years of experience in the field
Our services are 60% cheaper than other providers and vendors
Conclusion
Many factors show that India is a perfect choice to fulfill your outsourcing needs. The country has been helping foreign countries for quite some time and will continue to do so in the future. There are lots of examples to prove this.
India has become an outsourcing hub for businesses across the world. It is all thanks to its rapid digital transformation and easier laws. The country provides a much lower rate and high-quality solutions within the stipulated time.
Many developed countries look to India for the delivery of technology services during the COVID-19 crisis. This makes Indian outsourcing companies essential to the success of any business during the pandemic.
This post clearly explains all the advantages of choosing India as your outsourcing partner. It also explains the benefits of choosing TechnoScore as an ideal company to go ahead with outsourcing. If you need any help with outsourcing or wish to hire web developer India from us, just drop us an email at info@technoscore.com.