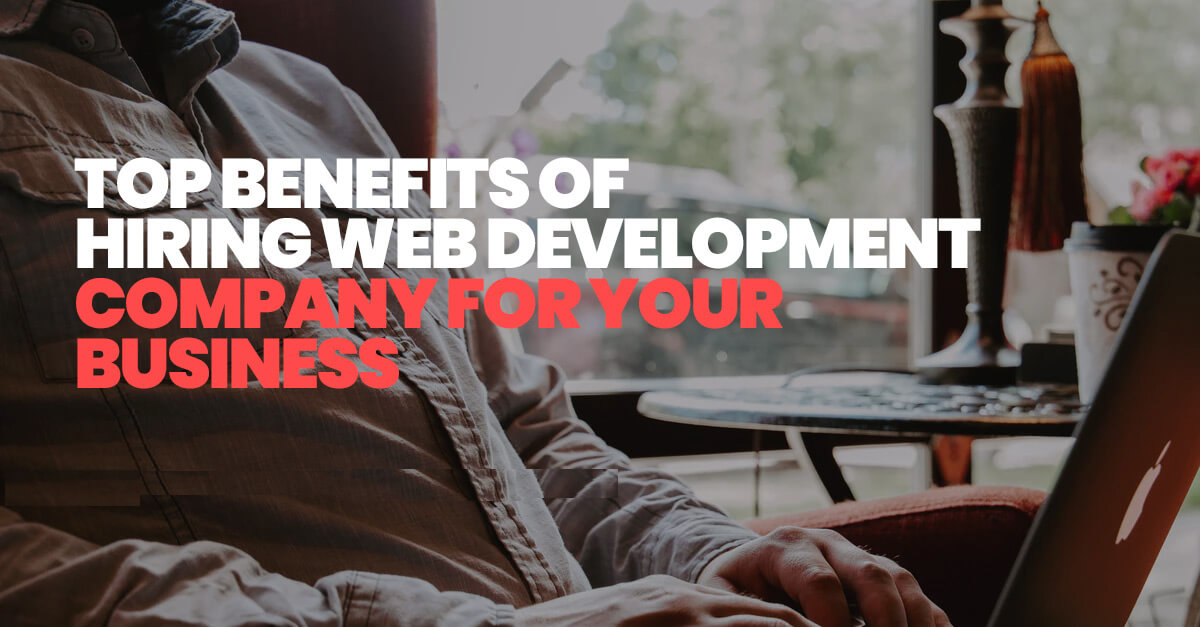 Owning a website for your business isn't enough. You need a site that builds your business in the best possible manner.
It's 2020— so you've probably realized by now that your website has an impact on the credibility and quality of your business. Unfortunately, very few people know how immense this effect actually is. In fact, several businesses struggle to convert their underperforming websites into ones that boost credibility and client acquisition.
Many businesses, especially startups, might not feel the need to hire a web development company or web developers to design/develop their websites for them. Designing it yourself seems like the easiest option available. Download any software available. Use a web hosting service provider. Spend a few hours and negligible money. And it's ready!
Well, it's neither as simple as it sounds nor reliable.
The appearance and functionality of your business can either make or break your business. A poorly designed website can have adverse consequences. Let's have a look at some figures and facts:
48% of users believe website design is the #1 factor when judging a business's credibility.
88% of online shoppers are less likely to return to a site because of bad user experience.
94% of users create their first impression of a website based on web design alone.
38% of people will stop engaging with a website if the content or layout is unattractive.
39% of people will stop engaging with a website if images won't load or take too long to load.
The average user needs only 50 milliseconds to form an opinion about a website.
A lot of you probably didn't know a website's design plays such a vital role in your business. This is the reason people are specifically trained for website design and development. Even doing it on your own might save you money upfront, but you will lose double the revenue if the website isn't up to the mark.
Considering the above stated, we have a number of reasons why you hire web programmers and get your website designed professionally.
Visibility
No matter how amazing or useful your product/service is, it is a total waste if your audience can't find it. Companies who have expertise in website development services provide you and your website the best of search engine optimization (SEO) so that you don't get buried under ten pages of your competitors on search engines. Not only will your website show up in the first round of searches, but also give searchers a general overview of what you do or sell. After all, visibility is the key and professional web design companies can always help you be the first to court potential customers.
Presentation
Imagine landing upon a website that's obsolete, disorganized and unattractive. Will you go ahead and click "buy now" or trust it with your banking details? Very unlikely, right!
Now let's talk about your website. You offer a wide array of finest-quality products or services but the presentation isn't up to the mark. You'd never want to lose potential customers just because the presentation of your site isn't pleasant or something that dates back to the stone-age. This is where expert web developers come into the picture. They provide you with a clean, enticing website that's pleasing to the eyes and attracts customers.
Functionality
Perhaps even worse than the bad presentation, is a website with broken links, misplaced pop-ups, or scroll bars that act on their own accord. In other words, your website's functionality and code must shine as much as that home page of yours. Allowing a professional to handle this aspect of your site means you'll get a site that loads faster and is optimized for web browsers on multiple platforms. More than that, if something goes wrong, you'll have continued expert assistance and support. When you hire web developers, they make it easy for customers to browse your site, not just from the desktop but multiple devices such as mobile phones, tablets, or anything else that connects a customer to the Internet.
Uniqueness
Another benefit of hiring a professional web development company overusing a pre-designed website template is undeniable in terms of how you present your business as one-of-a-kind among your competitors. You'll want your site to exemplify this facet of your business. You'll want your customers to know why you're the best in the business. And most of all, you'll want that first impression to be a lasting one so that it's your business at the forefront of a customers' mind. Professional web development services providers can help both your business and website stand apart from the crowd.
Compatibility
The web development company that you are going to hire will have the required expertise and knowledge regarding the latest technological changes and the new standards for mobile websites. The experts will make sure your website is compatible with all the different platforms such as mobiles and tablets. They would utilize a responsive design and build a website which will save you from further costs.
Professionalism
Professionalism might be the most important aspect of how your business is presented to the public and professional web developers are your best bet here. You'll want your website to manifest credibility and potential customers to trust your business model. The content of every page of your site needs to be of the highest quality and targeted to the specific audience you want to attract. Professional web development companies ensure your business model is conveyed accurately and is presented in an organized fashion that evokes trust—ultimately increasing traffic and sales.
Speed
One of the most annoying experiences a web user can have is a slow website. In today's search domains, a website that loads slowly will no doubt lose visitors and authority. This might end up costing you promising business opportunities. Make sure your site isn't one of the many sites that aren't built to function optimally. Hire web developers to help you create a site that has integrated features and plug-ins to provide improved security and speed. In this way, your website can easily become the talk of the town for all of the right reasons.
Time
Hiring professional developer(s) will save your time. They know how to build a website that creates a strong online presence. Perhaps one of the most invaluable reasons to hire a professional designer is that this will end up saving you time on a typical business day. And let's face it: Time is money. For instance, your developer/designer can provide for you an online quoting system or a contact form that will eliminate the need to book appointments via telephone. A business that's run more efficiently leads to more revenue and finally a stronger base.
The Bottom Line
No matter what kind of business you are running, you must own a fully-functional, well-made website that attracts web users. This calls for experts who are well-versed with website development services and everything it brings along. Hiring skilled and proficient web developers not just gives you an exceptional website but results in potentially higher conversions.